Band:
Spinnerette
Release:
'Baptized By Fire'
Out:
Now!
Buy:
Amazon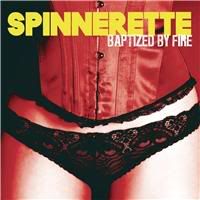 Former Distiller, Brody Dalle is back with a new band called
Spinnerette
. They release their latest single 'Baptized By Fire' from their self titled album and it's... alright. Just alright... I've never really been a big fan of Dalle. Her OTT, in your face attitude struck me as a bit put on. With this it was a bit of a relief for me that Spinnerette is a bit of a leap away from The Distillers. There's no wailing vocals over screaming guitars instead opting for today's must have instrument - the synthesizer. On the positive side there chorus is surprisingly catchy, if lyrically, absolute bollocks. It should be said, that this release is not going to change the face of music today as we know it but for the four minutes it's playing, I didn't feel the desperate need to skip, but then, I didn't feel the need to rewind either. Overall? Ok, not brilliant.
4/10
Check out their video for the single...