Venue:
Fluc (Vienna, Austria)
Date:
21/01/10 Yes, he looks at every face while he's on stage. But he also looks down at his shoes, nervously strumming his violin like a guitar. Matthias Frey - better known in the viennese scene as
Sweet, Sweet Moon
- is a wunderkind, as they'd call him in his mother tongue. He doesn't speak much, this wonder child. He just quietly plays cover after cover, hand in hand with his folk-fairytale songs about drinking and "taking the bus to the highest point of the city".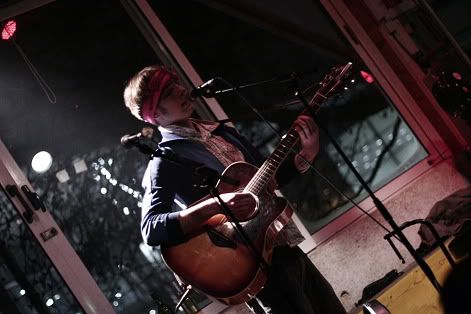 He hopes for requited love and stares at someone's beauty unbothered, this boy with his violin. And like a disobedient child, he has tricks up his sleeve. First off, his beloved instruments which he alternates the way a girl changes clothes - naturally, taking for granted that everyone has the capacity to do the same. Then, his little loop machine – some clicking here and there, and all of a sudden the audience is surrounded by not one, not two, but three or four violins, a one-man orchestra of sound.. And that accompanied by a cello, now and then, played by another kid who otherwise sits on stage, off to the side, backing him up with a Gameboy.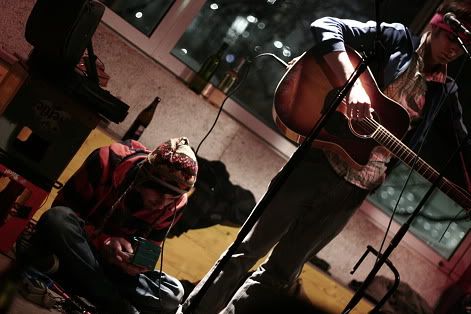 With the city's train station as a backdrop, Mr. Frey looks like a modern traveller about to embark on a journey. Maybe that's the reason for the choice in his repertoire: the troubador ways of
Beirut
, the punk and DIY spirit of
the Weakerthans
, the slight irony of
Damien Rice
. With his unusual voice, he makes all these songs his own, blurring the contours between what he composed and what he simply relates to. Matthias and his sweet sweet songs aren't particularly extraordinary, they are no masterpiece, but they are charming, honest and intense.