Nestled deep within California's Morongo Basin, the tiny desert outpost of Pioneertown welcomed The New Los Angeles Folk Festival to legendary roadhouse Pappy and Harriet's. I'm not sure I can articulate the ambiance, but the warm, radiant glow of Pappy and Harriet's was an idyllic haven for folk fans brave enough to mix it up with a junior snow flurry.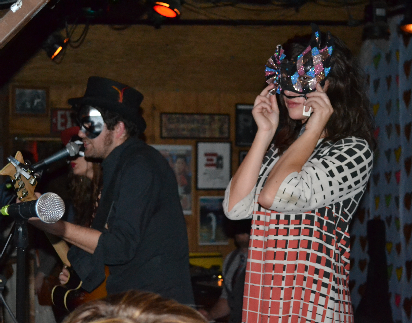 The festival was an intimate gathering intended to promote and document new folk music in Los Angeles as it happens. The lineup consisted of Amanda Jo Williams, Tommy Santee Klaws, Turn On The Sunlight, DJs Carlos Niño & Andres Renteria, Mia Doi Todd, The Driftwood Singers, Emily Lacy and the warm sounds of He's My Brother She's My Sister, whose Saturday night set was the weekend's centerpiece. Along side brother Robert, and flanked to the left by tap dancer Lauren Brown, Rachel Kolar donned a stunning red gown during the revivalist's stirring set of blues inspired folk. It was a great couple of days that will hopefully remain an annual weekend devoted to sustaining, and further cultivating a Los Angeles folk scene that many of us have grown very proud of.
Come this Monday you can enjoy every set, from every band featured at lafolkfest.com, captured in stunning clarity by master sound recordist Benjamin Tierney.