Snow on an apocalyptic scale (several whole inches) meant that the Richter Collective's Christmas party gig had to be postponed until January, but it went ahead without any further hitches and with only one change to the line-up (Hands Up Who Wants To Die being replaced by Herv). The Richter Collective is one of Ireland's best independent labels, with a roster of acts that manages to be eclectic while at the same time almost always being recognisable as Richter Collective bands. Up to this point there have been Richter Collective bands I love and own albums by and Richter Collective bands I was a little underwhelmed by when I listened to them online, but I realised at this gig that every one I've seen live has been amazing. The quality didn't drop at all between all six of the seven acts I managed to see.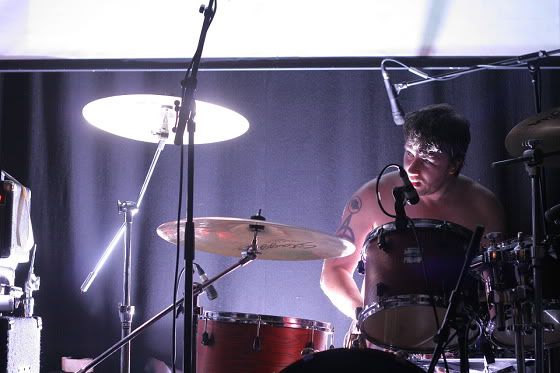 Belfast band The Continuous Battle Of Order had already started by the time my friend showed up and we went in to the venue. Just a guitarist and a drummer, they still managed to be one of the louder and noisier bands of the evening. They leaned towards the math and noise-rock poles of the Richter Collective, with explosive, dynamic songs that could drop down to a whisper in parts. Listening to them online now, their recordings would give you some idea of what they're like live, but they don't quite do it justice.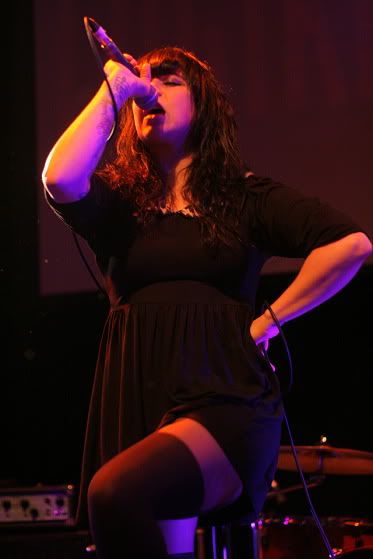 Logikparty were on next, one of the more straightforward Richter bands genre-wise. They play fairly straight post-punk, although with more of a hardcore edge than I've heard from most other bands. It was a great live performance, their lead singer Benni has tons of stage presence and the rest of the band back her up well.
Jogging followed Logikparty, with a mix of gravel-voiced orgcore style punk and some mathy elements. They were loud, fast and exciting; a tight three member band with the bass player and guitarist sharing vocals. I had heard them online and wasn't entirely sold, but I expected them to be much better live and I wasn't disappointed.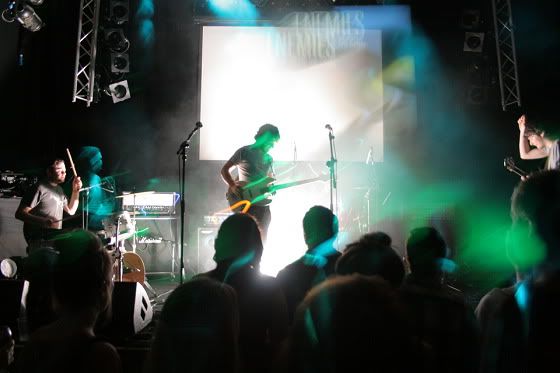 Enemies are another relatively straightforward Richter Collective band, playing math-rock that's pretty similar to what a lot of other bands are playing right now, the kind that sounds like it probably owes as much to post-rock as to older math-rock. Which inevitably sounds a little dismissive alongside me struggling to sum up a lot of their labelmates' sound, and to tell the truth it is a style of music I usually find a little lacking, but Enemies throw loads of energy into their live performance and they really are a great band to see live. They still have two drummers for some songs, which is always fun.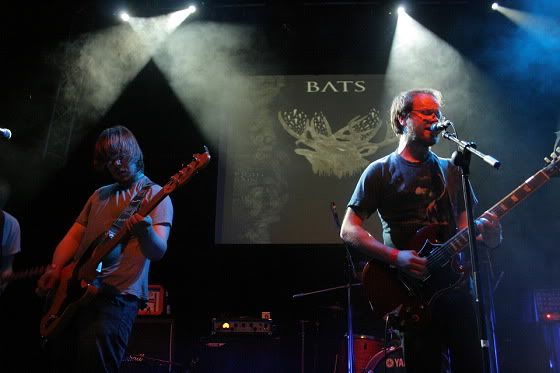 BATS are one of my absolute favourite Irish bands. Their blend of post-punk and post-hardcore works equally well on record and on stage, for slightly different reasons. On record, the post-punk comes to the fore, and I could easily imagine dancing to it. They get louder and more hardcore on stage, which is great in itself, and they still retain a fun danceable potential that the crowd all too rarely seems to run with, last Friday being a welcome, if partial, exception.
Not Squares were the last act I caught, it was a long night, and I was getting worn out by the end. Not Squares are the sort of band I always just completely fail to categorise, I'm just not familiar enough with electronic music. They play some kind of synthy stuff with a recognisable Richter Collective feel. I really liked them at this and the first time I saw them a month or so ago, opening for Adebisi Shank. Another of the Richter Collective's Northern Irish bands, they play really fun music that you can't help but want to dance to. Their stage set up is pretty cool too, with the two synth players flanking the drummer like the synths and drums are all part of the same unit, except when they leave synth loops going and both play bass.
The whole night was excellent, without any band's performance falling below the high bar set by the others. I think I'll still play favourites with the bands' recorded offerings, but they really are all brilliant live, and I won't be missing any of their shows in future if I can help it.