Photography: Ian Taylor
Having seen The Wombats before, my expectations were already high. A quick blast of the album and new material only perpetuated this feeling further. It would seem that I had to wait, however. Driving past the venue, half an hour before doors had even opened, we were greeted by a frightful sight. There must have been at least a mile long queue, crammed full of excitable kids with miniscule clothing in arctic conditions. Not a good start to a gig! As a result of this, and possibly a time oversight by the promoters, we had managed to miss the first support act, Zen Arcade. I would have been more disappointed about this fact if I were not freezing from the wait! However, catching the last few notes from the band, and an enthusiastic applause from the crowd, it would seem that they had gone down well.
So it was the sole responsibility of second support act Get People to warm up the late comers. The stage was littered with various electronic devices, instruments and a rather lonely looking pineapple, which explains the long wait! They start strongly, with a beat fuelled performance placing firmly within their indie electro genre. It flows on the recent electronic wave, following the likes of Everything Everything and Delphic with catchy beats and heavy electronic use. It becomes apparent after two or three songs that that is all this band can do. Each track merges into another, unsure of what is a rest in the song or simply the end. The delivery is rather monotonous, with very limited audience interaction until right at the end. Possibly down to nerves, or the "too cool" full circle retro attitude exuded by the two frontmen? Either way, Get People seem to be a crowd pleaser, with infectious beats and melodies. It just would have been nice to see some variety.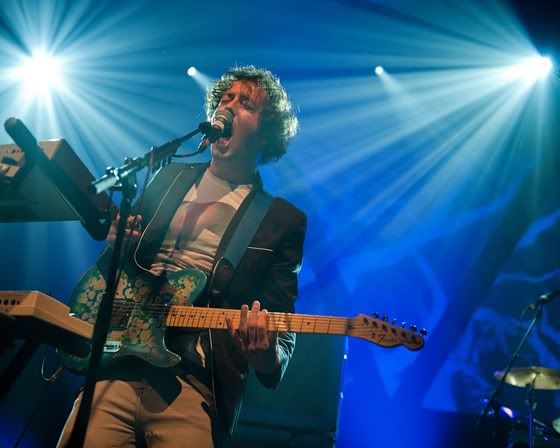 The room is well and truly warmed now, physically and musically, awash with girlish shrieks from the pitâ and half naked sweaty teens. But all hell breaks loose as the band walk onto the stage. Somewhat unassuming, the boys take their positions without any fuss or ego and begin. Opening with a new song, from the forthcoming album This Modern Glitch, is certainly not the strongest of starts yet it acted as an introduction of a familiar band within unfamiliar territory. They do not disappoint, however, playing the massive radio hit 'Kill the Director' second, pleasing the casual fan and allowing the sold out venue to chant along to the well-known, catchy lyrics.
This presents a pattern for the evening. Old is pitted against new, keeping the audience interested and receptive to songs that had never been played to anyone ever before. This showcases the wonderful progression the band has made, from wide eyed anecdotes with a sideways look at life, love and childhood (or love, loss and desperation if their debut album title is anything to go by!), to cynical maturity within one night stands and depression. There is a moment, however, where the subject matter does feel rather odd for the age range of this audience, but it would seem that themes of sex, depression and rejection sit well with old and young alike! Having said this, the old material does not feel old. It is given new life, developing upon the previous recordings and pushing them to their limits. A firm favourite from the debut album, 'My First Wedding', is given new life with perfected screams and intensely rocky chords and attitudes. It certainly acts as a shock to see such concentrated rock from a typically indie radio band! This sees a change to their music, almost like the band has consciously upped their musical game to produce the difficult second album. Their arty visuals, constantly changing to suit the changing set list, is a definite indication that they are more conscious of themselves as more than just the music.
The boys are known for their cheeky charm, and tonight is no exception. Witty banter spills forth from the stage in a rather lovely Beatles style accent, (that's a well-spoken Liverpudlian accent to you and me!), about all things from football to old B sides. It all forms to create a well-rounded performance, fuelled by passion and honesty. The chemistry with each other and the audience is vital to a great gig, and it is plastered across each band member's face. It is the sweat and the smiles.
As this was the first night of their new tour, I was certainly expecting as work in progress; a show to sort out the teething problems and adjust the set list. But this was not the case. The band are at ease with themselves and their music, playing brand new un-performed songs with as much proficiency as early b-sides. The new material provides hope that they have cracked the difficult second album as successfully as their hit debut. Whilst they are not the "hottest new band" or "one to watch", they are consistent. A lovely feeling of familiarity, whilst showing progression.