The weather forecasts in the week leading up to the thirteenth
Truck Festival
had all threatened rain so it was relief and happiness when Oxfordshire saw a bout of heat in the days just before the event. On entering the festival and setting up camp, the glorious sunshine came to the fore – as did a swarm of angry wasps. Having avoided being stung, setting up camp and settling in within minutes, it was time for the first Truck tradition – buying a banana smoothie from the Rotary Club's stand and planning the day ahead. The Oxford-based band
Meursault
opened proceedings on the main Truck Stage and their long, intense songs had a touch of Frightened Rabbit about them, especially in the powerful Scottish vocals, but they were also open to more experimentation. Loudhailers and laptops were used to devastating effect although some of the tracks seemed to go on crucially just that minute too much. A noisy start to the day, they must have woken up and destroyed the hangovers of those who'd been on site for the BBC Introducing bands night on the Friday. A big change of pace with
Ace Bushy Striptease
in the Barn followed and although they're the kind of band you dreamt of making when you were 13, they're damn good fun. We watched half their 30-minute set and still managed to catch them play 8 songs – all of them shouty and bouncy but finishing just when you think they are starting to get going and threatening to sprawl into more interesting directions.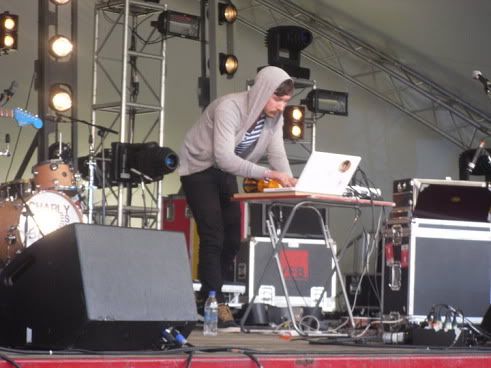 Meursault
Alphabet Backwards
are another band local to the festival that have been receiving some serious press attention lately, and their sickly-sweet sound showed why. The tent they played to was rammed and the band had some appealing ideas akin to that of early Los Campesinos!, although never quite matching their ambition. Sugary sweet pop songs, much like cherryade, a little bit is nice but you couldn't stomach too much in one sitting. First band we went into 'blind' was
Fixers
, the programme said they sounded like Grizzly Bear and The Beach Boys and they weren't far wrong. Songs that will set you off into a dreamlike state before waking you up in the middle of a Spectoresque crescendo of noise. The highlight of the day so far, it was just a shame not enough people were there to witness it – definitely something special that doesn't need fixing.
Dave House
played a solo set with a strong Kingston presence in the audience providing harmonies to his expansive back-catalogue. He flied through songs with barely time to chat between and played a few songs not aired for a while, expertly leaving the crowd waiting for more.
The Silent League
definitely had the right level of scope and ambition to play the big stage and included a three-piece string section in their remit, but their orchestral, film soundtrack-like sound just seemed to lack the spark that is needed. We walked across to catch the end of
Good Shoes
in the Village Pub stage, and enjoyed their fun indie-pop sound before catching a band there seemed to be a real air of excitement from everyone in the audience about seeing -
This Town Needs Guns
. Truck regulars who keep getting better, they write intelligent and challenging music for the masses. Although seeing a ridiculous number of crowdsurfers and a real good-natured moshpit break out to them was the last thing to be expected. But it was a sight, and indeed band, to behold.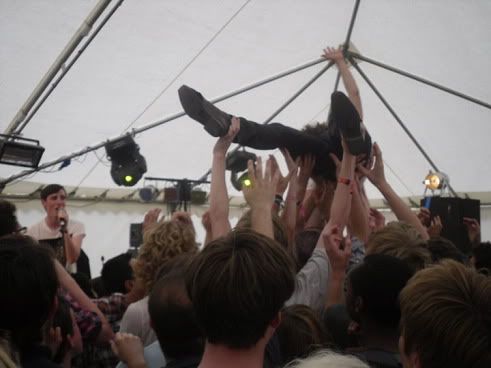 This Town Needs Guns crowd
We walked into the Market Stage just as
Ute
walked on stage, before playing a single note their singer Ollie told a story about having a poo in a service station restaurant while dressed as a zombie clown the night before. An intriguing start to any band's set, it's a shame that Ollie's vocals still seemed to be suffering a little from a recent illness. A really quite loud acoustic band with complex and bold aims, something was just lacking today and the band didn't live up to the high standards they'd set when we'd sen them before. After this, we wandered over to the packed Barn to get ready for
65daysofstatic
. Sadly in the queue, we had to put up with the sound of Darwin Deez – an act that I will never understand the appeal of, when we got in the band were doing a dance routine to a backing track to finish their set. Don't get it. Was a little odd and as moving towards the front for 65dos, it was clear the two acts had very different fan bases. Perfectionists that they are, 65dos took an age to get ready but they were so worth it – as soon as they played their first note an intense circle pit broke out with people going completely insane. 'Radio Protector' understandably gained the biggest reaction but that's not to say the more accessible new songs were ignored, the finale saw a real rave-style dance-off occur. Incredible musicians to watch, you become completely immersed in their sound and they set everyone up for the headliners in style. Not my thing at all, but the friends I had come to the festival with told me that
Bellowhead
are the best live band in the UK. Playing second-top on the Truck Stage, I followed them over to see what the fuss was about and although I wouldn't go as far to give them that coveted accolade, they were so much fun and the most enjoyable band of the day. A real party atmosphere broke out that had the whole crowd up and dancing, singing along within hearing half a song and frontman Jon Boden had everyone in the palm of his hand, doing whatever he demanded and clinging on to his every word. This is especially impressive considering he was wearing an ill-fitting suit that looked remarkably like it was made out of duct tape. The eleven-piece have so much fun on stage and it's hard not to be drawn in to their idiosyncratic, unpredictable folk – no band sounds like them and their gusto and passion on stage is not matched by many. In fact, they went down so well it's easy to say now they could easily, and maybe should, have headlined. But that accolade went to
Mew
. Setting up with the drums on the left-hand side of the stage, they walked on in almost pitch darkness before their infamous light show really kicked in, scorching the retinas of everyone facing the stage, it was a fascinating sight and suited the melodramatic tone they specialise in so well. However their lengthy set was far too heavily reliant on newest album 'No More Stories Are Told Today I'm Sorry', a record not many seem to have connected with yet and judging by the band's disinterested looks while playing it, neither have they. Having said this, Jonas Bjerre's vocals were as gorgeous live as they are on record – even if a little low in the mix tonight, and the older material still sounds defiant and defining, the singalong to 'Special' was a delight and 'Comforting Sounds' alone is worthy of gracing any festival stage. Not a bad set by any means, they had a hard act to follow but something just seemed a little cold and detached. Still, an enjoyable day in all – the Truck monster was out and about mingling in the crowd, the fresh doughnuts were up to standard and there was a really laid-back friendly atmosphere. We awaited day two, which had a stronger lineup on paper, with a lot of anticipation.
What say you on this? Sound off in our Fourum!