The Beathive stage played its pulsating dance music long into the early hours of the morning, making sleep after the first day of Truck almost impossible. Of course, when the power was finally cut my tent neighbours first decided to all try out laughing gas and then one of them took to repeatedly asking the question: "Do you lick ice cream?", this went on until I finally fell asleep at 3.30am. When I awoke at 6am, guess what the first words I heard were? It was quite remarkable someone could be on a loop like that and the early morning was full of tiredness but also excitement at what looked to be a solid day of bands. The first band of the day,
Holy Orders
played in the Barn at 10.30am and this used to be where the organisers would have some fun putting some good hardcore metal in. not so this year, Holy Orders' sub 80s soft-rock was almost unbearable. Luckily, much better was to come with all the promising, loud bands that the You! Me! Dancing! promoters had decided to fill the cowshed with today. Second on was
Phantom Theory
, a two piece who have just been on tour with Run, Walk, their sound was brash and abrasive and they rattled through songs at breakneck speed. Starting with the two members playing bass and drums before swapping the four-string for a guitar, theirs was such a powerful live show.
Brontide
followed and their instrumental math-rock sound was perfect for the Truck crowd, always ones to admire daring and unconventional ideas. The band is also far tighter on this showing than previously, and will soon be one of the rousing live bands.
Bats
from Ireland resurrected the spirit of JetPlane Landing but also had a touch of Foals in their guitar work. But with far more screaming and shouting. Such an entertaining band. The pace was lowered when we ventured over to the Beathive stage, normally the dance stage, to catch
Sparky Deathcap
. One of the acts I'd been most excited about seeing, it was good to see some of his Los Campesinos! bandmates in the crowd offering support – and it was needed with his performance beset by technical problems. After battling against the odds, he finally opened with 'Glasgow Is A Punk Rock Town', a song that's made from layers and loops into something quite gripping. It's fascinating to watch how he creates something that sounds so unique. A rapturous reception showed the crowd was on his side despite the issues and he really came into his own when he played acoustic guitar in the more traditional sense, especially on the likes of 'Berlin Syndrome'. An intriguing storyteller with heartfelt lyrics and a little bit of Leonard Cohen about him, he really is one of the most captivating performers about. Just a shame his big looped ending didn't come off.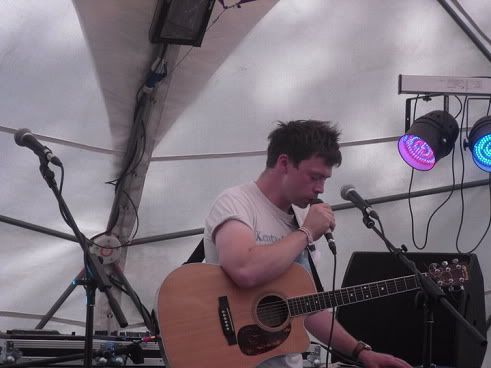 Sparky Deathcap
Nottingham's
Dog Is Dead
specialised in fine danceable Britpop, some of the melodies and vocal harmonies bring to mind The Maccabees and The Futureheads, but they also had more brass and a wicked sense of humour - shown by the abiding and addictive refrain of "this is a zoo, please do not feed the animals". A band having a really good time on stage, they also won prize for 'happiest drummer of the weekend' or indeed, ever. Next were a couple of Truck staples -
Trevor Moss and Hannah Lou
played their chilled-out folk to a largely sat-down crowd, before both joining in with
Danny And The Champions Of The World
. A band that could have any number of people in their outfit, today both organisers Joe and Robin Bennett helped out – on bass and keyboards/flute respectively. And the Truck Monster and his pal the cross-dressing fairy danced on stage too. Much like Bellowhead the day before, Danny's lot have no pretence – they'll just have a good time while playing and hope you do too. The cover of 'Dancing In The Dark' went down as well as you'd expect and set everyone up for the big finale of the festival in style. It was a hard decision next, but we plumped for
Los Campesinos!
over Pulled Apart By Horses and they didn't let us down. Now an eight-piece for live shows, they played a perfect festival set – expertly fitting in the best of their back-catalogue and also full of praise for the festival and its line-up. Dedicating 'You! Me! Dancing!' to the promoters of the Barn, they had a real awareness of what was going on and what Truck means. It was also quite fitting that LC!'s own 'teenage fanclub' came to the front and seemed to be having a great time, so many kids singing their hearts out and bouncing around. Although it seemed their moshing was more akin to a bundle. This didn't stop Gareth running into the midst of them during a closing 'Sweet Dreams, Sweet Cheeks' that was as triumphant as it was chaotic.
Blood Red Shoes
followed up and seemed shocked at having such a high placing, but this Doesn't Matter Much, as they still put in an energetic and enormous-sounding shift. With banter including throwing "the biggest chip in the world" to the audience and random facts about sharks, following the temporary tattoo Laura Mary Carter had got at the festival (they die if they stop swimming, if you were wondering), they played all the hits from both albums and clapping/singing along was encouraged, nay, required. The set ended with Pulled Apart By Horses invading the stage and finishing it in typical rock n roll excess-style.
Teenage Fanclub
closed the festival, one of the Bennett's favourite bands – their status as indie-rock legends can't be doubted and although the crowd seemed a little sparse, they still played a set that went all the way back to their first release in 1990 and was certainly appreciated by their loyal fanbase, and increasingly by the casual observers. Switching lead vocals between Norman Blake, Raymond McGinley and Gerard Love kept up the interest and although the set started to drift a little in the middle, the band soon regained momentum with the last half-hour full of the familiar pop songs that should have been huge – 'Ain't That Enough', 'Sparky's Dream' and their debut single that closed the set, 'Everything Flows'. There also should be a huge shout-out to their roadie, a man who actually seemed to be enjoying himself and gave us some blasts of old songs showcasing his impressive vocals. So, another Truck over and although not vintage in terms of discovering new bands, there was still more than enough to pack into one weekend and the more established bands, on the whole, surfaced to the top.