With the noughties successfully finished and framed above History's proverbial fireplace, we can retrospectively remark that it was the era that paved the breeding ground for the varied music culture we enjoy today.
Tonight, this sonic mantra is being crystallised under the roof of the HMV Forum. Here, plastic tumblers are being raised in aid of In New Music We Trust. The aural brainchild of BBC Radio1; this forward thinking initiative serves as a vehicle to introduce today's freshly cut musical talent to the live circuit.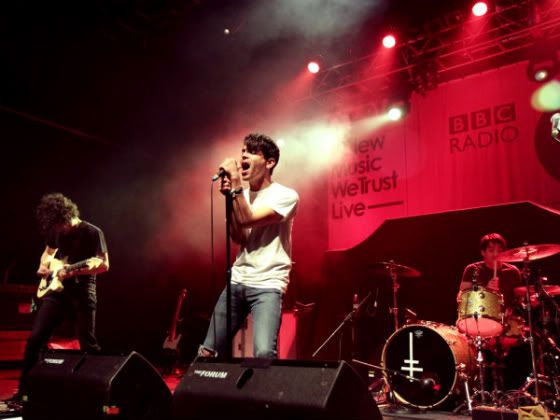 Hosted by heavy hitting broadcasters Zane Lowe and Nick Grimshaw; the audience take their places at the deliciously eclectic musical buffet. Brilliant darts of blue light cast reflections from the floorboards as opening act Funeral Party take the stage.
The atmosphere is carried to state of commotion as the quintet open with 'just because'. A rapidly released drum beat fires from the sound system as singer Chad Elliot's declamatory vocals are set on top searing guitar chords. The reverb from the California quintet's final song rises wistfully like a dandelion hair.
This pocket of calm shatters, and Zane's voice launches vehemently from the DJ booth. Hunched over two turntables, he introduces electronic double act Nero to the deck with a furtive grimace on his face. Twin beams of incandescent light stream to the dance floor triggering an acerbic dubstep bassline. Between the lightening quick flashes of strobe the room pulses as a mass of flaying arms and legs.
A cloud of emphatic applause emanates from the floor and the London dance act completes their set. This residual sense of excitement is gently tranquilised to sounds of Jamie Woon. Comfortably stood amidst an assembly of beat modulators; the twenty something sings his saccharine vocals against the delicately electronic backbeat of 'night air'.
Once again the dynamic turns on its head and Brooklyn's Sleigh Bells accost the stage. A cacophony of drum samples explodes from the speakers, and the audience bounces apoplectically to 'riot rhythm'. Front woman Alexis Krauss captivates the limelight by frantically dashing across the stage with an almost epileptic fury.
The noise rockers' energy is mirrored by the crowed, setting the tone for the headline act. Dazzling spotlights converge and White Lies step to the podium. Dressed in crisp collared shirts, the native five piece end their set with the anthemic 'to lose my life'. Silhouetted behind a veil of opaque smoke, Harry McVeigh's vocals resonate throughout the hall. Haunting synth harmonies climb to a crescendo as the crowed collectively shouts "lets grow old together and die at the same time".
In the aftermath of the night's performances, a tangible sense of satisfaction hangs in the air; a truly spectacular evening with amplifiers set to stun!
Words by Sixty G