Born and raised in Los Angeles, Rachel London's magic touch has graced the bodies of Goldie Hawn, Madonna and Demi Moore since the late '80s.
While the majority of our generation may credit Jeremy Scott for being the king of outlandish kitschy street chic, London is one whose fun and funky look defined fashion. While being a designer has its peaks and valleys in the fashion industry, London herself is one of the lucky few who hasn't given up on her dreams and that includes being a breast cancer survivor.
We chat on Skype about taking inspiration from the '60s, and redefining flower power.
***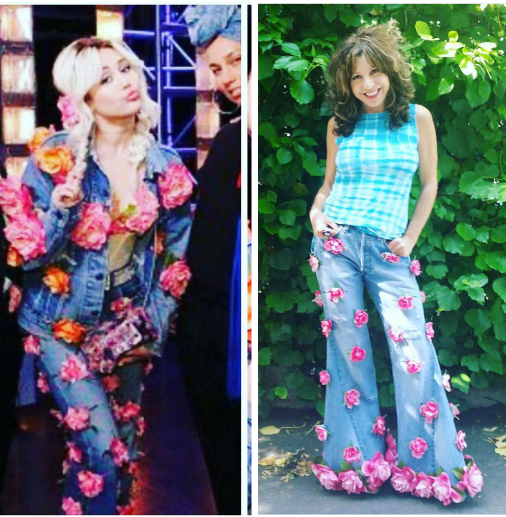 Flowers are a main specialty in your designs. How did it become a signature motif?
When I first started, I made one dress with red roses and then, I made a pair of jeans and I made a bikini. I was like, "You could put flowers on everything!".
I remember you once said that your designs are a spoof of high fashion back in 1989. So, what's your beef with high fashion?
I don't have a beef with it. They're more of my idea of high fashion, but in a more accessible way. I was aspiring to high fashion in a younger, street way.
I see that! What's fascinating me is that you're ahead of your time. I remember that you once said that you started out with Barney's, you had stores in Japan selling your designs and I remember you mentioned this on Instagram, but you had a store on Melrose. You were literally a girlboss before the concept of it even existed. What's it like for you to look back on this era now vs. when you first started out as a designer?
I guess I was being a girlboss back in high school before it even existed. I became a designer as a way to fit in. I grew up in a rich neighborhood, but my parents got divorced and I couldn't afford the designer outfits I wanted, so I made them for myself. I highly recommend that you start your business when you're under your parent's roof because you have no overhead.
Wow...
Yeah! I tried to go to college, but I had a business since high school. I didn't like the feeling of giving them money.
That's fascinating how you have had this mentality since high school.
I've always been self-funded, pretty much. I never had a backer, really. I always work out of my home, but sometimes, I am retailing and sometimes, I am wholesaling. That's why I go up and down with the economy.
Speaking of Los Angeles, how does the city inspire you?
I was so lucky to live in New York in my 20s and start my career as a designer. Nowadays, it's much easier to be an artist in Los Angeles than New York, financially. You get more bang for your buck.
I can see why your designs have been doing so well in L.A. A lot of Los Angeles designers, yourself included, are influenced by the '60s and '70s. What do those decades mean to you?
My father was a writer for a show called Laugh-In where Goldie Hawn came from. It was this wild variety show with wild costumes, parties and politics. Even though I was little, the visuals stayed in my head.
As for the '60s and '70s, I've always worn bell bottoms - I'm 5'2" - for the past 20 years. They're a style that's flattering to your legs. People are like, "Oh! You're so retro!" and I'm like, "No, I'm not!". I don't consider them to be a retro style. They make people look good.
I can see why you've dressed Miley in the Canadian tuxedo, where she had the denim jacket, flower bustier and those jeans...Goldie Hawn also wore the same jeans. How do these women know about you?
It's a coincidence. Miley got one pair of my jeans from a vintage store in London. Then, her stylist, Simone Harouche, contacted me to make custom pieces for The Voice. Goldie Hawn wore my jeans in Vanity Fair years ago and Herb Ritts took the picture.
One of the first things I made for Miley was a remake of my jumpsuit from a '90s Vogue editorial. But, I never heard of a "Canadian Tuxedo" until she wore the jeans and the jacket together.
I thought it was funny because I did that when I first started and went on a business trip to Japan. I wore the jeans and the jacket covered in flowers and went on the bullet train to the main Buddhist temple in Japan. I'm a Buddhist and I chanted with 3,000 people when I was covered in roses like Miley. [laughs]
Aww, me too! It became such a viral sensation with Instagram. What I've noticed from 20 years now, nothing has really changed. But, what I love about you is that you're willing to break away from minimalism, which is the norm now. Although I'm no prophet or anything, statement fashion is about to come back in full swing again. As an influencer, how do you feel about the comeback of statement fashion?
Thanks for calling me an influencer! I'm happy when people are more wild and dressing up all the time. I like all different kinds of styles, too. I never thought I was reinventing the fashion wheel, because to me, I can put a flower on anything. There are minimalist ideas that I like, but I'd stick a flower on them! [Laughs]
[Laughs] Me too! Speaking of fashion, what else do you think will be in store?
When I was living in Malibu, I found that I wanted pieces that can take you from day into night. It got me doing little shifts and matching boy shorts that you can go from the beach into dinner with.
I started custom-making pieces for my Malibu clients. I call it "custom everyday". Flowers optional.
I love the idea - that's very fresh! I didn't know that you were interested in sustainable fashion. As a designer, what did you learn from the process of picking out organic cotton?
I really like wearing it. I'm interested in learning more about it. Actually, all of the stuff I've ever made, I've been thinking that I want to wear it first. I make stuff for myself, really. The experience of wearing it feels really good and it lasts long.
Another thing about sustainability is that vintage is a huge thing right now. I'm discovering the things that I've had - it's good to hold onto things. You're being sustainable with reusing it. This outfit that Miley wore - the purple tube top and matching bell bottom set - is what I did for ages. Both me and her stylist had a feeling that it was right up her alley.
That's what I love about you - that you want to match your own image and align yourself with women who are forward-thinking. What's your definition of a revolution?
I just think that we have to stand up for themselves. With what's going on here, I feel that our freedom of speech is literally under fire. I like people who speak up, especially women. I've been told all my life that I talk too much.
And with revolution, what's the one thing you want to move forward about?
The environment. I don't know if you call it a revolution, but it is. The environment is in danger and you can't sit back and have somebody to tell you that it isn't. I know it's a big problem and climate change is real. Also, I do believe that there is power in flowers. If you can run a car on french fry oil, then they should be able to get power out of flowers!