One day, I was going through my Instagram feed and a friend of mine tagged me in a post. When I clicked on it, I saw three models wearing sneakers, varsity jackets, oversized graphic tees, two-pieces and extra long midi-length skirts. From what I could sense, it reminded me of Jeremy Scott, Nickelodeon and the streets of Tokyo. But what stood out were the graphic, oversized shirt featuring a pair of hairy legs and a two-piece featuring an abstracted figure floating against light green clouds. Upon learning who the designer was, I felt more intrigued to know more about Brandon Reierson, the founder and designer of Lactose Intoler-Art.
Born and raised in Oklahoma, Brandon moved to Tokyo to launch his line Lactose Intoler-Art, which consisted of clothing, jewelry and socks. Splashed with bright colors, bold cartoony graphics and oversized silhouettes, each design looked like as if it belonged on a Jeremy Scott runway with Nickelodeon characters as runway models. While the world of clothing was built to be extremely gender restrictive, Brandon made his clothes unisex. In light of unveiling his AW 2016 collection, we conducted this interview over e-mail in late January.
. . . . . . . . . . . . . . . . . . . . . . . . . . . . . . . . . . . . . . . . .
Where did you grow up and how did your upbringing influence your career?
I grew up in super-rural Oklahoma. I think a complete lack of subcultures in my "only-one public high school" in the whole surrounding area influenced me to start searching for creativity online. I was super inspired by Japanese street fashion before moving to the Oklahoma City area for college, when I started traveling to Japan and making friends with a lot of creative people, as well as international students. Drawing was always a part of my life, but I definitely felt like the oddball in a senior class of only 34, where every single other dude but me played American football.
Why are you interested in fashion and graphic design?
I think fashion can be a really fun way for someone to express themselves in a very personal way. The fashion as personal self expression movement that was going on post economic-bubble-pop in the late '90s in Tokyo really inspired me to have fun dressing how I want. I love when fashion, design, and art can collide into one! I feel like what someone wears can be a visual representation of what they're into at the moment. It's fun to give yourself permission to let your style evolve as you personally grow and experience new things!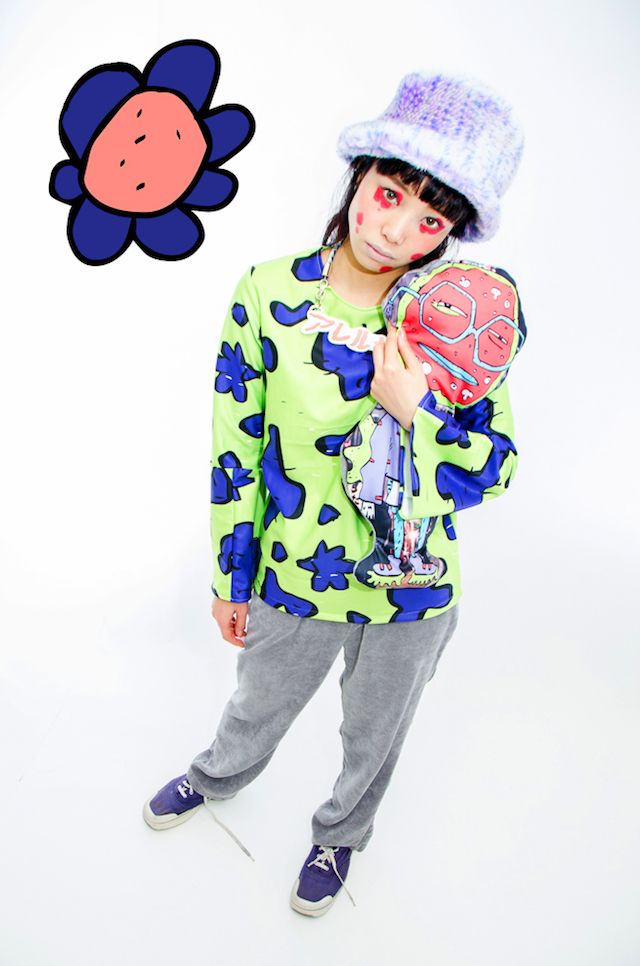 Is there a particular person who motivated you to pursue fashion?
I wouldn't say there was one specific person that motivated me to pursue fashion. I think I've always been an artist, and using fashion as a means of expressing that art is a constant theme in my work. At least until I moved to Japan, I guess.
I guess I was always influenced by street fashion kids photographed in FRUiTS and TUNE magazine, but after living in Tokyo for a few years, my work has gotten a bit more nostalgic and reflective... kind of a fusion of my love for Japanese street fashion, and childhood memories.
How did you come up Lactose Intoler-Art?
The name came naturally as a "cheesy" (pun intended?) play on words. I've always been severely (like deathly) allergic to milk. So again, kind of a fusion! In Japanese, my brand is just called "ラクトス" (Lactose), as "Lactose Intoler-Art" is a bit tough to translate.
You currently live in Tokyo. Why did you move there?
I moved here for several reasons. I genuinely love the culture, especially what's happening in Tokyo with the fashion scene. I love the modern-slash-retro, meets super traditional aspect of the city. I had made several Japanese friends from back home and on trips visiting before living, and I wanted to continue to invest in those friendships as well. I also worked with a non-profit Christian earthquake/tsunami relief organization after the earthquake for awhile, which was a really great experience. I remember I had a friend that was one prefecture over from where it hit in Sendai. I couldn't get in touch with him with what felt like forever. Fortunately, the power was just out of his family's house for about two weeks. I remember sitting in my dorm room watching the news hoping everyone was okay. I knew I wanted to volunteer later that year.
I honestly just feel like Japan is a calling for me, at least for now. We'll see where it all leads!
What was it like for you when you first moved to Tokyo?
I had been to Japan I think about seven times before living, so I didn't think I'd be very culture shocked. Things like getting an apartment, and getting registered with a local bank, Internet, Wi-Fi, etc. was so much harder than you'd expect. In Japan, a lot of apartment agencies simply won't rent to foreigners. My Japanese was much more limited at that time, and I remember sitting at the real estate agency going over a super in-depth contract in Japanese with my friend, hoping I wasn't signing anything too crazy. Fortunately, my Japanese has gotten better since then, and I've lived in this apartment for three years without any major problems.
You are heavily inspired by kawaii culture and anime. Why are you inspired by them?
I would say that I'm more inspired by Kawaii culture with a twist. Kind of "dasa-kawaii" (lame, but cute) or "Kimo-kawaii" (cute, but gross) if I had to put a label on it. Kawaii can be great and powerful for some, but I like a bit of grime and imperfection mixed in. I mean, how many people can be truly 100% kawaii naturally, anyway? I never watched much Japanese anime before coming to Japan, but definitely played a lot of old school Nintendo, which I think definitely inspired me to at least visit Japan. I'm really inspired by American '80s and '90s animation culture, and I think you can see that kind of "East meets West" mixture in my work.
What is the design process like?
I usually start in my massive sketchbook I carry almost everywhere. It's stuffed with glued on trinkets, like weird food packages and business cards, weird little toys, and random bibbledee-bobs. Usually from those sketches I brainstorm and try to conceptualize a piece or collection. I think my world around me as well as internet culture sometimes influences my brain, and it's all kind of regurgitated into my sketchbook. After that, I do illustration on the computer, and those illustrations can turn from anything from chunky accessories to printed fabric.
Among the clothes and accessories you've designed, which ones are your favorite and how can we wear them?
That's a tough question! I always encourage people that wear my brand to mix it with what they personally like. I don't really want to be a designer that just fits into one mold of "how to wear something." I think having fun with fashion is genuinely choosing pieces you like, and mixing and matching them with whatever you love.
I think a lot of the necklaces I make can be really unisex, and worn with lots of different things, without being super loud. For the crazier stuff, I'd recommend one-off pieces, like some vintage leather jackets I've doodled all over, or sewn softballs to.
Apart from that, you've posted your designs on Instagram. What designs have the most likes and why?
I think most of the photo shoot pieces I upload, as well as my outfit posts get the most likes. I'm not really sure why! You may ask the followers that!
Speaking of Instagram, it's been helping the careers of many young designers compared to Tumblr. Why do you think Instagram has been helpful?
I think Instagram and Tumblr as well as all kinds of social media are really relevant for today's market simply because so many people use them. It makes it really easy for more independent designers to have a platform to show some of their work to an audience. Finding that audience might be tough, but there is so much more of a chance for exposure now that we live in a very Internet-infused global world. I think it can be a disadvantage though, because people are so affected by it. I feel like we are kind of in an era of information overload, making people compare themselves too much, instead of trying to simply do their own thing and enjoy creativity a little more freely. I love social media, but I intentionally choose to disconnect and not check it for certain periods of time. It's really crucial, I think. We lose ourselves a bit when we stop investing in face to face relationships.
Do you feel that a drive for higher visibility has brought you to create an Instagram?
I think a lot of my friends in the fashion industry here use Instagram, and it just naturally because another social media platform to share a bit of what was going on in my life more simply through pictures.
What do you hope to do for the next collection?
My next collection will debut at the "roomslink" buyers trade show at the Yoyogi Stadium in Harajuku, as part of a collective of designers put together in a space called the "CharaChara" area. I'll just say the theme is "allergy" and I'm really excited for the photo shoot. I hope for lots of orders too and to get some new international stockists this season as well.
---
Credits:
Photographer:Kimoto Kenta (Kimoken)
Hair/Makeup: Yuka Ishikawa
Models:Tsuruta Hiromi、Genちゃん、Mio、Dave Scott
Styling: Designer+designers own vintage items