While every designer dares to make their mark by relocating to New York, Jules moved out of Charleston and relocated to Los Angeles to establish her clothing line Left Hand.
Comprised of distressed denim, patched sweat suits and reworked vintage overalls, each piece from Left Hand feels like it is born to be worn. Even Rihanna, who wore a pink sweatsuit to a meet and greet during her Anti World Tour, is not immune to the DIY sensibilities of Left Hand. Although Left Hand is fairly contemporary, you will soon hear its name slithering from the tip of every tongue.
While we have yet to meet up in person, Jules and I had a long chat on the phone about the origins of Left Hand, streetwear, and college.
- - - - - - - - - - - - - - - - - -
Who or what drew you to streetwear?
I love graphic design! I've always been attracted to different logos and prints and that essentially is where streetwear stands out versus day-to-day regular clothes. Even though streetwear is such a broad term these days, I think what drew me towards it was graphics.
That's really cool on how you are being influenced by graphic design. From what I can sense, there's a lot of playful elements of words, mixing up patches and reworking a lot of elements in your streetwear pieces like hoodies, sweatpants, jeans, jumpsuits and overalls, which I just saw on Rihanna and on your website. So, did being influenced by streetwear make you want to work on those types of garments?
That started with just learning at a young age how great thrift stores are - from furniture to just recognizing decades from a shorter hem. Back then, they were way less expensive. I would bring home garbage bags full of stuff and sometimes, put a shirt on my leg and I can sew up the neckline and harem pants.
It started with me at night when I was really, really young cutting stuff up and sewing up. That's where the refurbished background came from. I got a sewing background that goes back to 3rd grade. From third to sixth grade, I was doing a lot of projects, volunteering and teaching people how to sew. Left Hand is a new project and it appeals to a lot of the same people that are known for wearing streetwear, but it has a vibe that is welcoming to other people as well. It's crafty looking and fun.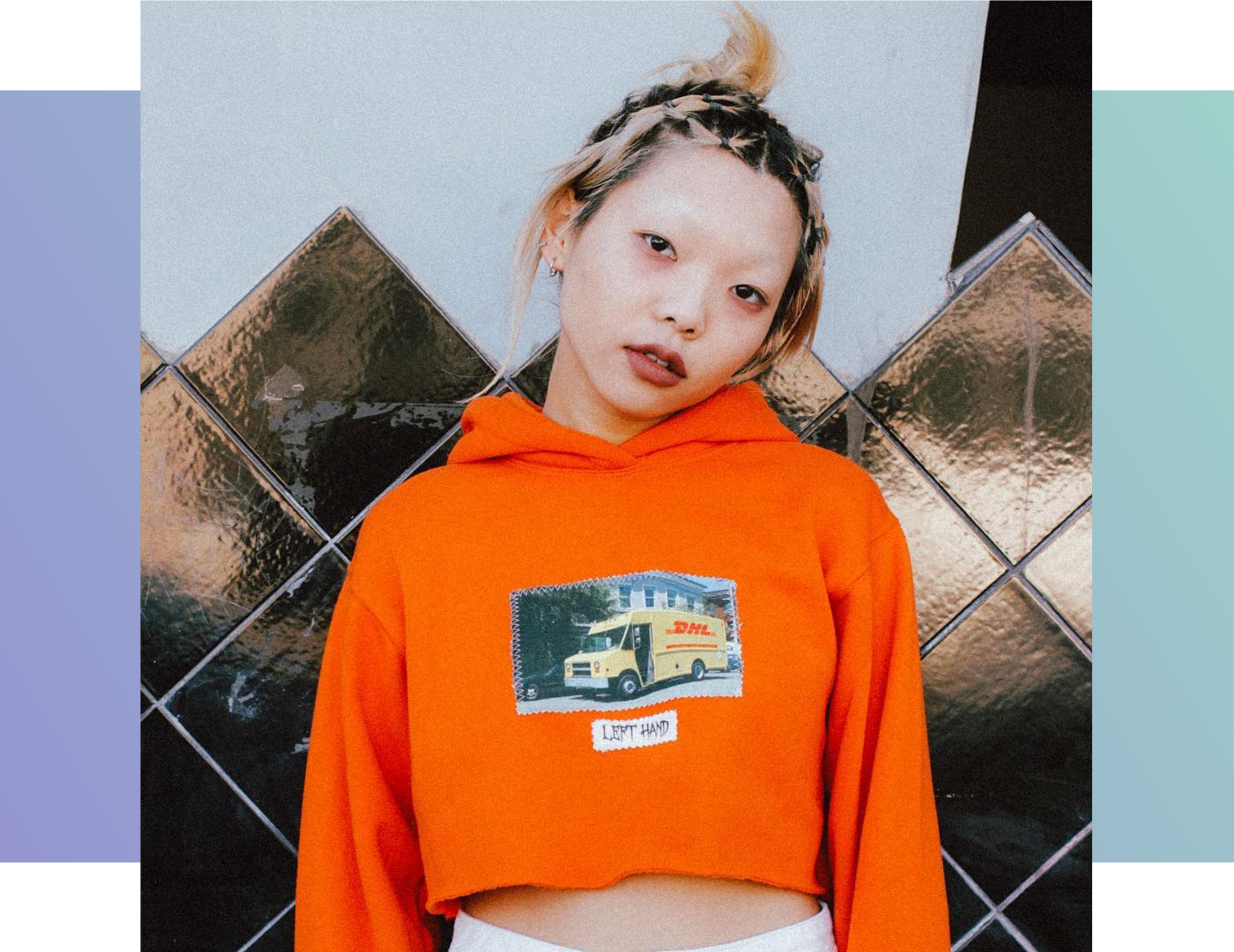 I have to admit that it's open of the reasons I love Left Hand so much. It's playful and it's not like your average streetwear piece. I love how you've been reworking clothes since you were really young! Was there anyone in your family who taught you how to sew or did you learn all this by yourself?
Well, my dad definitely put me on to the power of a thrift store. But I guess my mom turned my shopping addiction over. One day she said to me, "Why don't you turn your love for shopping into making your own clothes?". Then her best friend - who was one of her neighbors - was doing crafty stuff like sewing. I started going over to her house everyday after school. I learned slowly and precisely with her. I made prom dresses all throughout high school.
What is the process like for you to rework each piece?
The whole idea behind Left Hand was like, most people are right-handed, but everyone needs their left hand, too. I want it to be a platform for artists... anyone that wants their art on clothing that can actually go make it happen themselves. A lot of the process is finding different artists that I look up to and admire and together, we'll design patches. I do a lot of Photoshop work with the patches or a lot of them are friends' art. I print them and do a lot of sewing. It's a lot of spray glue and listening to music. But, it's just me. Sometimes, I have an intern. So, it's pretty hectic, unfortunately.
I've noticed that a lot on your designs that your friends have collaborated with you. Do you feel influenced by their style? How did these collaborations happen?
A lot of it are artists I've known forever. We either work together - not necessarily fashion, but we've worked around each other. I don't think any of them have influenced my designs. I just think together, we can create something totally different than the next artist I collaborate with. I mean, a lot of them are friends I've reached out or a lot of them reach out to me.
Your take on DIY streetwear has been a huge hit among your celebrity clientele and I remember knowing about your stuff from Haus of Rihanna. On your Instagram, you had Slim Jimmy from Rae Sremmurd who wore your jumpsuit. How did they learn about you?
Left Hand has been circulating in stores and it was in Japan called Great. A lot of people grabbed different things from there. Rae Sremmurd bought it from [e-boutique] V Files. The cool thing about Left Hand is that people stop you and compliment you. Out of anything I've ever worn, people can't tell that it's handmade. Every time I wear that, everyone says something.
I have no idea how it got to Rihanna, but it was a goal. That's the best part about it I'll wake up in the morning and people will be like, "Congratulations!" There's so much excitement in there and it's getting insane. I don't know how to keep up right now. I've done so much good stuff in a short period of time - it's paying off.
Since your clientele tend to be oriented in the music industry, did you intend to revolve your designs around it?
I think that now that I live in L.A., you actually have the access here. Two or three times I've seen someone that I admired or I wanted to shoot, and I live on Melrose. I've chased a few people down the street and like, "Hey! I've always really liked you, can you come to my house and pick a piece?" So, they're all around here whereas if I was at home, it would be way harder for me to reach out to celebrities and get it to them.
I think seeing people perform, there's something about the pieces that a lot of them stand out as performance pieces and that's because it's art. There's never ever anything that's the exact same. It's so cool because not only me just being influenced by performance or music, it also appeals to these types of people as well.
That's really good that you're able to think about who you want and it's smart of you to have this hustle to think about your customer and your person.
I mean, it's cool because there's pieces floating around that I've gotten to people. The more I make stuff, the more I sell stuff and give it to friends, it circulates. I look to everyone that buys something and figure out who they are. Everyone's so different, but I guess. As for celebrities, there's so many more that I want to dress. I reached out to a lot of them. If they like it, then they're going to be down. Hopefully, I get it in a store in L.A. soon.
Fingers crossed!
Right?! That's the current goal. I guess as I'm watching it grow or as it is, I have to step back and be like, "What do we want out of this?" because it was just me sewing for fun at night in my free time and all of a sudden, someone said, "How much? Are those pants wholesale?" And that person in Japan - he's my mentor. He's everything, but he helped me out and he put my stuff in his store and believed in me and I learned so much of mass production of one-on-one garments. I never thought that I'd be running a business like this. Like, it's so wild!
Speaking of your clothes and knowing how special each handmade piece is, I noticed that you've been selling them on Big Cartel between $50 to $500. Since you're an up and coming designer, do you feel the pressure to prioritize price points when you release a garment?
I never went into fashion to make money. This is just my love; I will put fashion above anything. I'm aware that there's not necessarily a lot of money in it. I respect brands that have higher price points because it seems harder to get and especially with my stuff being one-on-ones, I want people to be able to have it, you know. I'm making stuff all day long. Like, if you saw my room right now you'd be like, "Whoa!" All of this stuff that's in here...i t could just sit here or like everyone can appreciate it for a price that I can keep Left Hand going. As long as I can keep Left Hand going and funding itself, then maybe eventually, that'd be a full-time job.
I don't feel too much pressure with the price points. There are certain pieces that have sentimental value to me. There's no price that people could put on them because that's the only one that will ever exist. There's no way I can recreate something that I've made before. So, those pieces, like, I would want to have one in a museum.
I have to admit that you evolved so much as a designer. I'm not so sure what happened back to the old pieces back in 2014, but I remember all these old photos of your work. You started off with some trippy graphic designs, athletic-inspired rainbow brights and a handful of mesh. So, what was your focus at that time and how does it frame your present work?
Color is always constant with me. Undoubtedly, I stay true to my love for color and a lot of it. Something that's remotely androgynous about it. Back then, I was cutting and sewing those things on sports bras and harem pants and I just loved it. I thought it was cool, I thought it was awesome. I was living in Arizona and that was the crazy materials I had in the fabric store. I had all those pieces still. There's so much reward about making something from scratch from start to finish. I want to get back into that more definitely.
I think people will always see in my work color and I'm gonna forever touch every single garment. I'm gonna sew. It's never gonna be in production somewhere. It's gonna be a small operation and I'm gonna sew the majority of the clothes. Everything will be different. I'm taking on a few other brands, too. I'm going to have brands under Left Hand. [Fashion/music syndicate] Dark World and I were starting our own brand called Early Victims.
Between Left Hand and Early Victims, what will be the differences of both lines?
For Left Hand, everything is going to be sewn, whereas Early Victims will be just printed stuff. Sometimes, Early Victims and Left Hand will do collabs where we'll use the prints that we do and make them patches. We will do nicer garments than sweatsuits. For Early Victims, I want to do be able to get stuff to everyone that likes sweatpants. I want there to be a line - it's not me taking on too much sewing. I think Early Victims will last forever and left Hand will evolve into a smaller operation with custom stuff like doing wedding dresses and prom dresses.
All those big name fashion designers like Demna Gvisalia of Vetements have gone through fashion school. The majority of fashion designers our age have either dropped out of college or got a degree. Was it necessary for you to go to college?
I loved my first year of college, but I'm glad I didn't finish. I went to the University of the Arts London for a foundation degree my freshman year and then, there's a school called SCAD [Savannah College of Art and Design] that is close to my hometown. I went there for a year and after being in London, I learned the importance of not just learning the textbook way to construct a garment, but the power of being in a city. The resources at your fingertips alone are going to influence you as a designer 10 times more than the actual education itself.
This is exactly that I wish someone told me. I really feel that it's amazing how brave you are. I constantly feel that we are being judged for not following what is being thrown at us. Lastly, what goals do you want to set for yourself?
Well, I want an L.A. stockist... I wanna find André 3000 and get him some Left Hand. There's a few other people on that list. I guess my goal for the exact year is to dress some people for award shows, so I'm finding the right client to wear some of this stuff and figure how out to do a crazy DIY prom dress. I want to open up a shop that's appointment only. I hope to do a lot more events out in L.A. I want it to just keep growing, but still stay homegrown.