You've seen her dress up as a baby on her best friend Miley Cyrus' music video for 'BB Talk', dance on stage inside a lighter costume at the Milky Milky Milk Tour, walk down the red carpet at the AMFAR Gala in a Nanny-inspired black velvet dress with red metallic hearts and countless Instagram posts side-by-side with Cyrus. She is also the sartorial fairy godmother who introduced Cyrus to Marina Fini's magical plexiglass creations. Meet Katy Weaver.
While the majority may only know her as Cyrus' BFF and Flaming Lips lead singer Wayne Coyne's girlfriend, Weaver is the founder of accessories line Wicked Hippie with her friend/business partner/co-founder Tanner White. Known for its psychedelic neo-hippie raver aesthetic, Wicked Hippie has been churning out face jewels, chokers and pom-pom embellished false eyelashes that constantly sell out on their Etsy store. Although it may seem like you can only wear them on special occasions, Wicked Hippie's merchandise is meant to be worn everyday like it's 1969.
Read more: 10 excellent headphones that cost less than £50
For her first exclusive interview with us, Katy Weaver chats about face jewels, collaborations with indie designers SO SO Happy and Galaxxxy, the future of Wicked Hippie and shares tips on how to break the Internet.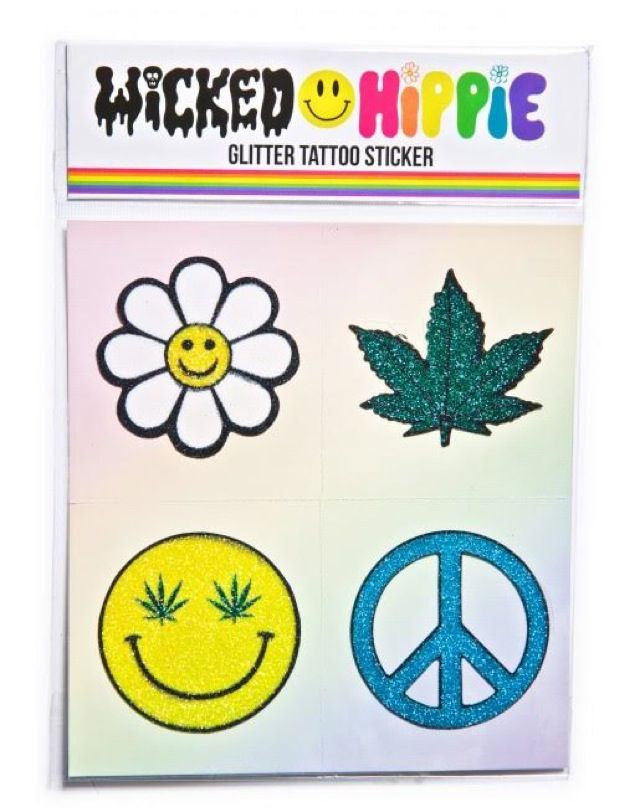 How did you start Wicked Hippie?
Well... let's start with my other half. I've been friends with my partner and co-owner of Wicked Hippie, Tanner, since 2005. We've always had the same brain and been on the same page - even when we weren't keeping in touch - everyday. We've always kind of accidentally lived the Wicked Hippie lifestyle, and by that I mean, having fun and partying, but also taking care of business and taking care of your body. In high school, we were known as the party girls, but we also showed up to class and did well! In college, in two different cities, we partied hard, but did our shit, and always felt like we were doing the most (fun and serious) that we could! That's the Wicked Hippie way: "Too much wicked... you're in trouble. Too much hippie.... you're bored as F@!K, STAY BALANCED." You can have fun and live a crazy life, but you've gotta get up and do your yoga! Anyway...I started dating Wayne Coyne, and he is one motivating motherfucker! He wakes up with more energy than me and goes to bed with more energy after accomplishing more in a day than anyone I've ever met! I watched him do his "thing" everyday and it motivated me to just start doing what I like. He called me the "Wicked Hippie Prostitute Wife," which meant-- sweet, but kind of bad at the same time. I shortened it to Wicked Hippie, and decided to make our lifestyle into a brand. I called Tanner, who is always living my parallel life, and asked her if she wanted to create a brand together! She said "Hell Yeah," and here we are.
What did you study in college and which university did you go to?
I went to the University of Oklahoma, and had no idea what I wanted to do. I started out a pre-med major, taking all of the science classes, and I am not even sure why, because I hate blood and bones. [Then] I switched to business because I had to idea what I wanted to do, and people told me a business major was the safest way. As I was taking those classes, I loved the accounting classes, so I switched my major to accounting. Not sure I'd want to do accounting everyday, and hearing Biggie Smalls say in a song, "No need to worry, my accountant handles that..." [So] I decided to take some health classes. I loved those classes and ended up graduating with a Multidisciplinary Studies degree which means, I studied enough business and enough health to graduate with a business and health-focused degree. I use a lot of things I learned in my business courses with Wicked Hippie, and I use a lot of the ideas I learned in the health courses in everyday life, keeping Wayne, my friends, family, and myself, healthy and energized to do our things.
You are heavily influenced by the late '60s/early '70s hippie culture. Why does it inspire you?
I have always loved '60s and '70s women's style. The big lashes, big hair, and colorful vintage patterns. I think I'm drawn to it because of my dad's mother's style. She had this pair of bejeweled pointy toed heels that I remember drooling over at age 6! She had the most colorful closet, and it was always so beautiful to me.
Who else is your style icon?
The next style icon I fell in love with was Fran Drescher, the nanny. LOL. Her clothes were so fun, matching, bright, and costume-ish. I loved watching the new episodes to see her crazy style! She had the big hair, big eyes, and bright colored thing going on too...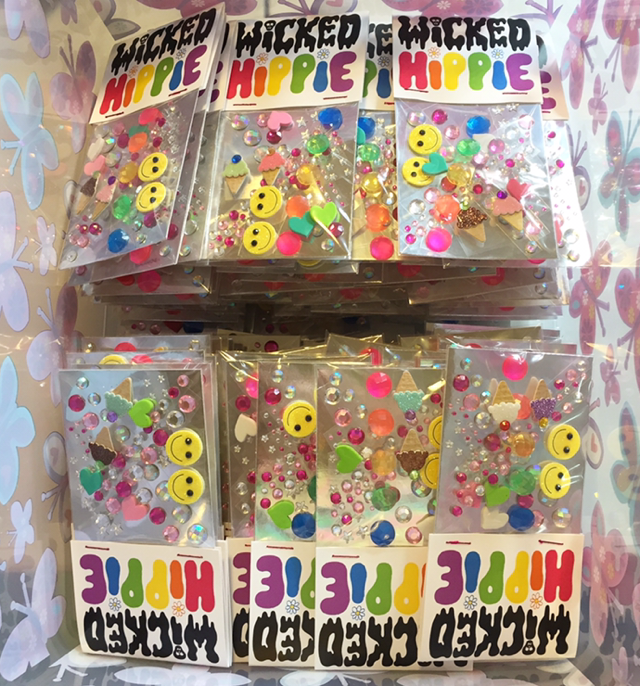 You started off by selling vintage clothing, then you transitioned to create handmade accessories and jewelry. What brought you to focus on doing handmade products?
We started selling vintage clothing, because sometimes at the thrift stores, you find something that is so good that you can't leave it behind. I'd be like: "I know these shoes are a size 6, and will never fit, but they can't just sit here... they're too great!" So my closet was full of things that either weren't my style or didn't fit, but I kept [them] because I liked to look at them. We started selling vintage, and we both loved thrifting for great treasures. But after a while, it took a lot of time to search for great stuff and there were so many other great shops doing all the work for us. We decided to try to start making accessories that we would want to wear, [but] that didn't exist for us to buy. Since I love big lashes, I created some handmade funky lashes, and Tanner started making clay jewelry [featuring] mushrooms, eyeballs, faces, acid blotter papers, [etc.].
You are well-known for doing face jewels, which are spotted on Miley Cyrus and Wayne Coyne. What made you and your friend/business partner Tanner come up with the face jewel idea?
I think it was the NYE of 2011 - I had some scrapbooking jewels left over, and decided to stick some on my face for fun. After that, an outfit was never complete without face jewels! After people started catching on and wondering where they could get them, we decided to figure out how to package our favorite jewels and stickers to make them available to everyone! Dolls Kill was a new online retailer, and was the first to purchase our Wicked Hippie face jewel pack. They sold out quickly, and the face jewels began to turn into "our thing."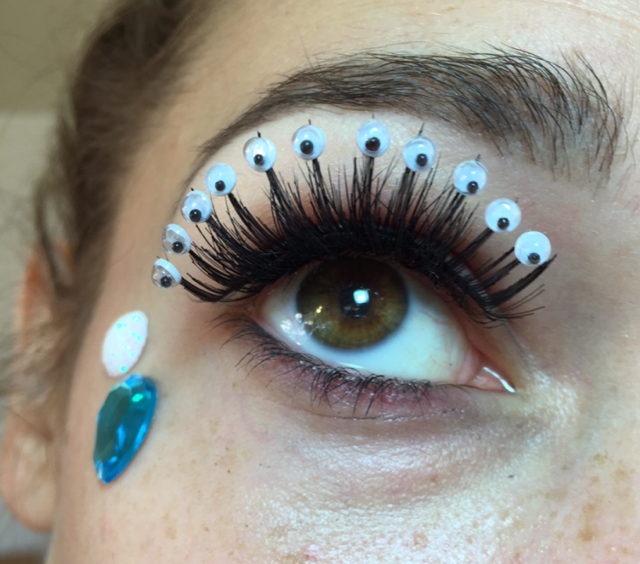 Among all the face jewels you and Tanner made, which set is your favorite and how would you style it?
I think I'll always love the original pack, the LOVE pack, because it really was just a bag of all of our favorite jewels and stickers we would wear daily. The jewels are pastel blues, pinks, greens, and yellows. There's hearts, glitter, smiley faces and looking at the pack just makes me feel happy! We recently did the switch from handmade items to manufactured, and the LOVE face jewel pack is our first style we made! Now we can sell them for cheaper and we added some pieces that upped the beauty even more. I would style the LOVE pack with any outfit! There's a different color or design for whatever you are wearing. Pastels, brighter colors, hearts, smiles, glitter, rainbows... it really just depends on how you're feeling that day. I like to do a couple on my cheek bone on both sides. It gives your eye an extra twinkle. And for fun events, I'll add jewels under my bottom lashes, and in between, or over my brows.
You also collaborated with SO SO Happy to do a limited edition jewelry line and Japan-based clothier Galaxxxy with a range of sweatshirts. How did these collaborations happen and what was the process like?
It was so fun to work with a brand or store that you love! Wayne and I found Galaxxxy while shopping around in Japan one day. What are the odds that we happened to walk into a store with porn as the wallpaper in the dressing rooms and a giant UFO on the ceiling over the cash register?! We immediately fell in love, bought some things that ended up being staples in my wardrobe! They were selling necklaces with giant ice cream cones, rainbow bras with clouds, and sweatshirts with a cute dino on the front. We kept up with them on Instagram and after we started Wicked Hippie, they wanted to do a collab! As we didn't quite know how to do that yet, they created a sweatshirt with our favorite Galaxxxy dino and pictures of our most popular jewels and stickers, both of our logos, and there is was!
With SO SO Happy, we loved their characters, colors and mottos! They reached out to us to do a collab, and we decided to take our favorite characters of theirs, and create a pack of face jewels with the theme of two of their characters, and a necklace with the theme of another! We loved them, because their clothes make people happy. They are so bright and so fun, and they donate 10% of all sales to the charity of their choice. We just loved their vibe and loved being able to collaborate with such an inspirational fun line!
From what I remember, your line with SO SO Happy happened to sell out on Dolls Kill. How do you feel about this?
We were so excited to see that people were loving the Wicked Hippie X SOSO Happy items! We loved them, and the jewel packs and necklace were different styles than we had done before, and we were so SO HAPPY that other people were into something new from us! At the time, we were still hand-making everything, so we were limited in the amount that we could make, so for now, they'll stay sold out. But hopefully we'll be able to do another line with them again soon.
Asides from clothing and face accessories, you also sell pom poms and googly eyes on a set of false eyelashes. What inspired these products?
Well... I just love lashes. The pom pom lashes, I saw some girls gluing stuff to their faces at a festival in the UK some years ago. I was like: "I bet if I could make a pair of lashes, I could sell that already come with all the junk glued on, ready to wear!" There's only a few things that are light enough to glue to an eyelash that won't weigh it down, and pom poms and googley eyes luckily come in very tiny sizes!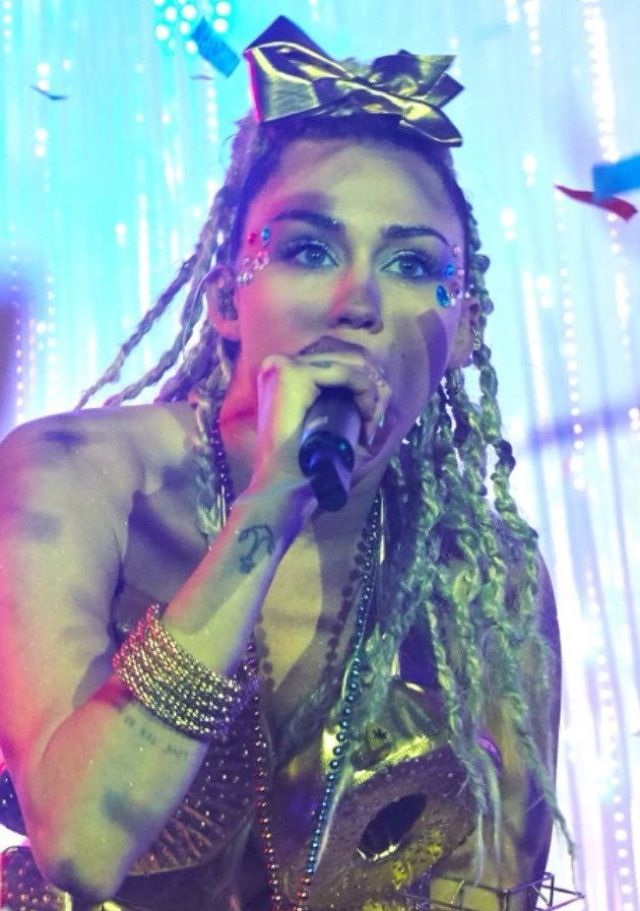 You've introduced Miley to indie designers like The Candy Kids and Marina Fini. (Side note: they're also my favorites, too!) How did you know about them?
I came across both of them (at different times) while walking around LA! Both of their items were in random stores, that happened to be in an area while I was walking around burning time while Wayne was doing something Wayne-ish! I found Marina Fini's blue daisy choker in a store called Glitter Death, and I went in just because of the name. They had fun vintage and some local designers. I didn't know Marina [at that time], but I fell in love with her laser-cut neon jewelry! After posting a picture in the necklace on my Instagram, she found me and we became good friends. Both definitely on the same trip, but doing different things. Just about the same thing happened with the Candy Kids stuff... [I] happened to walk into a random shop downtown LA, saw a binky necklace, and got matching ones for Wayne and Miley, and it became another jewelry staple for me! She [i.e. Reba Massey, the designer/founder of The Candy Kids] bedazzled some binkys and sent them to me and now we've become fun weirdo friends as well!
These days, DIY designers like yourself have more visibility thanks to the Internet and social media. What advice do you have for aspiring designers?
I guess my advice would be to do what you want. Make things that you would want to wear, that you have fun making and expand from there. We wish we could hand-make everything, but getting our ideas manufactured has started to let us have so much more time to create, and come up with fun ideas, and not get burnt out on the production process. You want your stuff to sell... but if it does, WHEW!!!... shopping for the ingredients, cutting, stuffing, printing, packaging, labeling, boxing, selling... it becomes a lot! And you never know what people are gonna like! So start with what you have fun making... and if you end up with a great demand, you'll figure it out! Etsy is such a great site for DIY designers and businesses trying to get their name out there! If people search for "FUN", "LOVE", "GLITTER", or "JEWELS"... our face jewels come up! SO... tag as many "materials" as they'll let you, and it will help connect your product to keywords people are searching for... and have fun with your Instagram! People will follow fun pages just to watch, and then you'll end up with buyers because they like your style!
Lastly, what are your future plans for Wicked Hippie?
Well... my favorite psychic told me that 2015 was the year to build my business... and 2016 is when we really start growing. We just got our first manufactured face jewels, which are available on our Etsy now, and in our favorite weirdo shops soon. Our new style of glitter tattoo stickers will be available in the next couple weeks, and we are currently in production of our next style of face jewels! Our next style is our "Munchies" pack that features a glitter marijuana leaf, and stickers of all your favorite munchies to go with it. We are also up and running on our new website www.wickedhippie.com where we sell what is currently available, showcase our MOST FUNNN past items, keep you up to date with what's coming, and what crazy things Wicked Hippie has been up to lately! We are so excited for this year!