A couple days before Halloween, I was craving for some new fall/winter clothing and went on Devowevo's website for some post-dinner shopping spree. On the website, girls wore Peanuts-themed pinafores and spiderweb printed halter tops with baggy jeans. While the previous garments were cute, the one garment that really spoke to me was a pair of fleecy black leggings with rainbow Puff Paint skeleton motif on the legs. Underneath it the picture, the designer's name read as "WHATEVERNBD". With a simple Google search, I clicked on WhateverNBD's Instagram link and learned that it was made by Kelsey Rubenstein.
With a hippie meets '70s punk aesthetic, Rubenstein is no average Valley Girl. Instead of the stereotypical California sun-kissed blonde with Daisy Dukes and bikinis, Rubenstein's black/electric green hair and bold tattoos exude an in-your-face punk rock persona. Along with her unfiltered emoji-laden posts that decry the mainstream fashion industry's reliance on fast fashion and showcasing upcycled/handmade clothing, Rubenstein is the voice of a generation. It is no secret that she has 36.2 thousand followers on Instagram and 2,847 followers on Depop, an app-based marketplace where emerging designers and fashion figures sell discounted and handmade merchandise. Although we have yet to meet in person, Rubenstein offers her thoughts via e-mail.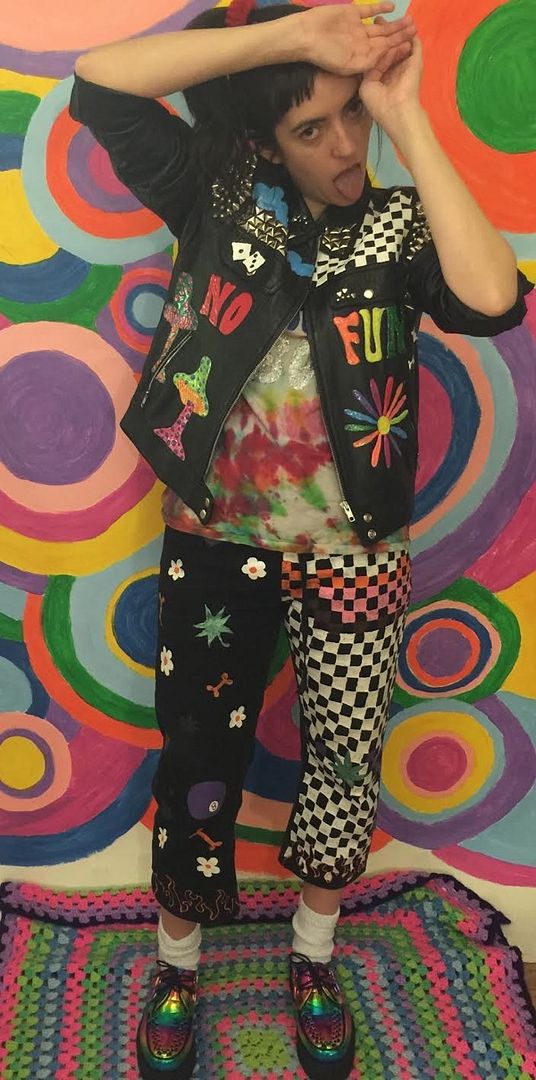 What does clothing mean to you?
KR: Clothing to me is F-U-N. Every day when I wake up I decide what kind of mood I am in and what "character" I want to be that day and dress accordingly. Clothing is a way to convey a message without words.
How did you pursue a career in fashion design?
KR: I have always been interested in fashion design, since I was very, very young. In first or second grade I would draw and fully color these catalogues of clothing with details on how much they cost, the cut and fit of the garment, what materials were used et-cetera. I quit going to school at 16 and interned with an[Oscar-winning costume designer, then had a few runs with other companies (Betsey Johnson, Lip Service, Tunnel Vision, Glitter Death) working in social media, design, and sales. It gave me an overall view of how the fashion/garment industry worked and that is how I am able to now have my own design company myself today!
You have a very distinct DIY '90s cybergoth, punk meets late '60s flower child aesthetic. Who/what inspired it?
KR: Punk has/is/was/will always be a major inspiration for most all aspects of my life. I am very politically motivated, and will always stick up for the underdog. I like to shock people and get a rise out of them. Punk is angry and also satirical/funny, which is what I like my fashion to be. Aesthetically I would describe my style as a 15/16-year-old boy growing up in Venice Beach in the late '70s/early '80s who rides around on a skateboard and listens to The Germs. I also love psychedelia/rainbow. Lots of pop art. Iconic images: 8balls, flame, dice, flowers, smiley faces. I used to draw a lot of tattoo flash, so that has come to play a lot in my art/style. The '90s style is inspired by " the hot babysitter" - the girl who was a few years older than me and trashy as fuck, who ate all the food in the fridge and called her boyfriend on the land line whilst ignoring me. I have a lot of duality in my style, so I try not to pin point it! One day I can be a fairy princess, the next I can be a grimy little boy, that's all part of the fun.
Speaking of your clothing line, Whatever NBD, how did you come up with the name?
KR: Whatever NBD is also kind of a joke, my first IG handle was "goodslutty" because that's how I used to try and describe the "hot babysitter" aesthetic, but people didn't get it. They thought I was in porn. I changed it to "whatever nbd " - meaning whatever no big deal as a kind of social commentary on everyone's seemingly apathetic view to the world and things happening around them. Like, "hey millions of people are starving, but let's post a selfie! " " whatever, no big deal!! ".
You mentioned on your Instagram that "making your own clothing is the most rewarding feeling". What brings you to make your clothes by hand?
KR: Making my own clothing is the most rewarding feeling. I go to the mall or to a shop and there is nothing there for me. It is depressing. Everything is the same, it's all mass produced. It has blood on it (the blood of the poor women who have no other choice other than work in dangerous factories, with no workers unions, for slave wages.) I am not down with that, plus I can make whatever I want, I can have things that no one else has. It is rewarding and also necessary. It is my outlet.
What will the signature piece that every girl should own from Whatever NBD and why should it be in every girl's closet?
KR: Everyone is different so who am I to say what someone needs? People don't need any more clothes, but I hope that people will see my art and be moved, and appreciate it and wanr to own it. I have just started painting a (vintage) leather jacket for myself. I think a good leather jacket is something I couldn't live without.
Recently, you did a collaboration with Devowevo and Marina Fini for a Halloween-themed capsule collection. How did it happen?
KR: That was pretty funny actually, Marina is one of my best friends and one day (in September), she just suggested to me that I work on a Halloween collection with Devo (who I'd never met before!). Devo came over and showed me this orange spandex fabric with spider webs and spiders on it and I said, "If this is anything like what you want the Halloween collection to be like I am in!!" We just went from there. Devo stayed at my house for a week or two and we just smoked joints and sewed and painted every day. We got everything from start to finish (production, lookbook, website, product shots) all finished in 2 1/2 weeks! It was stressful, but I love Halloween and it was so much fun! I would have never made all of that stuff in such a short amount of time if it wasn't for Devo, so I'm very grateful to her. I had never used an overlocking machine before! Marina and one of our favorite artists, Jaqueline Denton, collaborated on some spooky accessories to go with and the whole thing was incredible!
Now that Halloween is over, what should we anticipate for the next collection?
KR: My new collection is going to be trippy hippie political revolution drug style with a psychedelic/rock 'n roll twist. Mixing up the angry '70s anarchist punks with the '60s flower power peaceful protesters. It's very relevant to me right now, and I can't wait to finish more stuff!
Recently, more and more indie designers are using Depop to sell their merchandise as opposed to Etsy. Since you have a strong Instagram presence, how has Depop helped you?
KR: Depop is great! I've been using it because I have way too much stuff and I need an easy and fast way to get rid of it. I have used other sites and found them tedious and lots of work. Depop is super simple and I would much rather spend time making stuff than trying to list it perfectly.
Lastly, what do you hope for the future?
KR: Someday, if I ever get to the point where I'm producing my stuff in larger quantities overseas I'd like to be able to set up my own factory where I get to know all of my employees and help them set up a regulated labor union where they are getting paid well and have time to spend with their children and also be able to set up schools, hospitals, and enable all kinds of economic growth to a population that needs help.