A heavily tattooed petite woman stood in front of me with a table filled with zines and gold-plated "Caliente" nameplate necklaces written in Gothic script at the L.A. Art Book Fair. With a high dark brown ponytail, Bambi-like eyes and a white t-shirt, I could never forget that face. When we introduced ourselves, she told me that her name was Marilyn Rondón. Although this was the first time I had ever heard of her, I went home with a zine with a pink floral print cover and "Caliente" necklace.
When I went home, I jumped on my Instagram and immediately followed her. Filled with photographs of herself, zines and press clippings, I could not resist double tapping the screen on each photo. I realized that not only was Rondón an up-and-comer in the art scene, she was a force to be reckoned after exhibiting the infamous "Latina Seeks Thug" Craigslist project at the Little Haiti Country Club in Miami. Now, I have a feeling that I need to get to know her more and seize the opportunity to interview her before all those big-name magazines ring her up.
Not only is Rondón a photographer and visual artist, she is also an author and illustrator with a soon-to-be-launched children's book fresh off the oven. Born and raised in Miami, Rondón has a laid-back, yet colorful aura that evokes the sandy beaches and pastel buildings of the city. Combined with a strong sense of individualism, Rondón is one fearless caliente chica. While she and I are living on opposite coasts, we chat over e-mail about her latest project, photography and zines.
. . . . . . . . . . . . . . . . . . . . . . . . . . . . . . . . . . . . . . . . .
Who/what inspires you to create art?
That's quite the loaded question. I can really go deep into it but I'll keep it simple. Sometimes I get a burst of inspiration to create by a song I hear, or a feeling in the air. Sometimes life events really trigger my work- others it's simply anxiety and the best way for me to channel that anxiety has always been by creating work.
Who are your favorite artists?
I consider my peers some of my favorite artists, it's really wonderful to watch your friends evolve into incredible creatives. Emma Kohlmann, Sonya Sombreuil, Tamara Santibanez, Alexis Gross, Jordan Nasaar, Chloe Kovska. I've been a big fan of the works of Kelsey Henderson, Tabula Auerbach, Maia Ruth Lee, Peter Sutherland, Cali Thorn Dewitt, Paul Wackers, Michael Dotson, Barry Mcgee, Stephen Powers, Margaret Kilgallen, John Kacere, Suehiro Maruo, Egon Schiele, I can keep going, but I'm gonna stop.
You are known for your steady 34,800+ Instagram followers, who are in love with your NSFW artsy photographs. How are you able to accumulate a lot of followers?
Honestly, I don't know. I think people are drawn to me and my work because I speak from the heart. I keep it real with everything I do. I talk about the good and the bad, I make it constantly known I am human, and evolving and I think making my voice heard, instead of just posting pretty photos or just photos of my art makes people feel connected to me- like they personally know me, which is ok in my honest opinion, I'd rather be known as a chill as fuck human and not a fake internet persona.
While you are mainly known for your erotic photographs, you mentioned to me that you are now launching a soon-to-be-released children's book. What brings to you do a children's book and what is your intention with launching it?
My Junior and Senior years of high school, I was in the graphic design program. I've been illustrating just as long and it's always been a dream of mine to make a children's book, and let me tell you, it is much more challenging than it sounds. I dedicated the last three years of my life into making this book happen and I am beyond thrilled to finally bring it to the world, share it with children and adults throughout the globe. I must say this is my biggest accomplishment to date and I cannot wait for my friends and family to hold it. The intention behind my book is to teach diversity.
What will the book be about?
The book is titled "Why does mommy have tattoos" and it simply and playfully answers the question that brews the minds of not only children, but all kinds of people when laying eyes on a tattooed individual. The inspiration came from my life. Every waking day of my life, I get asked these questions so I figured, "Why not make a book explaining to children that tattoos no longer represent what our parents see them as?"- they are simply an art form, a way of self-expression. The book is meant to teach diversity in an imaginative way. I wrote and illustrated all 40 pages. It is ages 2 and up and published by Lit Riot Press.
Since doing the children's book will be your first writing project, what is it like to work on it?
My children's book is actually not my first writing project. Last year, I put out a zine titled "You're not Drake" and it's an intro to a book I'm currently still writing. It's a memoir from the darkest years of my life and how I got myself out of that mess. The zine was self-published. Working on writing is something I find quite challenging because I didn't go to college, barely graduated high school, and I actually repeated my junior year. But it's a challenge I enjoy. We're all little stories floating around the universe - why not share them?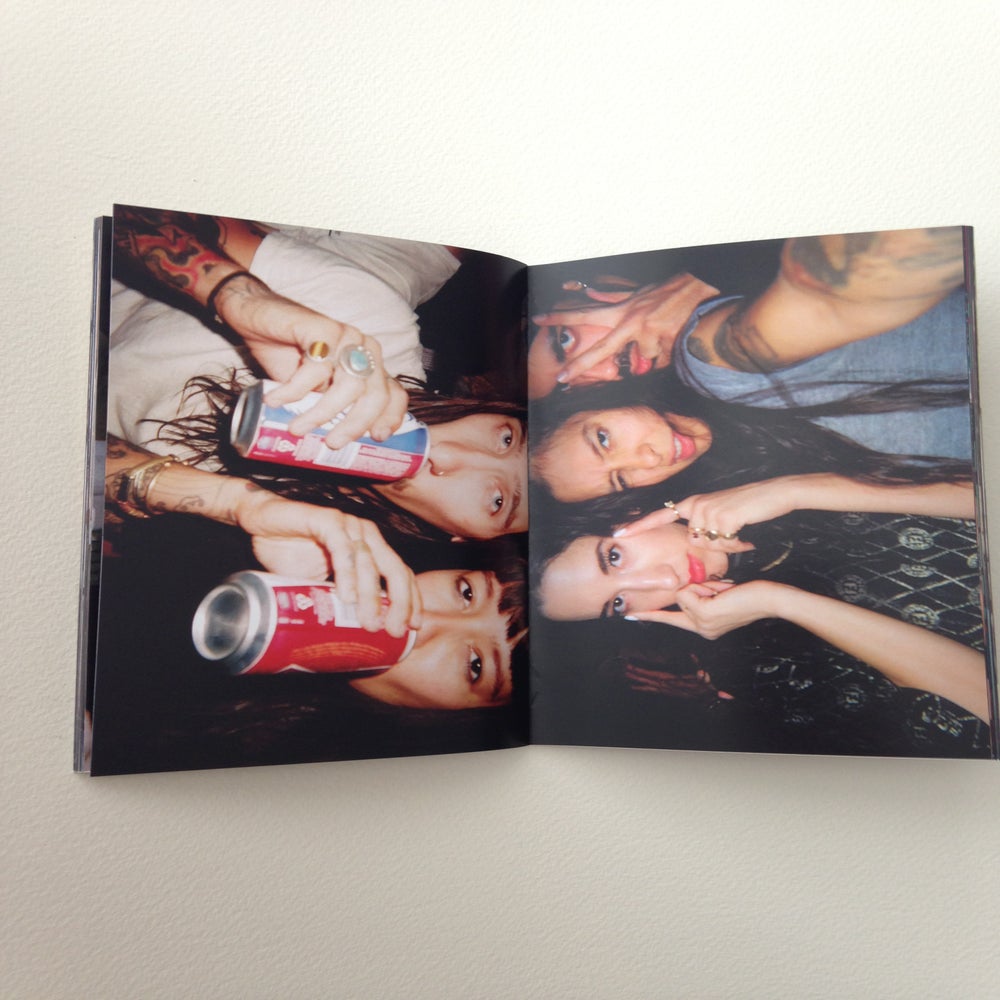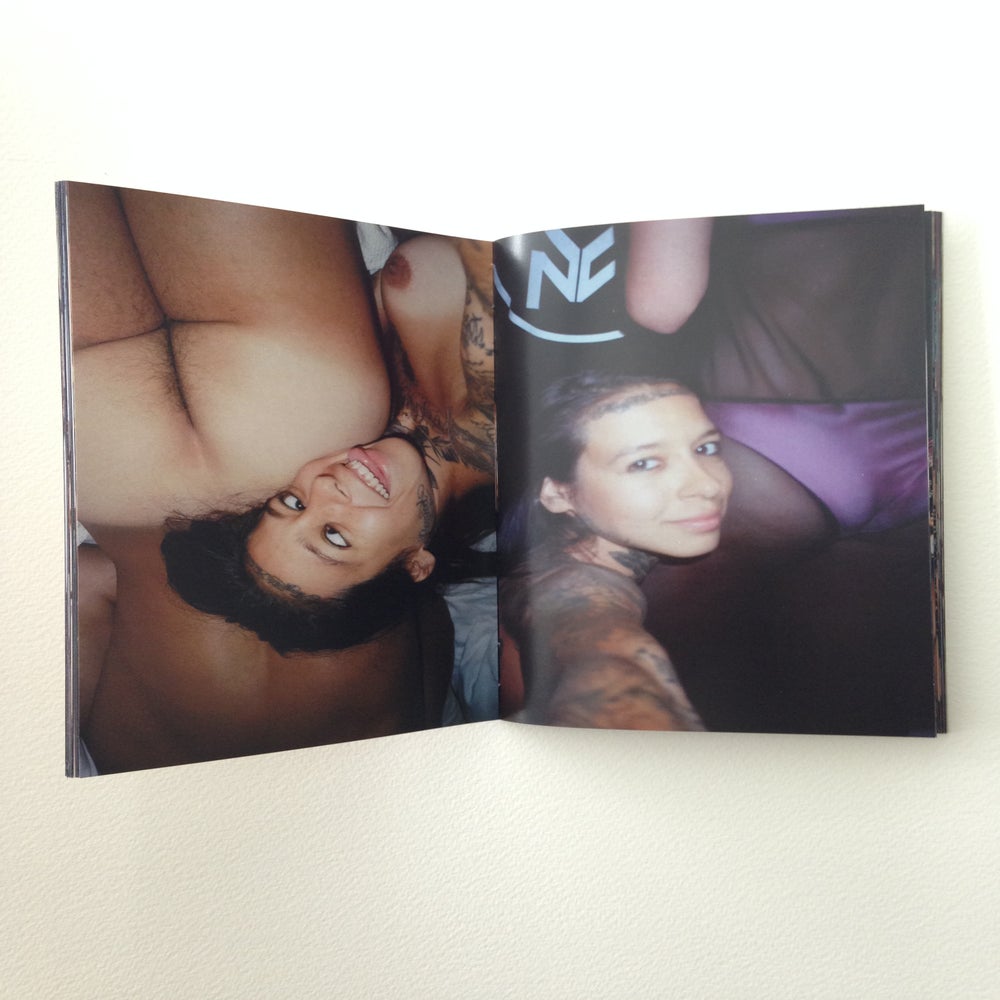 Considering that it's a more PG project, do you feel that your fans will react to your work differently?
I try not to put much expectation into my work. I can only hope for a positive reaction but thinking further than that just creates anxiety in me.
As of now, your most recent project was a zine called "Now and Forever" (shout out to Drake) and the photographs (which happened to be taken on a 10-year span from 2005-2015) remind me of Harmony Korine's Spring Breakers. What was your intention of depicting your life through photos?
I've never considered myself a photographer. I've been shooting photos since I was a kid, it's always been my way of documenting my memories in a tangible form. I strictly shoot film, and only moments I feel I should remember. When asked if I wanted to show photos, I was super nervous because I've always just shown art, not my personal stash of photography. I guess my life is just reminiscent of Spring Breakers, but that most certainly was not my intention.
Do you hope to release more zines in the future?
Absolutely, I think zines are just like paintings to me, I'll keep making them forever. It's an intimate and affordable way for people to be a part of my life/hang on to my art.
Lastly, what are your goals for the rest of the year?
I plan on traveling a lot, painting more murals, leaving Miami for the summer, and maybe, just maybe having a solo show in the fall, if the universe allows.
You can visit Marilyn Rondón by heading to her official website.