The day before Valentine's Day, I was doing some early evening shopping at Glitter Death, where designers and vendors held an event that honored the holiday. Inside the store, racks of vintage and handmade clothing filled both sides of the room. Bags, sunglasses, and jewelry were also stocked. As much as I thought about getting a new bag, I looked over at some pins and fell in love. Pam and Tommy; Cher and Dionne; an old school Nokia phone; a tube of lipstick... the list went on and on. On top of each pin, "Laser Kitten" caught my attention and made me forget about trying to find a date.
When I went home, I couldn't forget about the bright colors, glitter, cartoon-y style graphics and faces of celebrities that I saw at Glitter Death. From there, I was on a mission to get to know the designer of Laser Kitten.
I had a chat with Marisa Ravel (the founder) about pins, '90s nostalgia, and the plans to expand Laser Kitten as a clothing and accessories empire.
. . . . . . . . . . . . . . . . . . . . . . . . . . . . . . . . . . . . . . . . .
What does art mean to you?
I think art is the expression of a feeling.
How did you get into fashion and what made you want to pursue it?
I've always expressed myself through what I wear and had little side business making jewelry and clothing (since I was a kid). My style is the first thing people notice when they meet me. While on vacation in London last Summer, I walked by the Fashion Retail Academy. I noticed some cool girls out front and a large sign in the window that said: "START YOUR OWN FASHION BUSINESS". I couldn't stop thinking about it, so I immediately extended my vacation, rented an apartment in London for a month, took the course, and the rest is Laser Kitten history.

You mainly focus on pins. What draws you to them?
I like pins because they are tiny pieces of art. You can mix and match them to create different moods, and I just think they look super cool. Our motto is "more is more", so the more pins, the better!
The themes in your work mainly pertain to pop culture and '80s/'90s nostalgia. Why do you choose to focus on these themes and why do they matter to you?
I was born in 1980 and was a teenager in the '90s. I've always been a unicorn-loving, Lisa Frank collecting, glitter girl, for as long as I can remember. These years are important to me because they formed who I am today.
Since fashion leans towards nostalgia, why do you think that millenials like yourself tend to draw references from the past?
My aesthetic has never really changed. I've always worn pastels, rainbows, glitter, spandex leggings, off shoulder t-shirts, colorful jewelry, high-waisted denim, and so on... I think there are a lot of people out there like me, who love '80s and '90s pop culture and don't really grow out of it; they just add their own modern twist to it.
Asides from pins, you also have patches, stickers and customized vintage outerwear, where you embellish it with sequins and paint. What influences you to expand your line?
Laser Kitten is a multi-faceted diamond. We aim to shine bright in a lot of areas, not just one!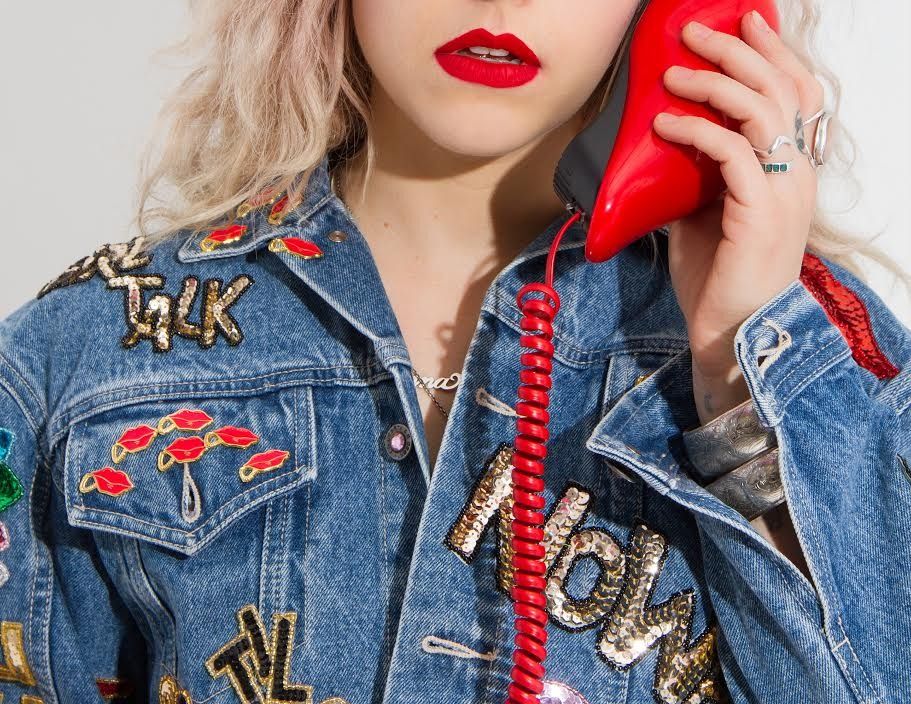 Recently, you started to work on your own clothing line. What brings you to launch a clothing line and did you envision yourself as a fashion designer?
My professional background is in Advertising/Art Direction and teaching creative courses (Social Media and Creative Direction) at Academy of Art University in San Francisco and Expression College for Digital Arts in Emeryville. In my free time, I was busy reconstructing/embellishing clothing, making jewelry, painting and constructing handbags, and so on. Once I decided to start my own fashion/accessories business and use all my art direction and social media skills for Laser Kitten, it all clicked. I'm truly happy doing anything creative, including being a fashion designer.
If you are to style any piece from your collection, how will you wear it and which design is your favorite?
I like to load up a cropped moto-jacket with as many of our pins as possible for maximum '80s/'90s punk-princess flair. They are all my favorite.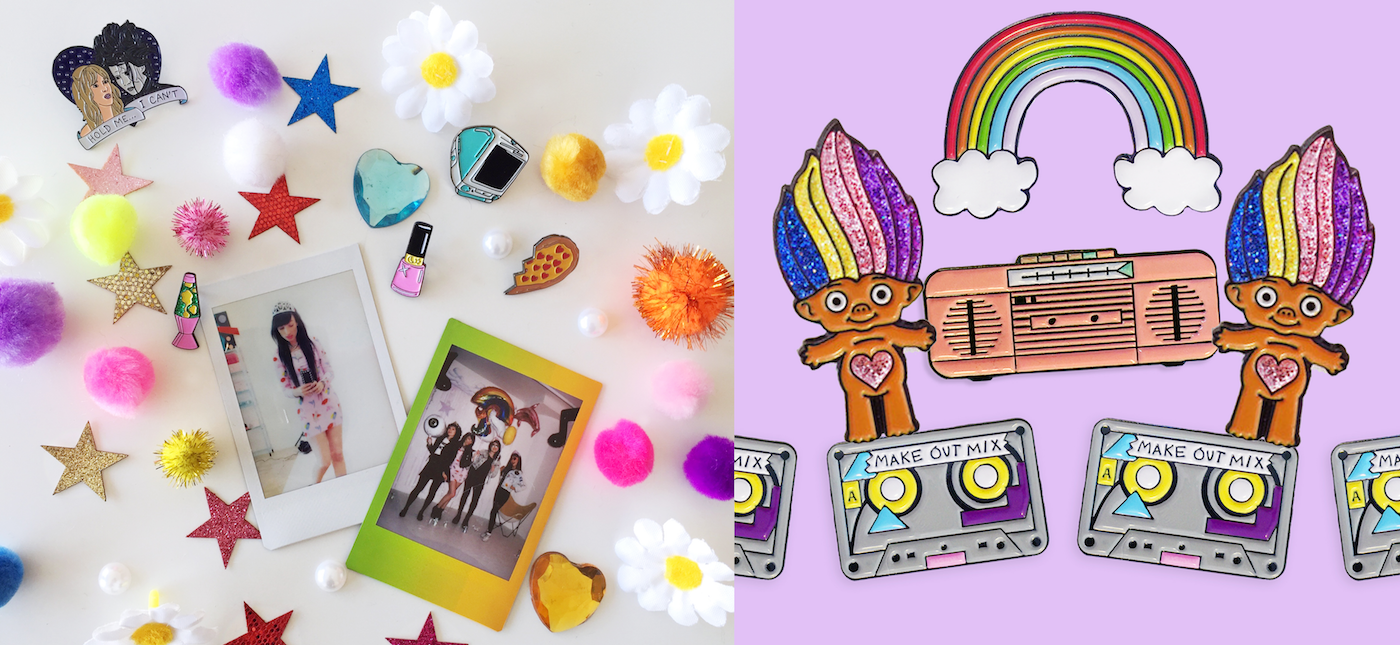 What I love about your line is the name, "Laser Kitten". How did you come up with that name and who is the Laser Kitten girl?
Back in 2007, I started a laser cut jewelry line. I wanted to name it something cute and sexy, but also mentioned lasers (since I was using laser cutting machines to cut the acrylic jewelry). So, I came up with Laser Kitten. Even though I quit making laser cut jewelry a few years ago, the name was still special to me, so I had it trademarked, and use it for the fashion and accessories line you see today.
The Laser Kitten girl is cute, sexy, flirty, nostalgic, stylish and definitely very sparkly. Think unicorn-punk-princess, grown up Punky Brewster.
What are your future plans?
To expand the line with more clothing, more patches, more pins, and eventually move into fine jewelry. People also keep asking us to open a store, we might do that someday too.
You can visit Laser Kitten by heading here.