Somewhere in the heart of Hollywood near Vine Street, tall green shrubs cover a pale orange two-story house like Dragon guarding Princess Fiona's tower. Like the tower, the house has an elusive, yet inviting vibe that is filled with mysteries. Before I entered, Reba greeted me. With a blonde pixie cut, glimmering blue eyes, ribbed black long sleeved top, vintage Levi's and a white faux leather choker with a bedazzled pacifier charm, Reba exhibited a fairy-like presence that immediately draws strangers into her magical world.
Inside her house, a rectangular light installation with gridded cubes hung above a black leather sofa at the living room. Next to the sofa, a faux potted plant with lights emitted hints of sparkle. While activating the light installation on her remote, Reba told me that she created the tree and the light installation, which was also built with her boyfriend/business partner/actor Ross. With the cubes changing colors from blue to red, I felt like I was at a rave. Then, Reba led me to her studio, where she and her boyfriend churn out ideas for their jewelry line/cartoon series called The Candy Kids.
Framed by four off-white walls, accessories and a papier mâché-esque teal giraffe/dinosaur hybrid creature called Rosemary Milkshake hang from the wall. On the right side of the room, a blue green plastic chain charm necklace has motifs of baby bottles, watermelon slice, dogs, bears, clowns and bells hangs like a set of malas. Next to the necklace, two backpacks hang on the walls like a set of trophies being displayed. Up close, the backpacks are motifs of a pastel rainbow tie-dye kawaii monster aptly named Love You Lots, a character from Reba's upcoming cartoon series. On the top end of the room, gold and silver plated chains hang from the wall adjacent to the desk. Opposite the desk, there is another desk with a Mac surrounded by shelves of CDs, books and My Little Pony toys. Being inside Reba's studio space felt like entering another universe where pastel-colored ponies on LSD flew across the sky while Shrek and his squad were dancing on a rainbow-lit dance floor.
Where did you grow up and how did it influence you?
I grew up in Georgia and I'd say it influenced me because being from a small town, I couldn't wait to get out. It motivated me to move to New York to get out of it.
When you moved to New York, what was it like when you worked there?
I was interning at Comedy Central and in college I studied TV production, I wanted a creative job. After a few years, I realized a job with a creative title wasn't that creative. I had visions of my own I wanted to pursue so I quit working full time and started to freelance so I could pursue my own ideas.
Then, you decided to move to Los Angeles. Why did you choose to move to L.A.?
Actually, we came to L.A. because there were a couple of reasons, but mostly, my boyfriend's an actor and we also lost our apartment in New York.
Oh no!
[light chuckling] We'd been thinking about moving out here. We were trying to find a place in New York and it wasn't working out and it seemed like everything was pointing to the direction of moving here. I started the accessories here, like, a little over a year-and-a-half ago. I don't think I would've made the binky chokers in New York. I felt that moving to L.A. is a new a fresh start - it's sunny and cartoony. We came for him initially, but I felt like I've grown a lot as an artist here.
I can sense that a lot in you. In L.A., I noticed that there's this neo-rave culture out here. Like it's all neon and brands like Mamadoux are known for exemplifying that PLUR, candy neon rave lifestyle. What brought you to be inspired by rave culture?
I used to be a raver when I was younger.
Really?!
Of course! Also, the music. I've always been inspired by the music. I was excited to come out here with Body High and Fade To Mind. I knew some kids and got involved in the culture here because of mutual friends in New York. A friend of mine Maluca Mala, knows a lot of people in L.A. [and] she introduced me to a lot of artists in L.A.
It's amazing how your friend can help you out. And now, I noticed that neo-rave culture has been documented by mainstream press outlets like The New York Times, who said that Miley Cyrus is simply the face of the new neo-rave aesthetic. How do you feel about that?
I think that it helps with people being accepting of it. I think that if she wasn't famous, you know, she would be at the raves. I think she is that kid. I like that she embraces the culture and it's a positive thing.
When you have a mainstream celebrity that is the face of fashion, everyone comes and follows. With Miley Cyrus, I noticed that you credited her for selling out your binky chokers.
Definitely her wearing it has helped the kids find me and you know, it has definitely made it more desirable - that's for sure. My favorite thing about Miley is the Happy Hippie Foundation. Every big order I get, I donate a little bit to Happy Hippie. Right now, I'm doing three percent. Hopefully, that will grow and grow and grow. I love how she's using her voice. She's doing so much for trans kids and even for rescuing animals. It just shows that she's a great human.
I agree. I l think that the press misunderstands her so much. I love the fact that she's able to help you to get your brand known is very, very important. With your binky chokers, what made you choose the motif of the little binky?
It's funny that you asked me that because a lot of people don't ask me [that question]. I have a friend, who has been my best friend since we were six-years-old. She's like my sister. This is my favorite accessory, this charm necklace [points to it] from when I was in 4th grade and I was nine-years-old. I was talking with her right before I came out with those chokers, you know, getting inspiration from my childhood. This was our favorite charm - the baby bottle. We would trade these charms and everyone wanted the baby bottle. I wanted to make something inspired by the charm necklace. I did chokers because that's what kids were wearing. I did the pacifier because it was the baby bottle.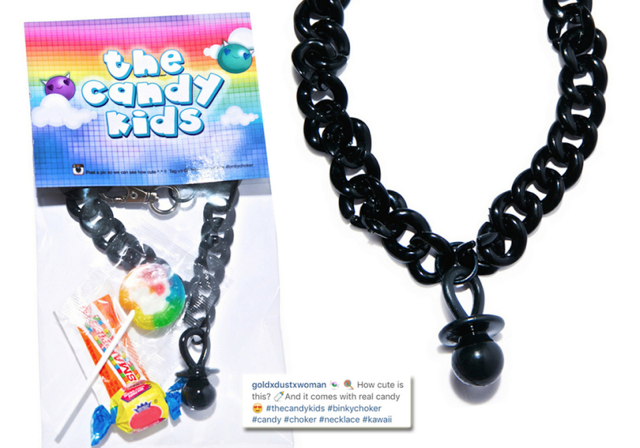 Gotcha. With the baby bottle, why was it your favorite?
I think it's cute. The deeper meaning behind the binkys and The Candy Kids brand is just staying young, being forever young. You know with Baddie Winkle?
Yeah.
I love that type of message. You can grow up and you can still have fun and be happy and like, enjoy life. They say that a baby smiles so many times a day, I forget what the quote is. But as you grow older, you smile less and less. I think that we forget that sometimes and it's hard to remember that [to smile and enjoy life]. You get older, you get stressed, life never gets easier, but it's really awesome that we're even here for whatever reason, to help each other [I think]. We need to remember how great life is.
I absolutely agree. I can have a better understanding of the binkys. I really have to feel this connection of childhood. I'm only 22-years-old, fyi, and I'm like, "I hate growing up!" Growing up is such a torture! I wanna be like Peter Pan and fly to Neverland! [laughs].
You don't have to! You can mature and still have that innocence and be childlike and experience things like a child. A lot of times, when people have children, it makes them feel like a child again. Seeing them discover things for the first time brings that outta them, too.
So, what made you choose the plastic material?
It's something that is easily accessible to kids. I wanted it to be an affordable item. That's why I did it. I made it more high end later because a friend of mine [Luar Zepol] asked me to collab [for NY Fashion Week]. Last September for Fashion Week S/S15, I was in town for my best friend's birthday and it was around Fashion Week. I'm like, "Should I stay and give out the binkys?" My friend Maluca was like, "Yeah". She encouraged me to stay and took me as her plus one to Vfiles. Raul [of Luar Zepol] saw me giving out binky chokers and asked me if I wanted to collab, but wanted them blinged. That's why I started blinging them. First, the intention was affordable and I ended up making the high-end also because I was inspired to do more with it after collabing with Raul.
I can sense it. I'll call the high-end one the "blingky".
[Laughs] Okay.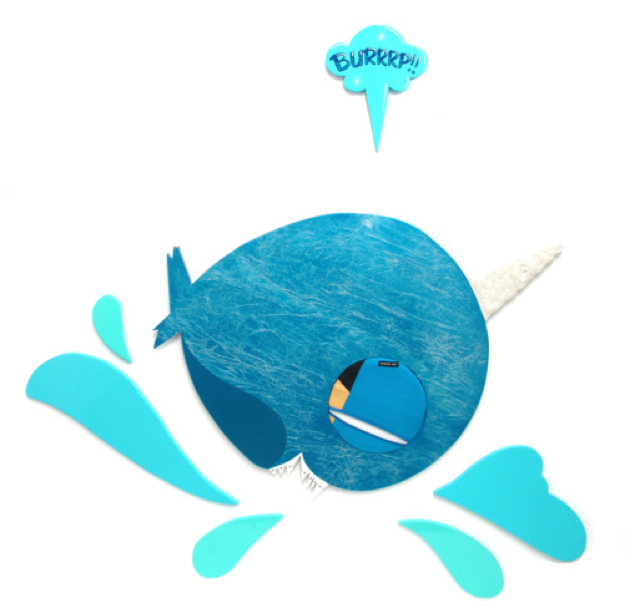 How were you able to glue all those little crystals in?
I use this lamp [turns on lamp] that helps me and it has a magnifying glass on it. It's kind of like calming and meditative a little bit because you're just focusing on one thing. But then I end up with my back hurting [laughs]!
I always find it fascinating that you have the time and the patience to you glue on the blingky ones. What was the reaction from men like when they first saw those things?
I think they were really into it. [Pulls up iPhone and shows me Luar Zepol's Instagram] It's definitely a statement piece; his stuff is avant garde. This is the one we did, it's a big blingky [shows picture],
You gotta be kidding me! I can't even put this in my mouth and suck on it anymore!
[laughs].
This is like a massive ring pop! I can pop two fingers in!
I know! I should do rings [whispers].
You should!
[Lowers voice] Maybe I should do rings! It was the thicker silver chain with his chain that says "Luar", but that one [shows picture] has a plastic one. As you can see, his stuff is avant garde. It's that type of person [who can wear it].
I like how that binky is attached to the little gold or silver moon-like thing.
It's a horn. On it, he had like, embossed his logo. Actually what I didn't know about the collection of his, was that he was inspired by high school.
Really?!
That's why he wanted to collab with me. The timing of everything was awesome. This show was at Webster Hall and it felt like we were in the club.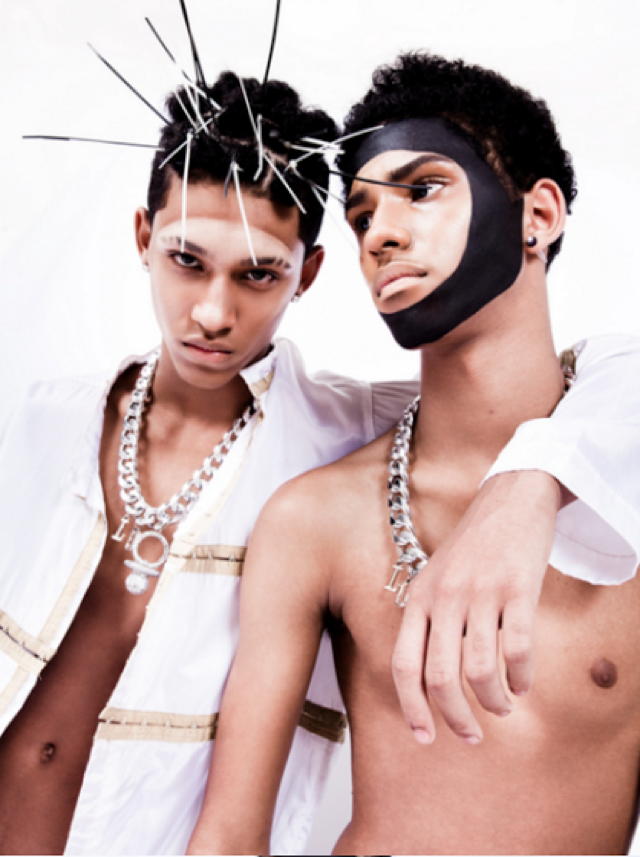 Your brand name is very interesting. What made you call your line, The Candy Kids?
So, I used to work under a different name. I became The Candy Kids when I released the binky choker. There is another well-known brand with one word of my old name in it, they came after me and bought my trademark. I fought it for a year-and-a-half because I rightfully owned my trademark. But knowing that nobody really knew me as that name. Knowing that I was about to come out with these accessories, I wanted to go ahead and make the name change to keep my momentum - so I settled and sold my trademark. We did The Candy Kids because it was actually my boyfriend's idea because my characters live on Lollipop Hill, that's why lollipops are in that painting [Note: she had a painting featuring her cartoon animals on a hill with lollipops]. In Bushwick, when we did art events, I sold lollipop keychains, it was a theme. That's how that name came about.
What made you form The Candy Kids with your boyfriend?
When I first started drawing these characters on MDF [medium-density fibrewood], he was like, you should cut them out to the shape. I don't know how to cut. We started working together because he would cut them for me. He definitely brings a lot. We brainstorm together, he's like a think tank. He's super creative. Now, it's more than ever that we're working together.
Gotcha. It's very fascinating how you're both a jewelry brand and a cartoon at the same time. How is it like for you to create cartoons out of the blue?
I'm really inspired by a lot of my friends. Keke is inspired by my best friend [Sabel]. Sabel is super fashionable, but she's an activist at the same time. I think that's important for kids. It kind of came naturally to do cartoony stuff.
Speaking of your jewelry, what made you reach out to retailers like Dolls Kill and The Cobrashop?
I reached out to Dolls Kills and the Cobrashop because I'm familiar with the stores and I thought it'd be a really good fit. So, that's why I reached out to them.
A lot of them are heavily influenced by youth culture and with fashion being so driven by youth culture and pop culture, how do you feel about this and why is it important to you?
Fashion is always inspired by youth culture and street culture. Fashion starts in the street - always. The fashion you see kids doing is important because it's pure. You can't fake that.
Asides from the binky choker, you also did the key necklaces. What made you focus on the key motif?
Actually, it was Ross' idea. So, it's playful, it's fun and it seemed like a good idea to release it and the binky at the same time. They just go together as being fun accessories. It's all about having fun in life and anything that falls into that category is good for us.
I can definitely see this because the binky one is a statement piece on its own. I love how it's '90s Barbie Playhouse and be like "Barbie, let's go shopping!" [in high voice.
[laughs] I used to love putting together my Barbie Playhouses with all the different parts and the stickers - it's cute.
That stuff reminds me of that. I see that these two [i.e. the binky and the key] have a link.
I was thinking about blinging the key, but this [the blinged-out key on the charm necklace] didn't look as good. I just put it on here [the chain] for fun.
One last question, what do customers hope to anticipate in the future?
I have some collabs coming, but they're top secret.
Let's keep that a secret! Coming soon, y'all! Coming soon [laughs in unison]
Just more accessories and hopefully, releasing some cartoons in 2016 - hopefully by the summer - releasing on Instagram.
Do you plan to launch your cartoon show mainly on Instagram?
I'm going to have a YouTube channel as well. It's pretty ambitious to say summer 2016, but I'm gonna try my hardest to make that happen. The energies that I'm attracting with accessories are the same that will love the cartoon.