Journalist, photographer, filmmaker, artist and designer. Not to mention, self-styled "Perv". Like picking the alphabets from the soup, all of those occupations/adjectives spell out Shelby Sells.
Born and raised in Boise, Idaho, Sells moved to Los Angeles six years ago. While Sells was living in Los Angeles, she started Perv on the Go, a blog where she mused about relationships and interviewed musicians, models, designers, Instagram personalities and several close friends of hers about their sex lives and sexuality. Alongside the interviews, Sells also photographed and filmed her subjects. Last year, Sells moved to Detroit with boyfriend Caleb Stone, who produced Kali Uchis' 'Loner', and launched her virtual art gallery/boutique Girlfriend Gallery, where her embroidered panties and hats sold quickly as freshly shipped box of Yeezy Boosts.
Due to her penchant for erotica and cheeky Instagram posts, Sells accumulated a strong readership and following as well as a wave of detractors (including Instagram itself) who wanted her page deleted from the app. Despite the controversies, it actually established Sells from a little-known mover and shaker to a fully fledged cult icon in the making. Although this was not the first time I've interviewed the wonderful Miss Sells (NOTE: I interviewed her for my radio show a year-and-a-half ago at Loyola Marymount University's KLMU online station), chatting with her over FaceTime Audio felt like talking to an old friend I hadn't seen in ages.
You started off with Perv on the Go (formerly called Pillow Talk), where you interview musicians, designers, models and social media personalities about their sex and love lives. What brought you to interview these people and discuss about sex? Was it hard for some of your interviewees to discuss about sex very openly?
Originally when I started off, I was out on the scene a lot. I would go to events and end up talking about sex and relationships with people. After doing that for a while, I decided to make it into a hobby and start a blog. I started out with a couple close friends, through their friends, and people hitting [me] up randomly, more and more people were down to participate. I am thankful to interview all types.
Yeah, I think some people are a little shy about the subject. There were some people who would later ask me to take down the interviews because their parents saw it. The whole reason I created POTG was to have people discuss [sex] in a positive way to grow, learn, and become comfortable with themselves and the subject. Sex is such a hated topic for most people. It's my mission and my goal to free them from social injustice (laughs). You should be able to talk about your sex life without people looking down on you.
Amen, girl! So, why was it so essential to include a photoshoot with an interview?
I feel like blogging wasn't as popular a couple years ago. There wasn't a lot of text floating around, memes were just starting to get popular and so was Instagram. I used the pictures to lure people into reading the interviews.
That's so cool how you did that. Recently, I saw a video of you interviewing Sid Wilson of Slipknot (I'm not a big fan of the band of the band nor have I heard their music despite knowing who they are), and this time, it's completely different tune than your usual interviews since you had it taped. How did you get ahold of him and what brought you to him?
We have a mutual friend who I interviewed and she brought us together. I went over to his house in Venice and he's a really fun guy. I'm huge fan of Slipknot, [who] I listened to growing up. He's a really sweet guy and talented musician so, it was really a blessing to work with him.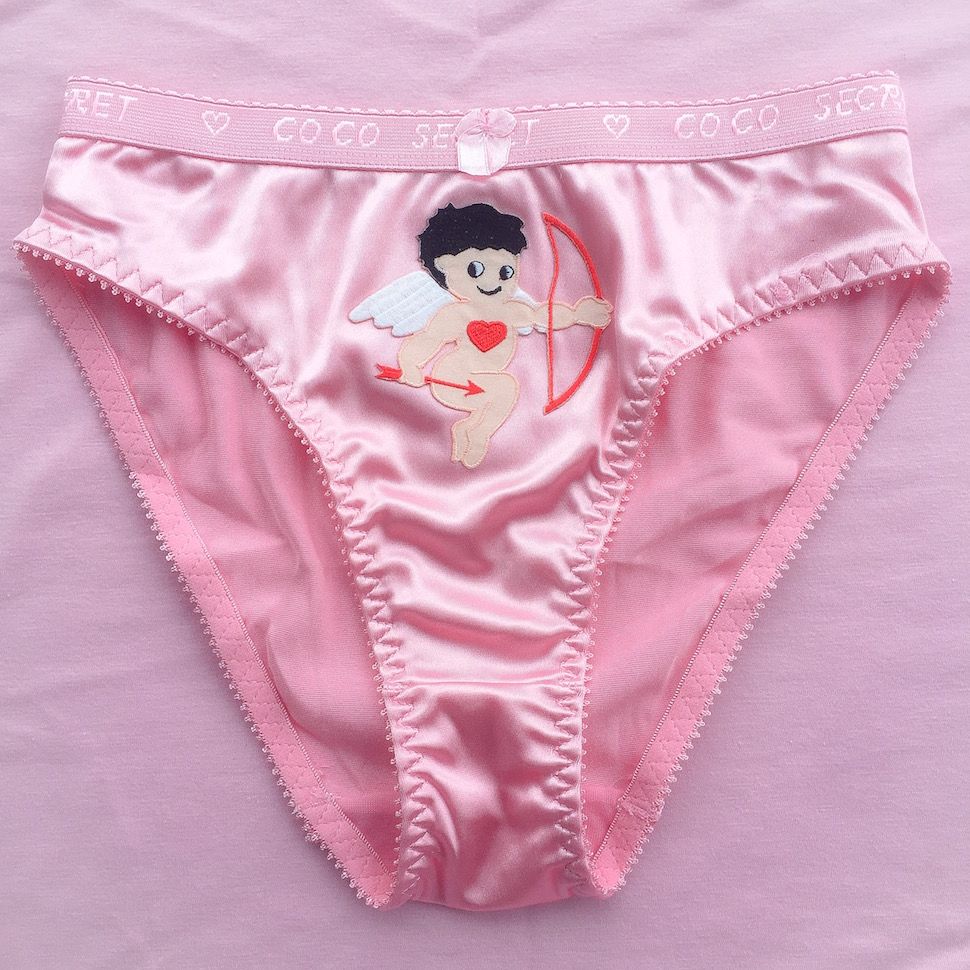 Aww...Among all the interviews you've done, which one was your favorite and why?
Hmm... I don't think have a favorite one. I think every time I interview someone, it becomes my favorite. I really love how individual everyone's stories are and the little things that make each person's story unique to them. Some of my favorite ones are breakthrough interviews where a person sees patterns in their relationship that they've never seen before. It's almost as if they are enlightening themselves just by sharing their story. That's probably my favorite - people who aren't afraid to go in-depth. I had an interview with [rapper] Father that was pretty real (laughs). I feel so blessed that people choose to open up to me.
You started an Instagram page recently, where you edited photos from porn magazines that you dub as "glitterotica". How did you come up with the glitterotica idea?
It's funny because that account got deleted. I put up three different glitterotica accounts and it always gets deleted. It's really sad.
Noooooo!
Not to mention, my @sweaterpuppiez account was also deleted twice at the beginning of the year. I felt like there was an Instagram witch hunt out for me! Lol. I started glitterotica because I had to censor most of the imagery I put out, whether they're my pictures or pictures I like, you know, from old magazines that I have. I have quite the collection of porn - I look at porn a lot. So, I wanted to start making it fun and I really like glitter. I'm feeling really girly lately - I like pink and blue, all the pastel colors. I put a couple pictures up and people really responded well to them. I might as well keep doing this and it's going to be a zine in the L.A. Art Book Fair.
Excited! I'm going there, too!
I'm not gonna be there, but I have stuff at the table.
I like how you reappropriate porn and made it cutesy and fun to look at, too.
I just want to make it fun and again my whole purpose in any work that I do is to make people feel comfortable. A lot of people are still conservative [and] I wanna make some artwork that is good for all audiences.
Another big project that you were involved with last year was when you and your friend Alanna Pearl, who is a filmmaker, made a movie called Cooking with Candice. You filmed this entire movie on a VHS and Alanna directed it.
I shoot everything on a VHS. I'm really terrible with new technology (laughs). All my pictures are from a film camera and I like the grit of it. I feel like anyone can go out and rent a DSLR camera and have something look crispy and clear. There's something endearing to me about the grittiness and "fucked up"-ness of a VHS camera.
How did you and Alanna come up with Cooking with Candice?
Me and Alanna have been best friends for 5 years. We both share a lot of similar interests, we're both pretty pervy and we both expressed interest in creating a pornographic film. We talked about it for a long time. Alanna has all these amazing ideas - her brain is really beautiful to me. Since we're so close, we aesthetically understand each other really well. So, she wrote em>Cooking with Candice and then, we got all the people together and we shot it [in] two days. We had a really, really fun time. I'm so happy with how everything turned out. I can't thank everyone enough for the support. It almost has 8,000 views on Vimeo. We put it up on Christmas. We're trying to get it to play at erotic film festivals. It's going to be a series and we're going to shoot the next one in April or sometime this summer. The premise of the erotic film is the 1990s does a different decade. For Cooking with Candice, it was 1990s does 1950s and then the next one is 1960s, 70s, 80s, 90s and 2000s probably. So, there should be a good amount of films coming your way in the next couple years.
Stoked! You did this movie called Warm Fuzzies, where the girl was eating cherries, bananas, peaches and donuts. There was some green liquid in a baby bottle that she puts on her boobs. You mentioned on your website that it's a mouth fetish film. What brought you to do Warm Fuzzies?
I love mouths! One of my really good girlfriends, who starred in it, had recently gotten braces and I'm obsessed with braces. I had them myself for three years and I hated them! The funny thing is that you hate something and then you get older, you really like it. That's my experience, anyways. Things that I really look at a person is their mouth and their hands. I really focus on those two things. She came over and we were gonna do a photoshoot, but I haven't done a video stuff and I wanted to...you know, experiment and mess around. I really like what came out of it (laughs), so I'm excited about that.
This is something that fans have been dying to know, but what drew you to erotica and why does it matter to you?
I've been asked this a couple of times (laughs) and someone was like, "Why do you care about other people's sex lives?" I just want people to be happy. Like, when you talk about happiness, I think a lot of it relates back to sex, relationships and love.
I've always been a very sexual person. I've gotten a lot of flack for it, unfortunately, like any girl who is sexually liberated. Everyone has sex, and if you're not having it you're probably thinking about it. My view is from an educational standpoint. If everyone's doing it, people should have a good understanding of it. The interviews I do are strictly for educational purposes. A lot of people get hung up on certain things and feel shameful about them. I just don't anyone to feel alone, that's why I created a community to open dialogue about sex in a positive way.
I feel ya, girl! Besides all the interviews and movies you've done, you've added designer/retailer to your resume. Last year, you launched Girlfriend Gallery, where you had the Bitch Boss cap, titty pins and lipdick pins with Pin Lord, who does handmade pins. What inspired you to launch Girlfriend Gallery and what's the meaning behind the name?
My whole entire life, I've wanted to open my own store. I've been having so much fun creating and bringing my designs to life. I am so thankful for all the support I have been shown! I ordered some men's lingerie so we can start pushing those gender binary roles. I am looking to open up an actual physical space so I can put up my friend's artwork and put on a show. It means a lot to me to give back and support everyone in the community.
I came up with the name because I thought it was intimate, just like the products. Also, I want to put on for all my friends! There's nothing I love more than getting my girlfriends together and making art. I want Girlfriend Gallery to be another safe space where people can profit off of their hard work.
I really love the name too! No wonder the Bitch Boss cap has been selling out! What inspired you to create the Bitch Boss cap?
It's a vintage patch that I found. I love it. Pretty much anything that has to do with nudity or partial nudity or women with weapons and that whole aesthetic - I really love. I love good bitch boss who stands up for what she believes in and doesn't take shit from anyone. That's the kind of girl I aspire to be every single day. It's cool to see everyone rocking them on Instagram. I get so excited to see everyone tagging me on Instagram. It's been so great to experiment with designing.
You also have the Bullshit cap, the male/female Gender Equality 8-ball cap, and the Check Yourself cap. Among all the caps you've designed, which one is your favorite?
Probably the Bitch Boss one, to be honest. It was the first one I ever made and it's my baby. I'm a pretty sassy person and that came out in the other hats as well. Each hat goes for different occasion. I like the check yourself one. It's kind of like a fuck you but in a sweet sassy way.
I like check yourself one because it's like, "Yo dude, check your privilege please."
Yeah, exactly. Like "fucking check yourself". I like the "Don't Touch the Booty" just 'cuz a guy [wants to touch the booty] and I'm like, "Don't touch it!" No one said that you [could touch it] (laughs).
You also designed panties with cupid emblem in the middle, which was embroidered on. You also have the gag me face, where you have a ball gag inside your mouth. What brought you to do an underwear line?
It goes pretty well with my brand. I love panties. I collect so much lingerie that I was like, "I should just start making my own." I've been having so much fun experimenting and expanding my line.
I really love the panties since it's so vintage-y and handmade. I love the gag me one, which is all over Instagram.
Thanks! I designed that with my good friend/internet buddy Gangster Doodle. He's done a lot of work for my boyfriend and bunch of music artists. He drew me and we made it into a patch for my underwear. It's so cute to see my face on your crotch. I love the ball gag; I love fetishes. (raises voice) I think it's so cute for girls to wear! (laughs)
You also have a sock range with "slut" embroidered on the sides. What was the intention having "slut" written on the side of the socks?
Most of the intentions of my work is to put it out there in public. Like, a lot of the vintage clothes that I have embroidered have funny things like "cocksucker" or "cunt". Words that people associate negativity with, I want to rebrand into something positive. Even the word "perv" has been negative and still is negative. If you take the power away from something bad and turn it into something good, it's just better for the community.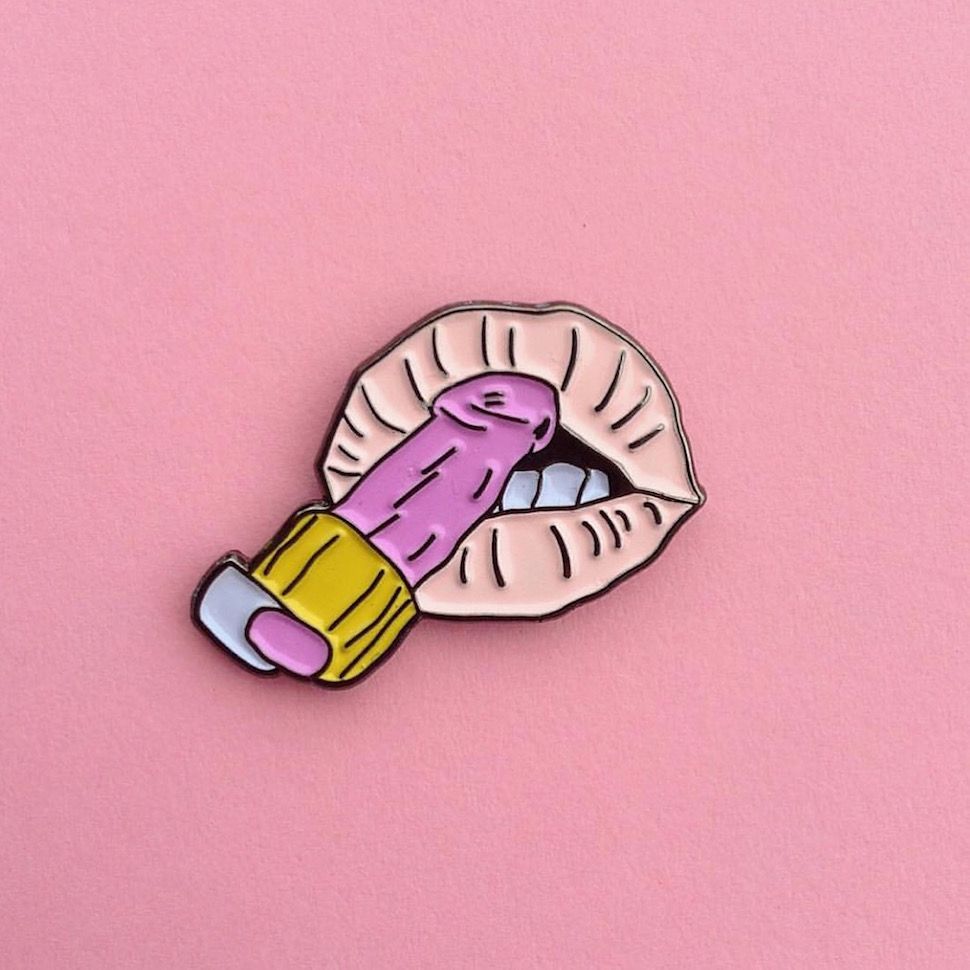 While your designs are aesthetically pleasing, it has some meaning to it. Why is so important to have meanings?
I try to live my life everyday with purpose. I would feel inauthentic if my brand wasn't me. I'm not really sure why I'm this way, but it's important for me to express myself. Again, all my work is positive and trying to empower people. I cannot believe how many men and women thank me for doing this. I get girls of all ages being like, "Thank you! I feel better about myself. You inspire me to take photos". When I was a kid, I was bullied a lot. I hope to be a positive female figure for people to look up to. I think that if you have a message behind your work, then people can connect with you... whether it's through my pictures, interviews, or panties. I put a lot of love into everything that I do.
Do you hope to launch a clothing line soon for GG?
Yeah, totally! I met with some screen printers today. I collect vintage clothes and embroider them. I will always sell vintage clothes. I've always shopped at Goodwill and estate sales and all these kinds of things. I would love to start making t-shirts with other artists. Everything is a learning process. Luckily, Detroit has an awesome community of people and they are willing to work with me. As far as Girlfriend Gallery goes, I'm hoping to open up a physical store and I'm so ready to put all of myself into it. Come to Detroit, hang out and see for yourself!
Awww... of course! I'm so excited for you and all those amazing things.
Thank you!