Zara Khalique is an optimist with a heart of gold ambition.
As the designer and artist of Keep It Bright, Khalique hand draws smiley faces, hearts, peace signs and motivational slogans on clothes, books and bags in every shade of the rainbow. Although motivational slogans on clothing run the risk of looking like a stereotypical granola-noshing yoga teacher, Khalique avoids falling into this cliché by promoting Keep It Bright as a movement that can uplift souls from Manchester to Los Angeles.
Thanks to her optimistic outlook and supercharged positivity, Khalique won the hearts of fans from her army of Instagram followers to celebrities like Miley Cyrus, Ed Sheeran and Miranda Kerr. Although Khalique and I have yet to meet, we chat over e-mail about the beginnings of Keep It Bright, motivational living and overcoming obstacles.
***
You establish Keep It Bright as a lifestyle company that combines fashion and motivational living. What motivates you create this concept and why do you choose to do it through clothing?
I've always been interested in fashion, style and clothing since a very young age. So, I'd always wanted to do something with that, and once I realised that thinking positively changes your life - and it changed mine so much for the better - I just really wanted to spread those messages to help others to do the same. Clothing is a brilliant way to spread messages; we are literally walking message boards and can reach so many people with good vibes!
As a designer and artist, you produce handmade clothing, posters and prints. The fact that you do a lot of things by hand is very rare for the majority of fashion designers/artists! What inspired you to create the products by hand?
I like to take a hands-on approach to as much as I can, just because I always have done all things Keep It Bright by myself. I didn't come from a well-off household, so I had to just start with and work with what I had, but now that the brand has grown so much in these years, I do still love to do as much as I can myself, and I like the personal touches of writing thank you notes or e-mailing customers myself, and of course of making one-of-a-kind pieces, as it always feel special to own something unique. I put a lot of love and heart into everything I design and make and I hope that comes across in all I do.
Your designs, which range from a bikini to a jumpsuit, are able to sell quickly. Who/what inspires your aesthetic? What is the design process like and how do you manage to keep up with the demand?
I'm truthfully just inspired by everything I like to see! I love colourful things, all different cultures and styles and I think Keep It Bright is super eclectic. There's pretty much something for everyone on my store since my own style and taste is super varied, too. The design process varies: sometimes I just think up something I'd like to wear and just make one for me and see how my customers like it. Other times, I want to spread a certain message. For example, my new Stand Up design came from my upset, anger and wanting to do something after all the horrors happening in America and things happening in the UK at the moment too, and I just had to express my feelings about these issues and allow other people to wear their feelings on a t-shirt too! So with that design, I just thought up all the things I wanted to say and speak up about, and hand drew different designs until I found one I was happy with, scanned it, chose t-shirt colours and had them made.
Since you've built Keep It Bright as a fashion lifestyle brand, is there any pressure for you to compete with the trend cycle?
I never feel any competition in that sense as KIB is so totally different to most brands, the messages and vibes are the most important bit. I don't feel pressure to put out clothes in certain seasons or to follow certain trends, I pretty much just do what I want when I want to. Keep It Bright isn't just a trend or a phase, it's a brand for all of your days, all of your years, all of your moods.
Fashion is now being used as a platform to spread positive well-being; however, more than a handful of companies (whether they're fashion-related or not) attempt to capitalize on this by marketing platitudinal clichés. Where do you stand on this issue and how do you manage to craft your message without falling into clichés?
There definitely has been a big surge of high street brands etc, using positive messages on their items, and I do think they're just out to make money from it most probably, but from my point of view, the more positive messages out there in the world the better. As I said, even just walking past someone with some important words on their shirt could really impact you, so as long as it's doing good, that's good! Much better than the usual glamorising of unhealthy things. My messages are always real and from the heart, as they're things that have truly helped me. It's not unicorns and naivety. It's un-sugarcoated and relatable.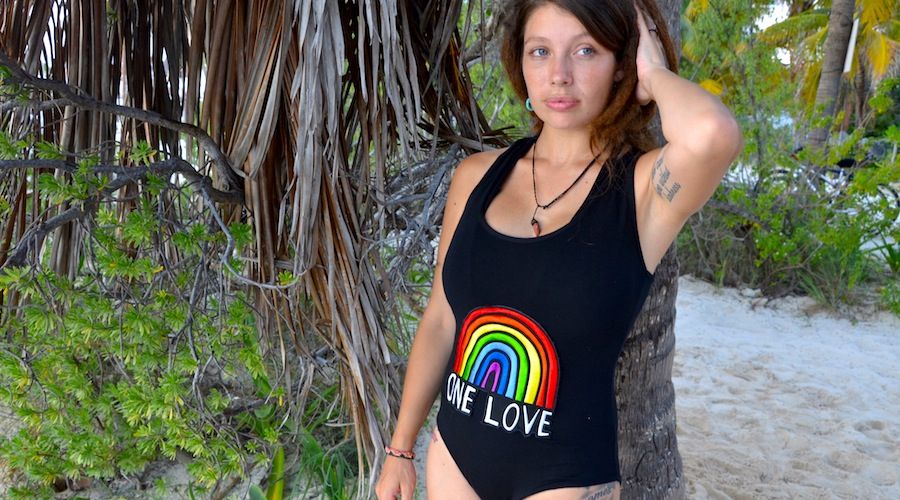 Asides from fashion and art, you've released books - including the Insta-famous Keep It Bright Handbook. What inspired you to dabble in publishing? Is writing something you've always wanted to pursue?
The books just came from wanting to put everything I had learned out there for other people. Sure, you can read pretty much everything online nowadays, but there's something super nice about holding a book in your hands and keeping it on you for when you need it.
Although Keep It Bright has been seen as an emerging name, you've built it since 2007. What was it like when you first launched it? What obstacles have you encountered and how did you overcome them?
When I first started, I was just 15 years old, about to leave high school, making and customising clothes at home and started by selling to my friends, then a local shop. It grew organically through word of mouth and so many people in my city were wearing it within two years. A couple of important things I've learned on the way is that self-belief is everything, there will be times when people don't believe in your dream, but it's important that you always do. Some people only really support you when you're winning or if you're on their level and not trying. The journey/hustle can be a solo venture at times, but that's alright because there aren't many feelings better than making progress and building something, and making something of yourself! Always believe in yourself and your ability to overcome any obstacles that come your way.