Here's a question: what do weddings and festivals have in common? Yes, apart from being big excuses to wear ridiculous hats and drink so much booze that your liver seeks deportation. The answer is that they both have so called 'seasons' that kick off in June, and every publication rushes in to publish its own 'style guide'. This is so that we know which clothes to put on, because there's nothing quite like looking like another sheep whilst proclaiming "you're in love with the coco" and downing your sixth jager bomb at 7pm.
If you want to have a great time listening to some incredible bands, then you won't want to waste time nailing a festival make-up routine back in your tent whilst everybody else has already hit the site. The idea of festival trends is a bit depressing - so far this year I've read that disco sequins and Louis Vuitton sports bags are go-to festival items. I'd much rather see people accessorising a big smile and friends in tow. Impractical and expensive items aren't the first thing that comes to my mind when packing for a festival and when 'this summer's everyday casual look' involves layering a mohair tank top over a crisp white shirt, it is impossible to take some of these guides seriously at all.
Let's look at some of this year's festival style suggestions"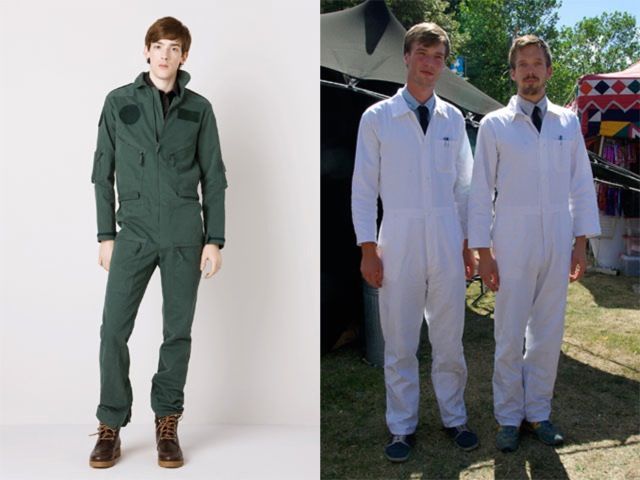 You can spend over 200 bucks to look like a dodge Tom Cruise in Topgun impersonator only to remain trapped in your overalls and breeding a new form of bacteria by day two. Confession time, I am a big fan of the jumpsuit - mostly because it's like wearing pyjamas - but have you ever tried to get in and out of one in a portaloo? It can cause PTSD.
Unless The United Emirates decide to start its own festival (wouldn't be surprised) then they will remain elevator free zones but still, wear fringing at your peril because there is a chance of getting it trapped on an old hippie's mood ring or in the zipper of a stranger's tent.
I used to hang around with a band called Spandex Valley back in my Manchester student days. I will spare you the details but needless to say, hot sweaty music times and spandex are not a good combo.
Disco sequins' (I don't know either) aside, some of these style tips are handy. Yeah, piling your plaited hair on top of your head will stop you snorting it and wellies will keep the water out, but do be aware of the dreaded welly rub that can leave you lower legs and ankles more raw than Hannibal's dinner. The media loves to show us examples of 'festival icons' like Kate Moss, Alexa Chung and Sienna Miller. Fair play they do look cracking in a pair of wellies, cut-offs and even waistcoats, but they also all have two things: V.I.P passes and hotel rooms. I suggest that unless you have both of these things, leave those curling tongs and that bronzing skin polish at home because after three days of camping with thousands of other people all you'll be wanting to put on your body is fresh cleansing water, not body glitter or coloured hair powder. Also please note that denim cut-offs are a pre-requisite at festivals but beware the thigh chafe - no, I am not talking about stuff that happens back in the tent. As for anyone who decides to wear wedges, you must really hate your ankles, and anyone who chooses to wear a headdress can just fuck right off.
I'm not saying don't try to look good, just don't spend so much time prancing about like a peacock that you end up missing bands. Festivals are an endurance test, so it's best to dress with that in mind. Denim, plaid shirts, vests, waterproofs and sensible shoes will be your festival allies and a surge in norm-core and utilitarian design means that they can be oh so chic, as well as practical. A pair of Birkenstocks, aviators and a good old hat will ensure that you get to experience crazy good times and singalongs, not calluses, sunburn and sunstroke. Just have fun and don't take yourself too seriously, because nothing kills a vibe like a person complaining about the creases in their chinos. Blindly following a fashion editorial that thinks that a V day pass is an authentic festival experience, is not a wise idea.
GET IN THE FUCKING SEA YOU DIRTY FESTIVAL BASTARD pic.twitter.com/dBxJBRhYpc

— Get In The Sea (@getinthesea) June 25, 2015
To be fair it would probably be better to take style tips from Tristan, 40, from London than tell him to 'get in the sea'. He nailed his look 15 years ago and stuck to it (probably quite literally) knowing that hygiene is not a priority at festivals. It seems that this festival season veterans like Tristan are where we should seek our style solutions. After all, he's survived 15 years of crashing in muddy fields surrounded by bacteria-filled burger remnants, possessed fire spinners, warm cider and gurning victims of a few days dehydration and sunburn and is still having a good time. So go have fun, stay safe and don't be a twat. That's my festival style guide.