Last week, you hit the gym and planned your dream New Year's Eve (NYE) outfit. Then, you and your girlfriends went out to celebrate the countdown, danced until you sweated, took a lot of selfies, filmed the fireworks and had a couple glasses of champagne. Now that the New Year's festivities are over, you wonder how you can re-wear your NYE dress.
While the majority of New Year's Eve dresses are simply made for the occasion, here are some events where you can still wear them:
1. Brunch

Topshop Wrap A-Line Dress - £55.64
While Topshop's A-line number can be taken out to your favourite brunch spot, you can never take the party out of the dress. Despite its subtle metallic finish, this dress is easily wearable thanks to its casual T-shirt dress silhouette. When worn with a cropped chunky embroidered sweater, scarf, tights/socks, crossbody bag and brogues, it's casually cute. Add in some stud earrings and copper lipstick to amp up the look.
2. A Concert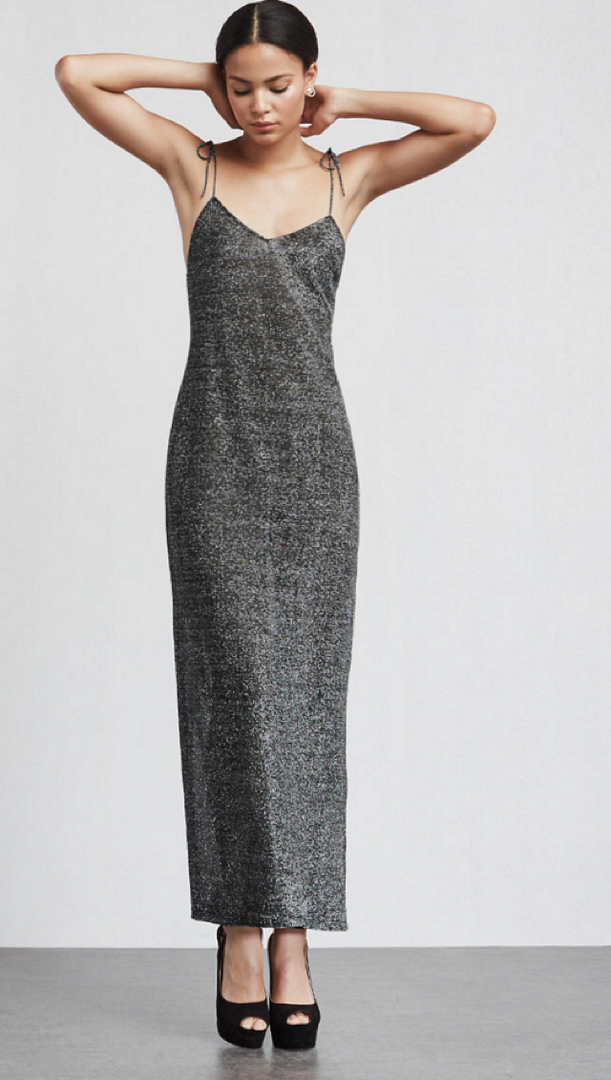 Daquiri Slip Dress from The Reformation - $118
Bored of relying on your usual T-shirt and jeans combo for every single show? Try a slip dress! Thanks to its simple silhouette, Reformation's slip dress is the fail-safe proof for that feeling when you need to dance. While it might not be suitable for the mosh pit, the slip dress is still appropriate for O2 and/or the Troubadour. Channel your inner fashion queen with an oversized denim jacket, worn-in sneakers/combat boots and charm necklace. If you can't be bothered to wear a long dress, a metallic midi dress does the trick. Seriously, it's literally the Saint Laurent look for less! If you want to go the extra mile, try out a tiny tiara and red lipstick for that Courtney Love vibe. You also have the option to wear a clip-in coloured extension, face jewels and/or a double bun! Trust me, a concert is where you need to dress up!
3. Class

Vintage '90s Iridescent Babydoll Dress - $54 USD
A NYE dress might not seem to be the most suitable option for a back-to-school outfit, but a little can go a long way when it comes to choosing the right material. The best option to make it class-friendly is a velvet dress. Velvets are comfortable and can instantly dress up a parka, boots, backpack and tights. As someone who has worn a velvet dress to class, I've had no problem sitting or eating while wearing it. Even if you have to munch on a light snack and up your daily intake of H2O to prevent yourself from falling asleep during a lecture, a velvet dress can accommodate some extra room. If you want the perfect shape for your velvet dress, Tunnel Vision's vintage babydoll number is the way to go.
4. Date Night

ASOS Kate Lace Mini Dress - £45
You got a text from that cute guy/girl you've been seeing, but are completely unsure whether to stick to your foolproof LBD or worn-in pair of skinny jeans. Instead of going for what's tried and true, try going for a lace dress. While it is possible that the dress code might call for a smart casual option, it never hurts to put in more effort! If you are in a more casual setting like a local sushi joint, go for a biker jacket and a pair of ankle boots. If you are in a dressier setting like Chiltern Firehouse, pair the dress with a camel coat, choker and tan pumps. Before you leave the house, put on some red lipstick, please!