London Fashion Week's showrooms may be vacant of the Autumn/Winter 2016 collections they once housed, but the designers themselves are always hard at work. We caught up with Laura Vann - an independent jewellery designer and one of the innovators presented at the designer showrooms.
Vann talks to us about the influence of family, the importance of Fashion Week for up-and-coming designers, and her fresh and positive take on the debate of cultural appreciation vs cultural appropriation.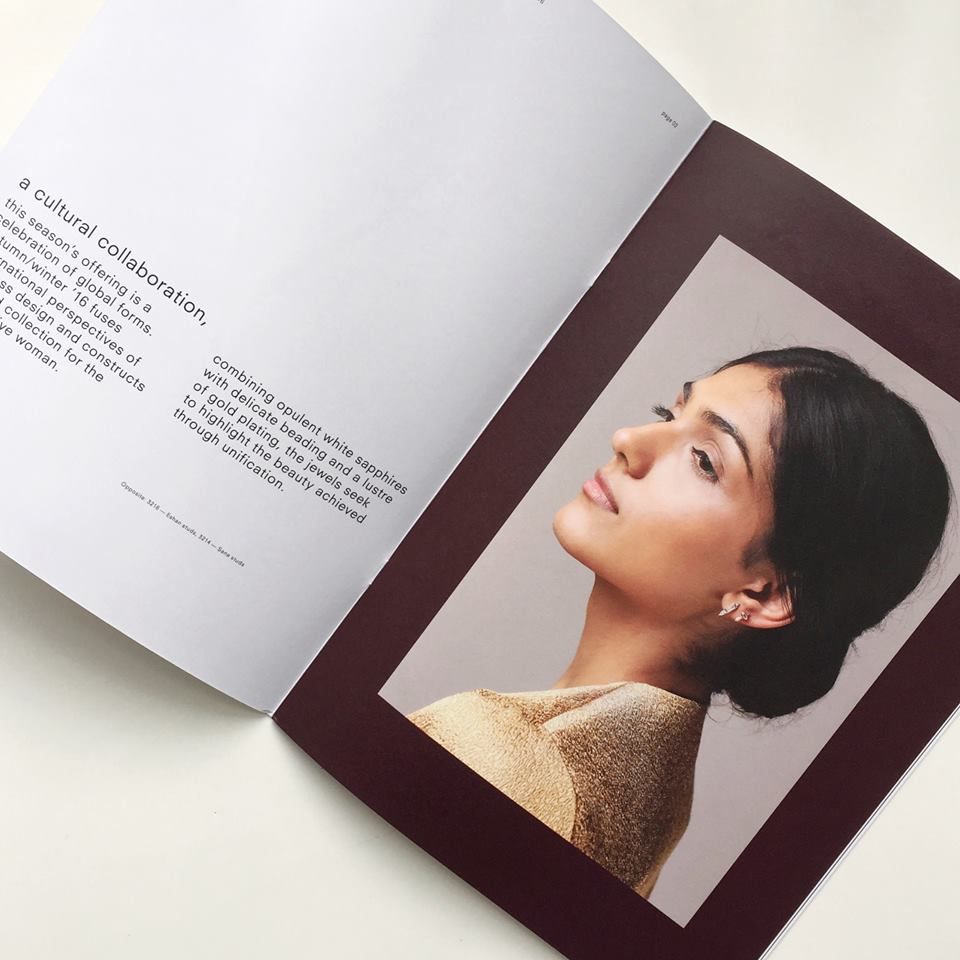 In your own words, give us a little history behind establishing the brand V Jewellery? Where did you start?
I used to work for COS doing sales while studying at King's College London. After graduating I moved back home to Birmingham where I continued at COS while at the same time working for my dad's jewellery company. He's been in the industry ever since I was a child and of course my mum takes full advantage of this, so both parents have always surrounded me with jewellery.
I loved COS's ethos of selling accessible, high quality and classic clothing with a contemporary touch and realised I was lucky enough to have a platform to apply the same formula to jewellery. It took a long time but eventually my dad agreed to embark on a new brand - four years on and we're all working under the same roof, the V office alongside my dad's!
What were your first inspirations?
At uni I saw friends with beautiful one-off pieces of vintage jewellery - bought as milestone birthday gifts. Being white gold and diamonds (and me being broke af), they were totally inaccessible to me and I realised that there was a gap in the market for young women who were transitioning away from throwaway jewellery and entering the world of fine. As mentioned, I loved classic styling with a contemporary touch so I applied this to jewellery, looking to the past as my source of inspiration. I incorporated a vintage look to modern trends like lobe earrings and pre-stacked rings in an attempt to give longevity to the designs so I could give young women their money's worth!
Are the aims you started with still prevalent in the brand today?
The core principle was to produce fine quality jewellery at a fair price and we still employ this with every collection. Stylings have changed somewhat with our vintage aesthetic being less literal in recent collections - however, our signature juxtaposing style is still prevalent throughout.
In terms of price, and quality, would you say that V Jewellery boasts the tagline 'affordable luxury'? If so, why do you think that is so fitting?
Most definitely. I try to blur the lines between fine and silver jewellery by using affordable metals in conjunction with semi-precious and precious gemstones. My dad's background in fine jewellery has enabled us to make such high-quality pieces in Sterling Silver which is something we're really lucky to have.
Tell us some of the defining features of your newest A/W 16 collection.
The AW16 collection is possibly the most progressive one to date. Firstly, continuing on from 'blurring lines between silver and fine jewellery' I decided to feature white sapphires as the centre bezel set stone and lots of gold plating - creating a collection with a hybrid of material types. Secondly and possibly most defining is the collection's Eastern influence.
In terms of the influences on V Jewellery's newest collection, there is obviously a great deal of influence from traditional Indian culture. How do you think you've done this respectfully?
The collection came very naturally to me. To give a little background to the inspiration of AW16, one of my good friends (and the sales manager of V) Amar had her Sikh wedding last year. The whole process saw me immersed in a cultural journey where we went shopping for saris in Bethnal Green, had late night dance practice at her hen party in Budapest, had mehndi painted at the pre-wedding party and of course enjoyed the spectacular big day
.
Analysing the jewels she and the other guests wore throughout, I realised that my interpretation of 'classic beauty' had been from such a one-sided viewpoint. I felt so fortunate to be welcomed into her culture and wanted to share what I had seen in the new collection. With help and advice from Amar, I sought to bond timeless vintage design with the traditional Indian styles I'd come across during the wedding. The resulting collection was a celebration of the unification between two cultural perspectives of beauty - as expressed in the lookbook.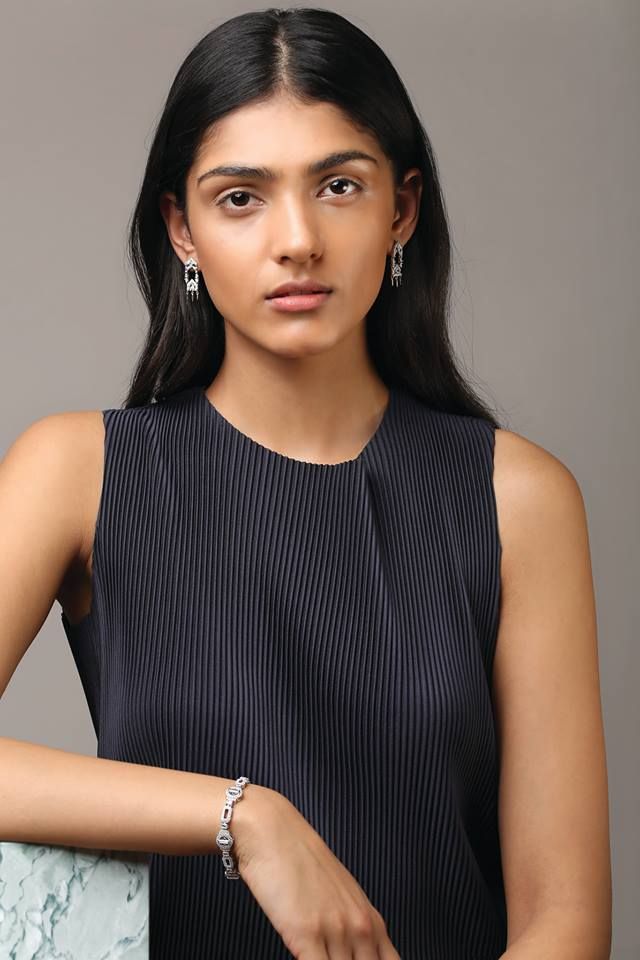 There is a possibility that the style of the A/W 16 designs could be thought of as cultural appropriation, rather than appreciation. How would you respond?
I'd be pretty disappointed in the accuser for looking at the designs from such a cynical perspective, especially as the lookbook resonates such a positive message of two cultures coming together to create something beautiful. I'm not afraid to show the origins of this collection - I'm proud of it. Our decision to use an Indian model was very intentional, I didn't want to dress a white girl in paisley and leave things up to interpretation.
Perhaps it's my generation, perhaps it's my network of friends and life in Birmingham (the supposed "no go zone" according to Fox News) that meant the possibility of the collection being interpreted in a negative way didn't even cross my mind. I design for the young British woman who in my mind is a mixture of races and ethnicities. I think this just highlights how subjective the debate is - one person's appropriation is another's appreciation.
The argument of cultural appropriation and cultural appreciation is one of the most talked about debates in the fashion industry. Do you have any opinions about our engagement with these terms on a larger scale - in reference the fashion industry as a whole?
The very nature of the cultural appropriation argument could be interpreted as segregated thought that keeps two cultures apart. While I strongly believe in being sensitive not to generalise, stereotype or exploit cultures I also feel passionate about globalization. Our world is moving quickly thanks in large part to our access to information and for me, it's an exciting time for people to evolve and improve by respectfully learning from other cultures. And with specific reference to the creative industry, as Jenni Avins wrote for Quartz: "We have to stop guarding cultures and subcultures in efforts to preserve them. It's naïve, paternalistic and counterproductive. Plus, it's just not how culture or creativity work."
How important are the dual-annual events of Fashion Week for the fashion industry, in your opinion? And how important is Fashion Week for a brand like yours?
I think there are pros and cons. Of course at the moment, the debate surrounds whether it is necessary to produce designs 6 months in advance, when shows are live streamed and consumers want fashion instantly. Personally, for a brand like mine, I appreciate the 6 months heads up before we release a collection - it allows me to gauge which pieces will be popular and amend anything destined for doom. For a smaller brand like us, having buyers and press in one area is so helpful and exposes us to opportunities that wouldn't be possible without Fashion Week. As our online presence increases the significance of Fashion Week may change but as we're still growing we couldn't be more grateful for the exposure.
How have awards - like the Retail Jeweller UK Jewellery Awards - affected the progress and exposure for the brand?
It's hard to know! My dad's pretty embarrassing about it and shows the award to most people that walk in the office if that counts?!
I think it has been great for us with independent retail jewellers, and when we're one on one with stockists it's always nice to tell them. But I think we might have to wait for the day when we win a British Fashion Award to significantly gain exposure to the larger department stores and magazines!
What do we have to look forward to from V Jewellery?
More colour, more variants of precious materials and a few engage-ing ventures!