Fashion stylist Louby McLoughlin recently teamed up with DVTK, who were former digital directors of Kenzo, to launch OKgrl, an online magazine-like fashion platform. Launching on January 21, 2016, OKgrl will premiere Bip Ling's new music video, an interactive photo editorial by Charlotte Rutherford, a cereal box game by Kero Kero Bonito along with a beauty editorial with Instagram sensation/model Charlie Barker. As part of the launch, OKgrl has two cover stars - LIZ Y2k, who appears in the U.S. version, and Hannah Diamond, who appears in the UK version.
Asides from fashion and beauty editorials, OKgrl has collaborated with the new faces of pop music such as Girli, Bip Ling, QT, Kero Kero Bonito, Hannah Diamond and LIZ Y2k, whose music will be featured on OKgrl radio. Melting the worlds of fashion and music into one pot, OKgrl aims to revolutionize the future of mass media.
What inspired you to create OKgrl?
We wanted the younger generation of fashion and music fans to have a place that felt like their own on the internet. As they are engaging daily in stimulating digital experiences via Instagram, Snapchat and Tumblr, we wanted to create a fashion platform which could match the entertainment levels they are used to through social apps. To do this, we tried to create exciting new ways to deliver content by asking ourselves how we could create something as playful as we can - with music, sound design, animation...
Alongside yourself, you have collaborated with DVTK, who were former digital directors of Kenzo, for OKgrl. How did this happen?
I came up with the concept of OKgrl because I believed there was room for a high-end version of what kids do on their own in their bedrooms, something like a Tumblr couture. So I wanted to create the editorial project with people who had a similar view. When discussing with them, we immediately realised that we shared the same vision about digital fashion content. I work on the imagery and fashion side while DVTK do the digital / interactive part. Collaboration is something we truly believe in, you can't do good things only by yourself and all the OKgrl family and contributing artists are people we respect, so it's a dream for us.
How did you come up with the title?
We went through a few names but knew it had to be catchy. We wanted it teenage, familiar and funny. It sounds instant / kind of Japanese!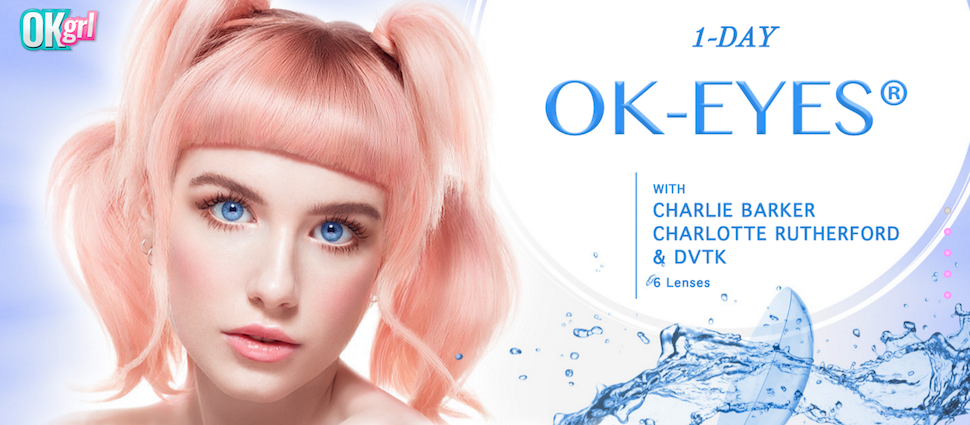 Like a print magazine, you have launched two different versions of OKgrl: one for the U.S. and another for the UK. Why did you choose to launch two separate editions of OKgrl?
It's not a proper separate edition. It's on the same platform but it was just a twist on the idea to make a new way to do display our two magazine cover girls were from London and LA. We thought it would be fun and something which hasn't been done before.
Music and fashion are becoming heavily integrated these days. Why do you choose to focus on them?
It's something that comes naturally. I think there is something exciting happening in both music and fashion now. If we can aim to bring a new way to display this then we will be happy. Fashion and music have always been integrated but we feel they can become even more. Now we're working with a screen instead of a page, so we have the ability to let people listen to the sounds of the cover girls and artists we publish, and watch videos so the two can merge quite easily now.
You chose Liz Y2K and Hannah Diamond as the face of OKgrl on two separate covers. How did you choose them and how do they represent the OKgrl brand?
Our launch content is kind of focused around new pop, Hannah Diamond and Liz are both poster girls for this new pop era so it made perfect sense to have them as our cover girls. Hannah shot both herself and Liz which is also quite unique.
I love how you are helping out with up-and-coming musicians, whom the majority are predominantly female. What made you focus on featuring emerging female musicians for OKgrl?
I wouldn't say I am helping out, I'm also a fan of all the people I work with and excited by their work. There are a lot of inspiring females in music right now too; Bip Ling, QT, LIZ Y2k and Hannah Diamond are all doing something interesting and unique so it's great to collaborate with people who you believe in and, so I'm grateful for them agreeing to be part of OKgrl.
Besides premiering music videos and fashion editorials, you are launching a cereal box game by Kero Kero Bonito for OKgrl. What made you include games into OKgrl?
OKgrl is fantasy! It's fashion fun and games, so the Kero Kero Bonito game is just the start for us - there are many more interactive games and projects to come, stay tuned.
Another feature you are launching is an interactive photo spread with Charlotte Rutherford. What made you two launch an interactive photo spread and how will readers be able to interact with the photos?
You will have to go to the site to check out how to access the QT shoot.
Lastly, where do you see the future of OKgrl?
The future is to make it bigger, create an app; we're working on some product and audio visual stuff for the next year too. But long term, we want it to be major.
We recommend heading over to the OKgrl website right now. Do it.