This David Bowie t-shirt from Mermaid Hex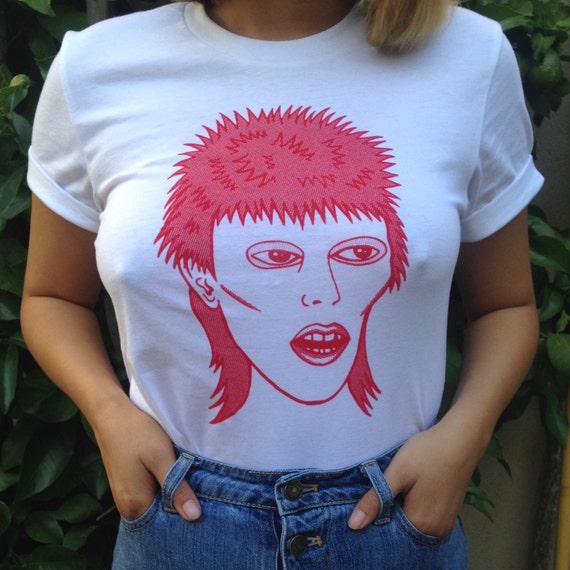 Mermaid Hex is the brainchild of artist Cambria Guevara, who we stumbled across during our Desert Daze coverage. Since then, we've spent a ridiclous amount of time drooling over her Etsy shop, and we suggest you do the same.
//
This song from BrazenFlow
Despit London-based rapper BrazenFlow being a relatively new name on our radar, we were immediately taken by his smooth flow on 'Bel Biv DeVoe'. The video is clean, and the beats are on point. What more could you ask for?
//
This timelapse
This is for anyone currently wondering if they have the flu or some sort of Millenial Plague. I can't hear a damn thing in this video because I'm almost certain someone has shoved cotton wool in my ears, but the visuals sure as hell make me feel 2% better about my current situation.
The video was created by filmmaker Henry Jun Wah Lee, who had this to say about it: "Chasing the best light on the Island during the summer months, witness epic landscapes being lit for hours by the magical glow of the midnight sun. ..Most of the photos and videos you'll commonly see from Iceland are with gloomy overcast skies. Cloud coverage is one of the biggest challenges shooting here. But when you are able to catch the light of the midnight sun shining on the landscapes of Iceland, it is pure magic."
//
This moment from Chance The Rapper
.@chancetherapper says #NoCopAcademy at city council!!! pic.twitter.com/GWbSJSBdXK

— agitator in chief (@soit_goes) November 8, 2017
Chance The Rapper is such a powerful voice that he caused the Mayor of Chicago, Rahm Emanuel, to walk out of a council meeting before hearing him out. You can't stop the wave.
//
This video from Kedr Livanskiy
Kedr Livanskiy's latest video - which she co-directed with Konstantin Bushmanov- is a coming-of-age tale for two girls, and was filmed in Russia. It's beautifully shot piece, soundtracked by Livanskiy's spellbinding electroncs. If you like what you hear, we recommend checking out her full-length debut, Ariadna.