Samantha Parks (vocals)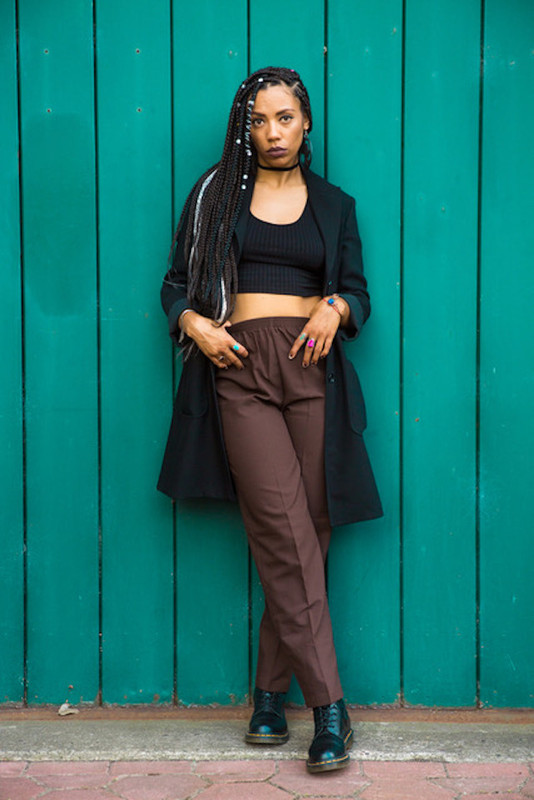 Thrift stores and I are like kids and candy stores. I dress based on my day-to-day mood and gravitate toward what makes me feel most authentic. For tour, I tried to pack a mix of casual, eclectic and neutral threads that are comfortable. Shoes are a no-brainer because I'm obsessed with boots (I spiced it up this tour by thrown' in a pair of all white high top chucks). I'm a '90s kid with a hippy soul, so it's rare to see me without a choker or my turquoise rings on. I love wearing stones to help guide my energy in the right direction. Any outfit inspired by an earlier era or attire your grandmother might find appealing is likely what you'll find me in.
Outfit: Shoes: Black Doc Martens Pants: Thrifted Chocolate Brown Trousers Shirt: Black crop top from Buffalo Exchange Jacket: Thrifted Black trench blazer by Ann Taylor Accessories: Handmade earrings from Shades of Africa
Tamara Raye (bass)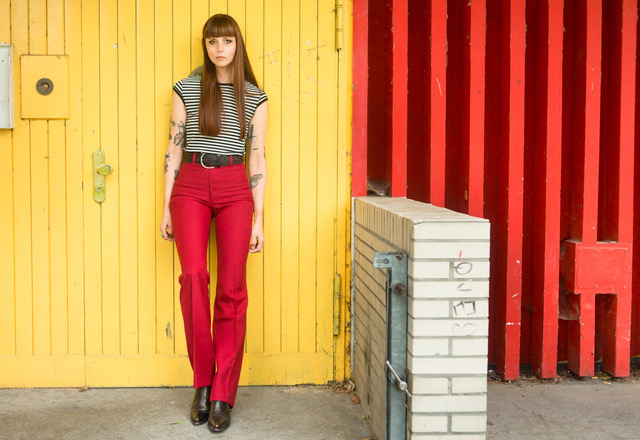 Style on tour is all about simplicity and basics. I find that a solid leather jacket, a killer pair of boots and a good lipstick will get you headed in the right direction. Long nights and lack of sleep can be hidden behind a pair of sunglasses. Above and beyond that, a few pairs of vintage slacks, tees and scarves to mix and match keep it interesting the rest of the time.
Outfit: Boots: Pskaufman no. 1001 freeway chelsea boot sigil Pants: Lady DG (vintage slacks) Tee: Shitty tee I've had since high school
Enya Preston (keyboard)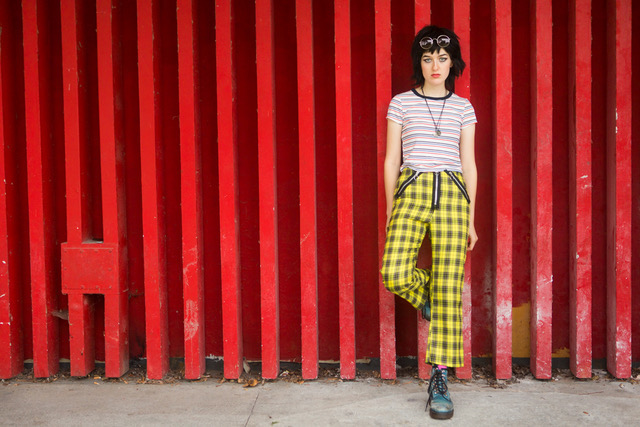 I've always been into bright colours, I love Japanese street fashion so I usually find my inspiration between a mix of that and punk. For tour, I've been digging wearing these chunky doc martins I inherited from my mom. I also like to pair most of my outfits with an oversized jacket I sewed some patches on.
Outfit: Pants: Ragged Priest Boots: Doc Martens T-shirt: Target? Sunglasses: Vasuma Sweden
Check out the stream of 'Poison' by heading here. The band are set to play the following shows in support of their forthcoming (26th October) self-titled debut album:
Thursday 27th September - Paradiso, Amsterdam Friday 28th September -Supersonic, Paris, France (supporting Matt Hollywood) Saturday 29th September - The Lexington, London Sunday 30th September - Venue TBC, Bristol Tuesday 2nd October - Headrow House, Leeds Wednesday 3rd October - The Poetry Club, Glasgow Thursday 4th October - Yes, Manchester Saturday 6th October - Sticky Mike's Frog Bar, Brighton