Looking at Kitty Joseph's designs is like sitting in the Rothko room of Tate Modern or sinking into the abstract colour scapes of Gerhard Richter's overpainted photographs.

Just like the work of Rothko, Joseph's pieces can be seen as a form of colourful escapism. Her work is a dream you want to buy into - something simple that allows the wearer to become the embodiment of her surreal daydream. Classic shapes and structural tailoring makes her work less of an anachronism and more of a potpourri of the past and the present in the history of fashion and visual art.

In few short years, Joseph's visual language has become the toast of the town. Worn by the fashion icon Carine Roitfeld and the-ever-so-surreal Lady Gaga, the London-based designer has already created a legacy that places her amongst the most interesting and versatile contemporary designers. Intrigued by her painterly visual language, the 405 chatted with Kitty about the clouds in London skylines, the importance of DIY spirit and the profound connection between the Kitty Joseph garments and their wearers.


Your designs are very painting-like and sculptural. Would you say you've been more influenced by visual art rather than other fashion designers?
I'd say I'm influenced by colour in painting and sculpture, definitely. I would prefer to look at a Rothko painting or an Josef Albers colour study for inspiration than read up on colour trends of the season. I am aware of what is going on in fashion to a point, but my training is in textile design so my starting point is always there, drawing together ideas for colour and texture first. The form the clothes/silhouettes take are led by those starting points.
Fashion breaks a lot of boundaries between different mediums. Is that what you are trying to do as a designer - escape from the restrictions between different artistic mediums?
I think respecting your discipline yet challenging its conforms are really important. I think you can find the courage and vision to challenge your own tastes and ideas by immersing yourself in what is going on in other creative spheres; music, painting, theatre, cinema, dance, wherever your interests naturally take you. Running a fashion label is so all-consuming that I have had to be very disciplined in making sure I keep my myself open to what is going on outside of the studio. The people you meet, collaboration and the cross-pollination that can arise out of that is what drives you forward and makes life and design so exciting.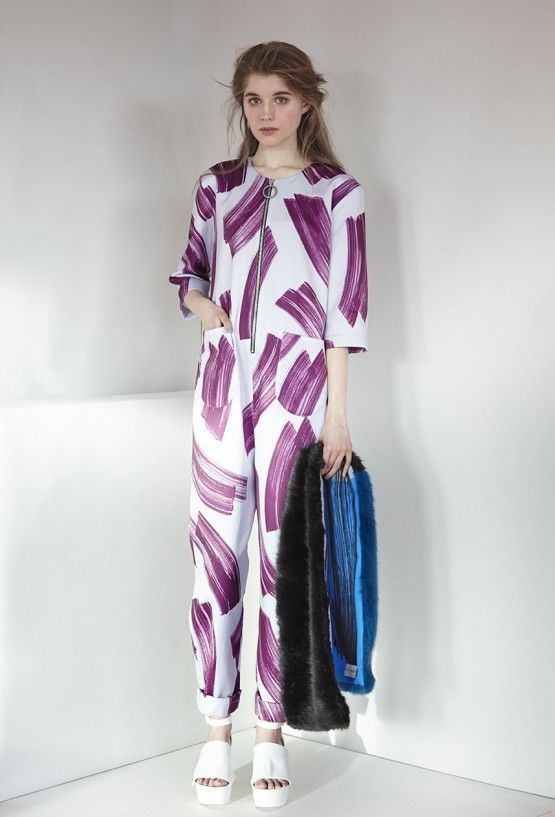 Is there an era in the fashion history, which inspires you the most? It seems like there's a lot of 90s elements included in your work like mesh, cycling shorts and roll necks - do you channel your own youth in your designs? As in, do you design pieces that you would wear or is your work a form of escapism?
I do wear my clothes. And yes I think there are influences from my childhood. I heard someone say once that your earliest experiences of design stay close to you, that they always have an aesthetic draw. As for escapism, I think it should be part of our everyday. We need to daydream as much as possible, particularly in the times we are living through, in order to imagine and then make a better world in whatever way we can. I think colour can have a powerful influence in your mood and can take you somewhere else, which is why I use it in my collections so much. I like to think that the shapes in their simplicity and wearability make the daydream accessible.
What was the moment when you decided that you were going to be a fashion designer? Was there a specific designer who influenced you?
I can't say there was a specific moment. But over a period of time at the Royal College of Art where I studied textiles, I realised I needed to bring my prints and colours into a context, an end product. I was working on a project called Colour immersion and I felt that bringing the colours I was developing into clothing, that physically enclosed you in colour was a natural progression. I made these hand painted colourful reversible neoprene jackets and sunset-tinted sunglasses. I sold all of the pieces at my show and that encouraged me and provided me with the funds to make my first collection.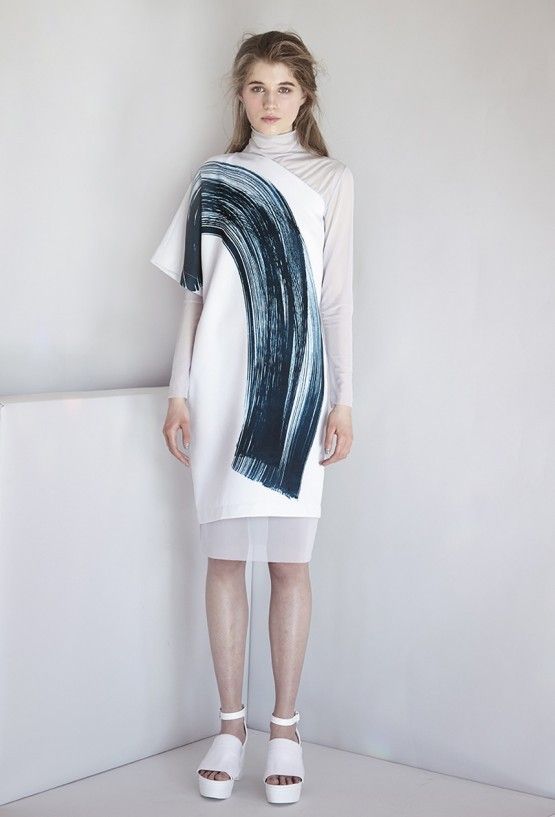 You collaborated with Absolut a while ago. The brand itself is known for its major fashion collaborations in the past with the likes of Tom Ford and Jean Paul Gaultier. When you found out about the collaboration, did you feel like you had - in some ways - made it? Was it slightly intimidating?
The wonderful thing about short deadlines is that you have no time to feel intimidated. The thing that made that project so enjoyable too was that I was able to bring friends on board, such as Rohan Wadham who worked with me on a film, and NY based artist and rapper Njena Redddfoxxx who featured and performed in the clothes. It was a real collaborative process so that made it feel less intimidating.
Does it feel surreal seeing fashion icons like Carine Roitfeld wearing your designs?
Carine Roitfeld commissioned some pieces for a shoot, and I have had some big names wearing my designs. It is exciting because people like that really help to spread the word. However, the most exciting endorsements for me have been when I feel a strong connection to and respect of an artist wearing something of mine. For SS14, I designed a palm tree print that was part of a collection about a fantasy summer escape. My friend and I made a playlist to inspire and motivate us 'Shallow to Deep End Pool Party', and on it was a few Little Dragon tracks. When the collection came out Yukimi's (Nagano) stylist pulled a full palm tree get-up for her to perform in. When the pictures came out it felt like the creative circle was complete! Also working with Fatima, lending her garms and seeing her perform in them and win Album of the year at the Worldwide Awards this year was another very special moment.
As a London-born designer, was it intimidating for you to work in a city where there's a fashion graduate in every street corner? How did you channel your fear into your work and how did you find your inspiration?
I didn't study fashion, but textile design, so the sheer volume of competition wasn't directly in my line of sight when I decided to cross into clothing. Otherwise I could see how that may have put me off! I think there are times of fear in any creative process, but it's important that it isn't your only fuel, that can be destructive and exhausting. As is being overly competitive. I think the initial fear you have before a project can kickstart you, then ideally the immersive pleasure and creative excitement that you get when you're designing is what drives you the rest of the way. Friends and fellow creatives are always an inspiration to me to keep going.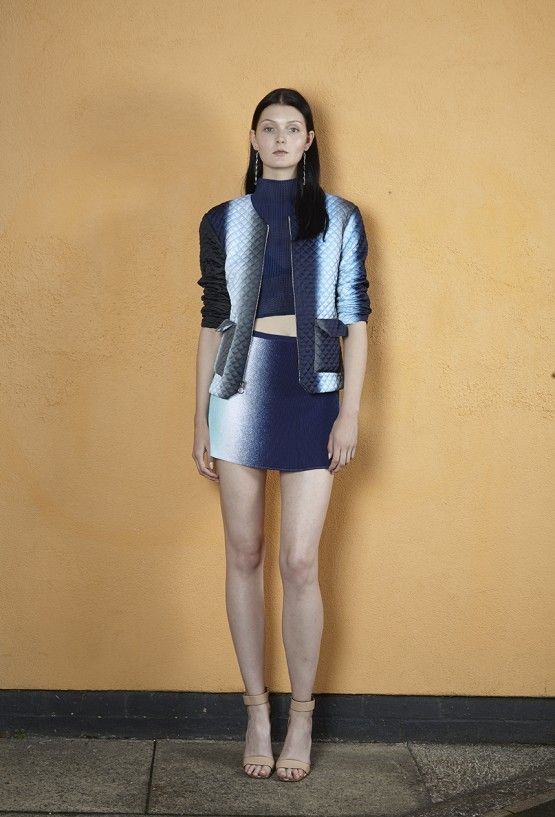 Within the past three years your collections have become bolder and more mature. Is Kitty Joseph now a designer she has always aspired to be?
I think as a creative person you are always striving so I could never say 'I've made it'. But that doesn't mean I'm never satisfied, I think it's so important to reflect on your achievements when you can.
What is the ultimate goal for you as a designer?
I think to communicate a positive and colourful and unique textile vision in the industry, and most importantly to the end customer, something that they can connect to and can enhance the day-to-day experience of wearing clothes. Also, a top priority is to create clothes sustainably, building a business that supports my community and society in some way. I keep all of my manufacturing in the UK and am on close terms with everyone who produces my clothing.
You've got a lot of business in Asian countries. Would you say that Asian cultures influence you a lot?
I think that my stores in Asia can connect with my use of colour and the optimism of my design. I think a short time spent in Tokyo working for Hiroko Koshino also really stayed with me and has been an influence on the way I work.
There has been a massive normcore hype within the past couple of years. Did it affect you in any way as a designer? Did you feel like in terms of sales, you would have to give in to the current trend of minimalism and sort of "sell out" a bit?
I think that my work has naturally evolved to be a distillation of my core interests. There has been a process of simplification in the design of my prints as my focus has become more and more about colour, and less about pattern and traditional print ideas. I think this has informed the simplification of my shapes too. So the process of 'reduction' has been personal to me as a designer, I don't feel it's been enforced by external trends. Although you can't deny the zeitgeist can always be a mysterious force.
I can imagine that the world of fashion can be somewhat exhausting at points. What do you do when you want to get away from the fashion world?
I love to draw, mainly clouds and skylines, my local London views. I have some french Sennelier pastels in a beautiful range of colours. When I'm stressed or creatively stuck I like to climb onto the rooftop of my building and sit where no one can see me and draw. I also listen to music a lot, and podcasts in the studio are a great escape. I'm obsessed with Desert Island Discs and a working my way through the archive at the moment! Dancing all night with friends is also a great escape for me.
As the fashion brands have become more fluctuating and changing, it is probably quite hard to specify the type of person who'd wear them. However, did you have a certain kind of "KittyJoseph woman" in mind when you started your brand?
I would say that in starting the label, the women has come to me and not the other way round. I like to think that ultimately I don't define the customer with my clothes, but that a wide range of women take and interpret the clothes into their own lives. From 30-40 something professionals in London to 20-year-old Tokyo street bloggers. These customers have found me and connected in some way to the clothes. So when these individuals wear an item of mine it feels like the completion of the whole process, the consumer being the final participant in a collaboration with me, the pattern cutters, printers, manufacturers and the stores.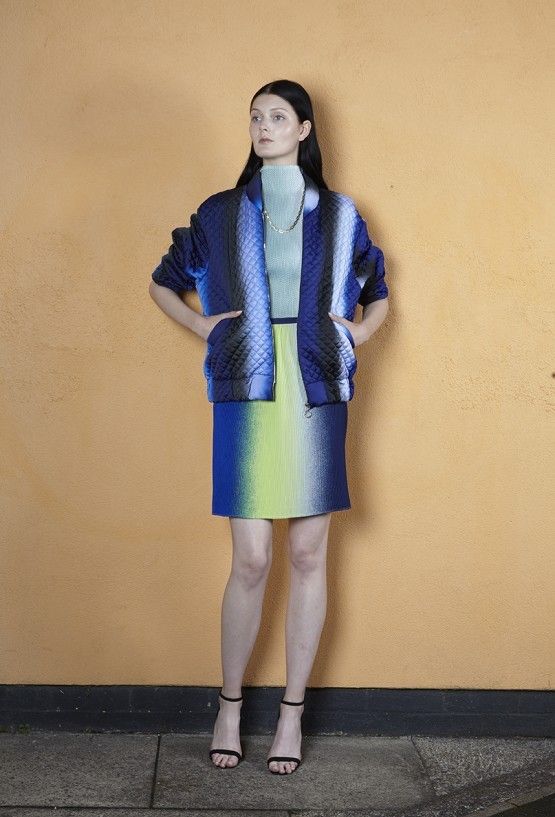 What made you choose fashion over other mediums? How would you describe the word fashion?
For me fashion is about self-expression and the simple enjoyment of clothes, both in the pleasure they give you as the wearer and the pleasure they can give to others as you decorate their world in some small way.
Can you tell me a bit about your SS16 collection? I love the contrast between the mesh/plastic/bomber ensembles and the girly midiskirts, abstracted stripes and pastel colours. What inspired you with this collection?
Actually, the pastel sketches that I talked about earlier inspired this collection. The soft sprayed stripes were inspired by hazy layers of clouds and the colour changes I observed in my drawings over the summer on the rooftop. The micro pleats and quilting came from a desire to throw the colour and prints into relief to reflect the soft striped geometry in the print. The mood and shapes were all about a tidy and neat containment of these textiles, I kind of wanted a collection that was joyful and coloured, but that gave the wearer a feeling of neatness, togetherness. A kind of calm and quiet but strong femininity.
What do you want to explore more as a designer? As in, what kind ideas/themes/eras you'd like to experiment on in the upcoming years.
I couldn't be too specific, but definitely exploring further endless combinations and possibilities of colour. Reading Josef Albers' 'Relativity of Colour' this year really affected me, so applying the ideas from that book to my work is going to be an ongoing theme I think.
What would be your advice to young designers struggling to get their work out there in the UK and well, everywhere?
I think this is a difficult time to be starting a business or working freelance in the creative industries, but I think in these times you need to have a DIY attitude to get started. It is a liberating feeling to realise that where there is a will there is a way. A lot of friends of mine have started their careers without investment, but passion, vision, enthusiasm, a willingness to learn and put in some elbow grease. Keeping yourself focused on your own journey and not getting distracted is important. As is surrounding yourself with a positive, inspiring network of friends.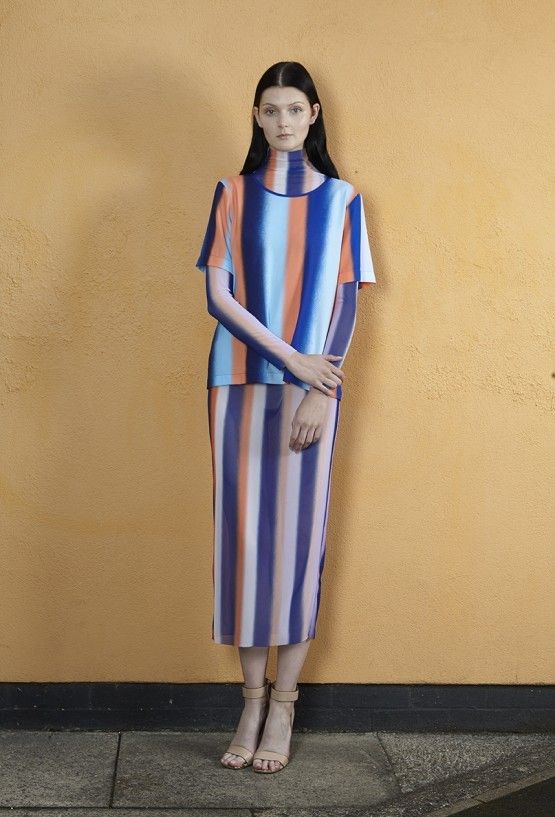 Is the fashion world different from what you thought it'd be when you were studying? Did you know how to prepare yourself for it/did you have to become extremely business savvy?
Being in the textile design world at college was like being in a wonderful and friendly bubble. Quite different to the fashion college environment that I heard about through other friends. I have to say I needed that time and I don't think I would have thrived in an overly intense or competitive environment - I needed time to grow creatively and immerse myself. I have to say that upon graduating I had little to no business knowledge. That, I have gradually acquired since setting up my business, after a lot of experience and a lot of mistakes. I'm still learning and although this is not an aspect of the process that comes naturally to me, it is still vital to grasp it in order to get you work out into the world. It can be enjoyable though to embrace using your left and right brain in that way. After college, I think I needed the balance!
Finally - what can we expect from Kitty Joseph in the future?
I wish I could tell you. You'll have to watch this space!