I'm packing for festival season; folding crochet tanks and Adidas sliders into my suitcase for travel. A new pair of high waisted jean shorts from a small-town thrift shop are home to a small embroidered heart on the left butt-cheek. The thread is tightly sewn and vibrant red against the faded denim. It's the little details that make things special. They're not just things anymore, they're your own.
Marie Sophie Lockhart makes a life out of the little details. The Parisian-born, Brooklyn-based embroidery artist, through fine stitching and careful pin-work, has earned the notable title as one of the fashion industry's most intriguing embroiderers. She weaves between digital and physical creative places like Instagram accounts and high-fashion showrooms to showcase her eclectic creations, while winning over the likes of Drake, Miley Cyrus, Vogue - and likely you - in the process.
***
You sound incredibly busy. What are you up to at the moment?
I'm sending invoices for the fashion week I did for Marc Jacobs. I have all those numbers in my head right now.
Get that money, girl. How was fashion week?
It was really busy working 24/7. No days off. But it's great. I really like working with them. This time, I was working for the ready to wear and the knitwear department. So working on the collection for what's going to be in the store. We were knitting sweaters and then they asked me to come work and help for the fashion show too for one of the looks. It was a denim oversized jacket with a denim oversized skirt. So it was very last minute. You have about five minutes to send your clothes to the show. Last year, I worked for the show too.
Not too long ago, it was just you with your needle and now you're running around fashion shows. How has that transition been for you?
It's good and it's nice for a challenge. But I'm happy to go home and work at my studio with less stress than an open space with everybody. During fashion week, everyone is really stressed and I'm like a sponge. I take everybody's stress. So I like to have my own time and not be in a rush. I feel like I work better when it's just me and the people who work with me, rather than the whole office around me. It's good for a week. But I'm going back tomorrow to the Marc Jacobs office. They called me again. I think they want more work.
Is that something you see yourself doing consistently in the future?
Yea, I think I would like to keep working as a special skilled person for a big fashion house and do my own stuff on the side. It's hard. I like to wake up early and read all my emails and get organized by writing everything on my moleskin, because I have a lot of appointments with people who want to do stuff with me. So I have to find the right time for each person. And embroidery takes a really long time. So I can't say yes to everything. I have to be really particular with who I work with. But I'm not going to complain, that's great. It's insane. Three years ago, I wasn't even thinking that I would be able to do that. But that's also a part of being in New York. You have the opportunity. It's such a big city and you have all those brands. I feel like people are more willing to do stuff with you than back in Paris.
So let's start at the beginning. It all started with an initial Playboy bunny. You embroidered it for yourself and you gave it to your friend. What made you decide to pick that up?
I was collecting all the '70s Playboy and I really liked the imagery of the bunny. I got a tattoo with a Playboy bunny. Instead of the regular bunny ear, it was a weed leaf that my friend did on me. So I was like, I have the tattoo, I don't really need the patch, so I'm going to give it to my friend, she'll be happy.
And then it kicked off from there?
At the beginning people were like, 'okay, I'm going to trade this'. Trade me this for a painting. Or buy me a drink or stuff like that. It was really how people used to be back in the day. A trade. But after Drake, it became crazy.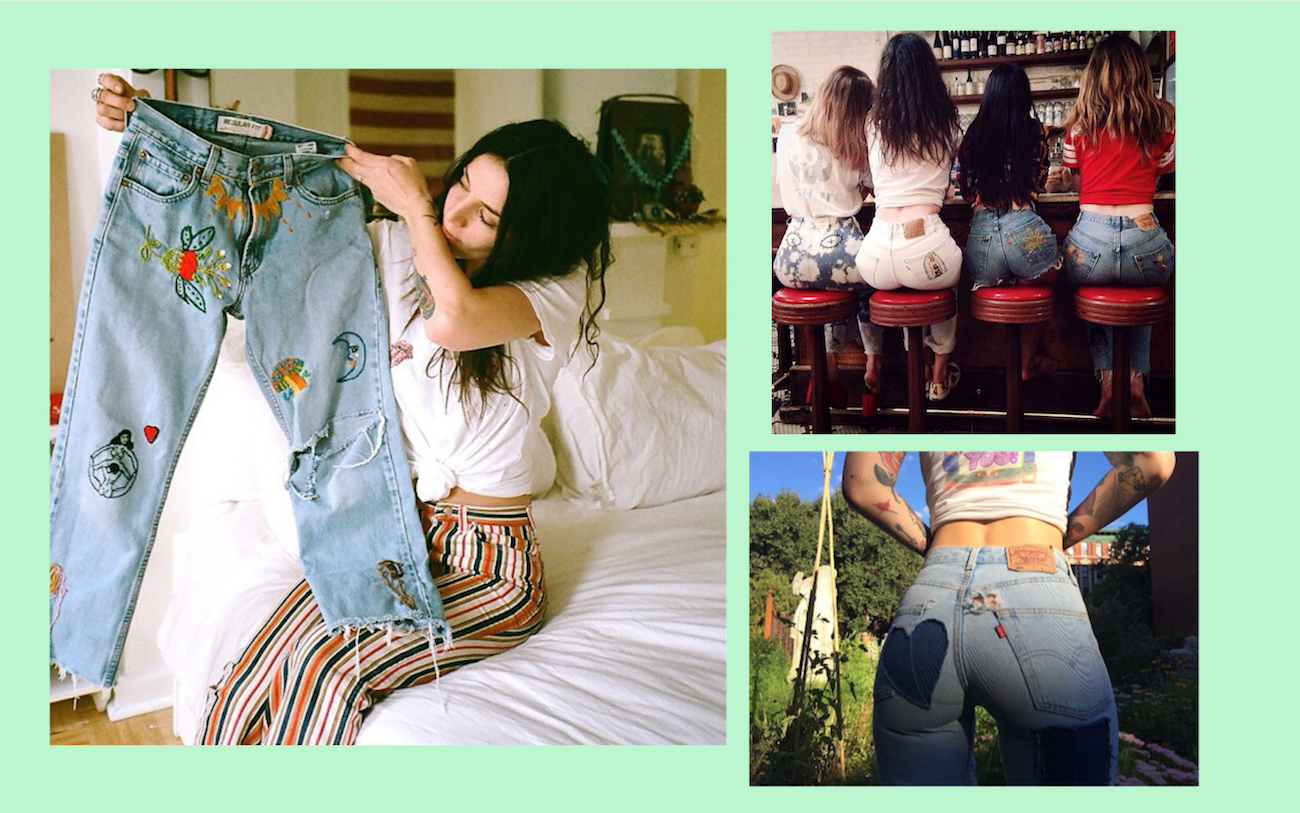 It sounds like you have a lot of artistic friends around you that it's like a community where you share each other's work.
Being in New York, you are just surrounded with really talented people. It's challenging to go home and rest, because you have all these friends who are making so many good things and you just want to be like, 'okay, I'm not going to go home and watch Netflix'. I'm going to do this stuff too. It pushes you to make better things. And more.
And your husband is a tattoo artist and he's somebody that inspires the patchwork drawings? How did that come to be?
Totally. Before I met my husband, I didn't really know what I wanted to do. I was searching for myself, kind of. He really pushed me to be creative and he trusted me to do things. He'd say, go on, you only have one life. Do what you like. So I said, 'wait a minute, what could I do?' Then, I started making embroidery, because it was really cheap to buy thread. You buy a thread for like 80 cents per embroidery cloth. And the hoop is like $1. And it was cheaper painting on canvas. That's how everything started. What can I do with $10 and something that I can bring it everywhere with me? I could do it on the subway, in the park, on the beach, on the plane. Now I'm doing it everywhere.
Everything initially kicked off when Drake hit you up on Instagram. Describe that experience has been like for you and how it's changed things for you today.
I did the OVO praying hands on my jeans and I put it on Instagram and I tagged him. But I tagged as a joke. I spent the weekend with my husband, not even checking my phone and I woke up and I had like 4000 followers and emails from everybody in France being like, 'What is going on?' And I didn't understand. I had to rush to go to work, so I couldn't even think about it. I had to go and work brunch. I hate brunch. So I was really stressed. I only had time to DM Drake. I said, 'I don't know what's going on. I just want to thank you man.' And that's it. Later, I checked my phone and he said, 'It's all love. Enjoy your day.' I thought that was it but later, he was asking me if I could do clothes for him. He sent his phone number. He came to New York and he reached out to say, 'Where can I bring the clothes?' I thought it would be a stylist or someone who would come, but he came. Three SUVs and maybe like five other people for security. They were all outside. He came in with an assistant and a friend and we started talking. We had a few drinks until he had to go to the airport. He gave me the clothes and some money and a hug and he left. And now everything has started because of him.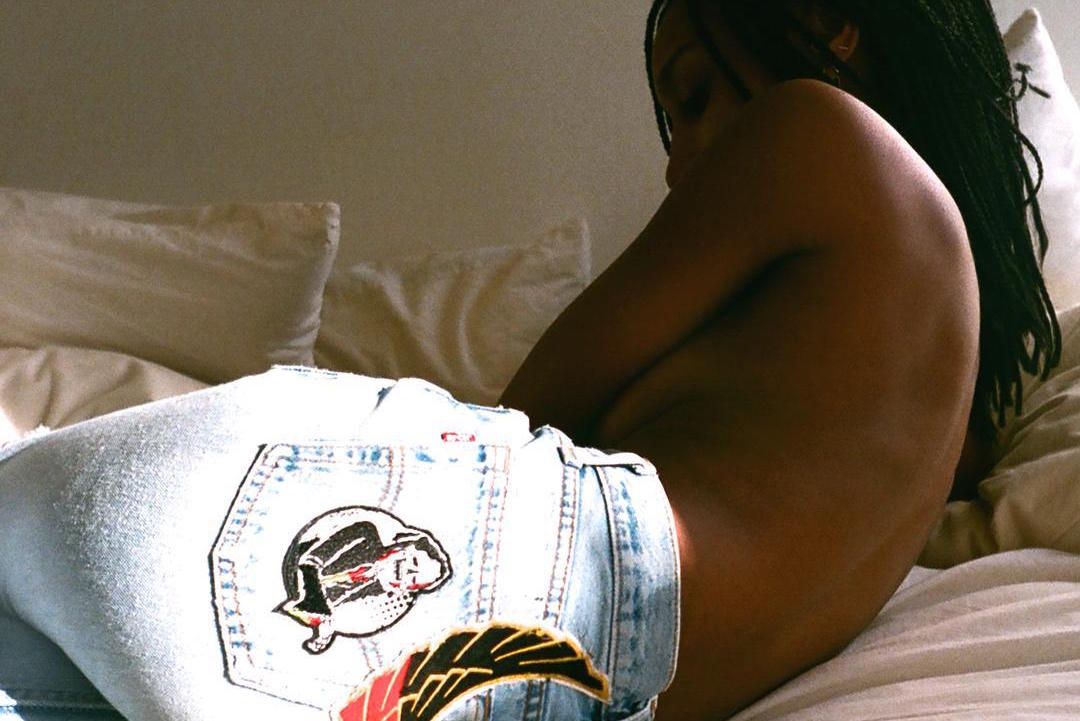 And since then, you've made embroidery for countless other people, including Marc Jacobs and Stella McCartney. I guess you aren't doing brunch anymore.
I'm going to brunch now. I'm enjoying the brunch.
What's the most favourite piece you've ever done?
Usually, I say I like them all but I really like the jeans I made and sold to Miley Cyrus. The one with the UFOs and all the planets and the rainbow. It was something I just did for myself. So, I think it's better when I just do something that I would do for myself when a brand asks me to do a particular design. But also, I always look forward to the next project I'm working on. Always the next project. I'm always trying to get better.
Embroidery is so trendy right now. But for you, this is your life. How do you hope to keep reinventing in order to stay relevant after trends fade?
I'm just trying to surf the wave right now and be on top and keep thinking of new ideas. I don't think it's just going to be a trend. Especially for big fashion houses, they'll always need someone who has a skill. Anything done by hand, you're always going to have that demand. It's like tattooing. People are always going to ask for tattoos.
I read an interview where you said there is something so political and powerful about women making stuff again. And you called it very human work. Beyond the trends, if your clothes came with a message, what would that be?
I think people are tired of wearing the same thing. Even if it's not me that's making it, I'm encouraging everyone to try to make something. Cook food. Just basic stuff. Things that we should be doing and not a machine. Do it yourself and try. The world is going crazy. If we all realize that we can change it, maybe it's going to change.