Consumer product design has become a muddled field due to the sheer volume of new devices and peripherals out there--but barring a few successful examples, the landscape has a tendency toward imitation as opposed to innovation. In our definitively post-smartphone society, headphones in particular have transformed from a somewhat niche product to a massive industry and style statement.
Below we examine five of history's most innovative headphones whose combination of design and utility created waves in their own time and whose influence can still be felt today.
#5: YAMAHA YHL 003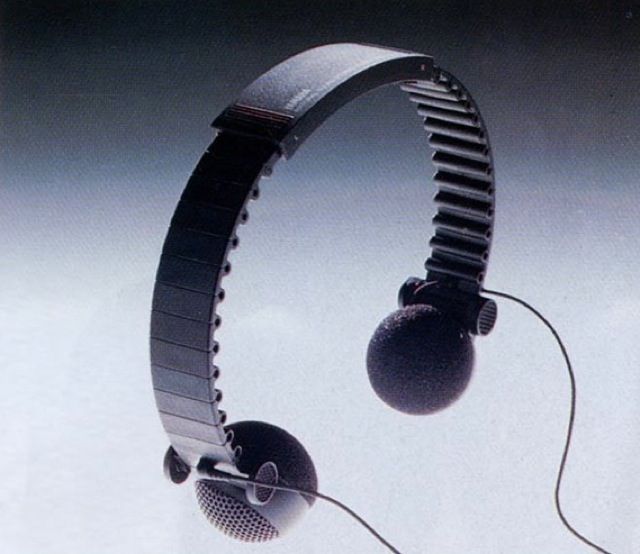 Released in 1985 by Yamaha, the YHL-003 is another example in a long line of daring, future-facing designs from Japanese companies in that decade. These dynamic headphones, conceived by Porsche Design, in addition to their novel folding mechanism, employ a fascinating half-dome ball-shaped ear-pad to "sit gently on the ear without strain or pressure." These headphones came in two varieties: a consumer YHL-006 which was available in three colors, and a slightly specced up YHL-003. One can definitely see echoes of Yamaha's design language in fashion brands such as Beats by Dr. Dre and AIAIAI.
#4: Beyerdynamic ET1000
This beautiful design comes to us from Germany, 1976. Developed and Manufactured by audio-pioneers Beyerdynamic, the ET1000 was the first pair of electrostatic headphones, and Beyerdynamic's only electrostatic offering. Unlike more common Dynamic or "Moving Coil" mechanisms, the ET1000 employs an infinitesimally thin ultralight film for superior audio performance (by creating a larger magnetic field) and a lighter construction--though it will require an external amplifier. Beyerdynamic's teutonic design sensibilities imbue these headphones with an appearance as sophisticated and minimal as their internals, and are a logical step forward in thoughtful and careful post-war German electronic design starting with Dieter Rams' work with Braun in 1961.
#3: SONY MDR-W30L

Another '80s Japanese design, Sony's MDR-W30L headphones are remarkable not only for their form factor--these were the first largely successful pair of earbuds-- but came bundled with another Sony innovation: 1983's WALKMAN. Sony's influence on the world of consumer electronic design can not be understated, the W30L's airy and minimal appearance goes hand in hand with the design philosophy of the WALKMAN and portable media; users direct content, and manufacturers give users the tools. To create the biggest paradigm shift since the transistor radio, Sony effectively utilized design's ability to communicate concept in an intuitive way. Sony's design paved the way for future innovation even in their competitors--most notably an empire built on the lowercase i.
#2: JECKLIN FLOAT

Created by Swiss Radio chief sound engineer Jürg Jecklin in 1971, the Jecklin Float may be the greatest sounding and least practical headphones ever designed. Designed by Jecklin "as a tool, better than any monitor speaker in a room without perfect acoustics" the cult-classic Float employs two electrostatic speakers and delivers a natural open sound. A product truly ahead of its time, though poorly positioned in a world that has emphatically chosen portability and cost over quality and craftsmanship. It is still produced in small numbers, having accumulated over 40 years of tweaks and adjustments and is currently manufactured by QUAD Musikwiedergabe who also provide foam kits for older models.
#1: ONESENSE HEADPHONES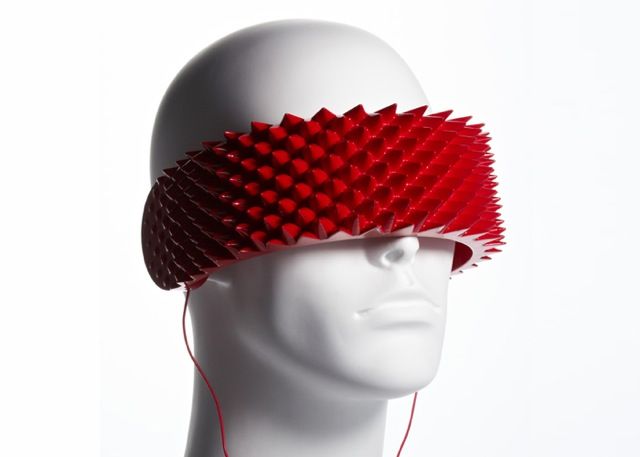 There is a truism that when one sense is removed, the others become more sensitive to compensate. As progress creeps further into the 21st century, an age of "constant sensory bombardment," artist and designer Joe Doucet's ONESENSE headphones provide temporary respite--albeit in a slightly masochistic fashion. One Sense "symbolizes the human need for periods of peace and tranquility" by eliminating sight while being worn. In addition, Doucet has utilized the color red and an array of spikes "drawn from nature's symbols for warning and defense" to ward away potential distractions from interfering with a pure listening experience. Unfortunately, it doesn't look like the OneSense will be hitting retail stores anytime soon.
---
This post was written by Tommi Kelly from Audio46.com as part of Audiophile Week, a partnership and celebration of audiophile culture from Audio46 and The 405. Tommi is an artist, designer, and arts educator who lives in Brooklyn, NY. He also creates original video content and writes about audiophile headphones for Audio 46.
Want to Win $100 Gift Certificate to the Audio46.com headphone shop? 
Click Here and Enter to Win!