One of my very first childhood dreams, triggered by collectible astronaut cards in a cereal box, was to become an astronaut. I loved the idea of wearing a huge, uncomfortable helmet on my head and a Michelin Man-like suit while staring at the Earth from space. I somewhat had to distance myself from that dream (thank you, awful physics skills and terrible eyesight) but hey - if this is your dream too, why not shoot for the moon? Or rather, for Mars: NASA is looking for new astronauts! Read about this, and more, in the latest A Month In Space column.
Be an astronaut
At the beginning of November, the National Aeronautics and Space Administration (NASA) announced they were recruiting people for the next class of astronauts. The chosen ones will continue deep space exploration and - who knows - possibly head up a Mars mission. Applications open up on December 14th and close in February 2016. With a very helpful tweet, NASA's social media team have put together some facts and myths about becoming an astronaut. Apparently you don't need 20/20 vision or piloting experience to become a space explorer - I guess it's time to get my application ready.
TEDxESA
On November 11th, the European Space Agency (ESA) had their very own TEDx event, which took place in the Netherlands. Under the heading "Science Before Fiction", comedians, scientists and astronauts came together to talk about the importance of science and tell their anecdotes about space, 3D printing, and Felix the astronaut cat (who, as it turns out, is really an urban legend). The recorded talks are not yet online, but you can find all the photos on Flickr to get a feel for the event. Though I did not get around to watching all the talks that were streaming live, my personal favourite on stage that day was Samantha Cristoforetti. Her down-to-earth and charming attitude is refreshing when she talks about daily life on the International Space Station (ISS), and with her records for the longest uninterrupted space flight of a European astronaut and longest single space flight by a woman, her story is one worth spreading - it's empowering for women worldwide.
New Horizons
New Horizons is the name of the NASA mission and probe launched to study the Pluto system (the dwarf planet and its moons) as well as the Kuiper belt. For some, the announcements coming from New Horizons might not be as exciting or revolutionary as news from the Mars mission, and yet Pluto is still winning everyone over because of its dramatic fate, being downgraded from ninth planet of our Solar System to 'just' a dwarf planet. Recently, however, the probe made history with its flyby of Pluto; the camera aboard the spacecraft took pictures of Pluto and Charon (Pluto's largest moon) "rotating over the course of a full Pluto day." A series of photographs were recently revealed on the NASA website and here it is, in all of its glory: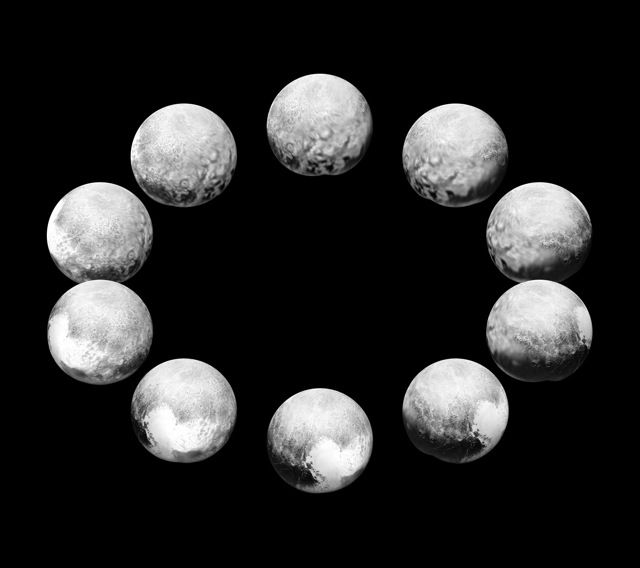 If you're interested in New Horizons, you can find all the latest news here -- including a countdown since the mission started and the current spacecraft distance from Pluto.
NASA goes startup
"The best way to manage your cash flow as a startup? Hold on to your money."
It's with this phrase that NASA recently introduced their new Technology Transfer Program. The main idea behind it? NASA have an incredible pool of scientists and engineers that have come up with interesting solutions to problems faced in space. Sometimes, these solutions can be handy back here on Earth, too; however the cost of securing intellectual property rights is high, especially when you're a small company just starting out. For this reason, NASA has decided to support innovative thinking and small businesses by waiving their patent-licensing fee for the first few years of a start-up's life in exchange for a royalty fee once the business becomes profitable. Of course, there are all sorts of guidelines the company must adhere to in order to qualify, but it's still great fun to flip through the NASA Patent Portfolio and see just how many different inventions there are. From R2 - a humanoid robot great in "hazardous environments" - to an extendable USB drive or self-healing wire insulation, this might just give you an idea for your next startup!
Not only does spaceprob.es keep tabs on all your favourite space probes by aggregating important news about them from around the web, but the two masterminds behind the site - Ariel Waldman and Lisa Ballard - also created a lovely design with a quirky description for each probe, which makes the site a real pleasure to look at. Last but not least: they have an online shop. I hope you didn't already do all of your Christmas shopping...